Samuel Chell's Best of 2007: Two Distinguished Dozens
By
Any artist has a love-hate relationship with the past, the "modern" descendant necessarily engaged in an Oedipal struggle with the formidable progenitor. Yet without acknowledging the continuing presence of the past, there can be no tradition. And without tradition—which prizes the "inventive" above the "creative"— there can be no genuine art. Attempts to create beauty without reference to the predecessor are little more than random particles of consciousness in the spatial-temporal universe, fragile frissons in a vast energy field, forgotten files in an 80 gigabyte iPod.
Fortunately, the tradition is still with us, helping assure that the music of the new millennium is on track, as evidenced by the uncommonly rich treasure trove of reissues and releases of undeniable historical significance in 2007. Here are two lists each comprising a dozen dazzling recordings roughly arranged in anticlimactic order (though
Glass Bead Games
and
The Oslo Concerts
are the decisive stand-outs in their respective categories):
Best Reissues
Clifford Jordan
Glass Bead Games
Harvest Song
2006
Clifford Jordan was a soulful, powerful, deeply thoughtful Chicago tenor player who, though sought after by pianist Horace Silver and praised by fellow saxophonist Sonny Rollins, was fated to be the Lester Young of his era, misunderstood and often overlooked by general followers of the music. He had little interest in hard bop, funk or fusion, and his muse did not tempt him, like John Coltrane's, to scale Olympian heights...
Continue
Curtis Counce/Jack Sheldon/Harold Land/Carl Perkins/Frank Butler Quintet
Complete Studio Recordings
Gambit Records
2007
The beauty of this music is so much greater than the sum of its parts that a listener hardly knows where to begin. The two-disc package comprises the main recordings on the Contemporary label 1956-1958 by the short-lived Curtis Counce Group, whose expressed purpose was to develop a West Coast answer to the soulful, hard-boppish East Coast sound. Each of the musicians, though no
Down Beat
poll winner, was among the most gifted on his instrument, yet the focus was always on a collaborative result that would reflect heretofore undiscovered possibilities within a familiar post-bop idiom. The individual solo voices, ensemble work and superior audio compare favorably with trumpeter Miles Davis' contemporaneous quintets recorded on Columbia. In short, the Counce recordings represent a high-water mark in jazz on either coast during the mid to late 1950s, a golden moment deserving inclusion in the most selective proverbial time capsule.
Continue
Bill Evans Trio
Everybody Digs Bill Evans
Riverside
2007
This
Keepnews Collection
remaster/reissue of a 1958 recording is welcome if only as a reminder of Bill Evans' trio playing before the period of the celebrated
Village Vanguard Sessions
(Riverside, 1961). Instead of near-equal interaction by all three trio members, a supportive team of drummer Philly Joe Jones and bassist Sam Jones provides a non-intrusive backdrop for the featured performer, whose inventions are cast into bolder relief than ever. The silent spaces in the ballads are stark, inviting the listener to supply the missing thought or feeling evoked by the pianist's pure conceptions; the accompaniment on the up-tempo tunes is a non-obtrusive temporal flow, leaving the floor wide open to the graceful moves of the featured performer...
Continue
Sonny Stitt
Tune Up! + Constellation
Gambit
2007
For the better part of the new milennium these two 1972 dates have been the most sought-after Stitt recordings, bringing premium collectors' prices for the out-of-print single-CD compilation of both sessions,
Endgame Brilliance
. Though still not available domestically, this latest compilation can be ordered directly from the Spanish distributor, with liner notes (in English) written for this new 2007 edition. These were the recordings that opened the eyes of many critics and jazz followers who didn't know what some of us apparently did: that Stitt had been Bird and more in the mid to late '40s—the complete saxophonist, formidable pyrotechnician, master of the vocabulary of bebop on all three horns—and that he was still capable of playing that way if not better.
Continue
Monty Alexander Trio
We\'ve Only Just Begun
Universal
2006
Pure and simple, the hardest swinging session on record. Of course, what Duke Ellington meant by his famous criterion concerning swing is as debatable as Louis Armstrong\'s evasive definition of jazz. But if the listener's idea of "swing" goes beyond time-keeping, or a synchronized pulse, or an empathetic "vibe," or even a forceful drive, and insists rather on the presence of a deep and unshakeable "groove," this Monty Alexander on-location trio session, captured at a Buffalo, New York motel on December 1, 1971, must stand at the head of the class....
Continue
Gene Ammons
Boss Tenor
Prestige Records
2006
Despite losing almost ten of his best years to confinement in the Joliet penitentiary, Jug was genial, charismatic, the genuine article. Not long before his death, I drove to Chicago to hear him in a "tenor battle" with Hank Mobley at the Brown Shoe. Mobs was so wasted and incoherent on stage that promoter Joe Segal simply didn't know where to turn until Ammons said, "I'll take care of it."
Continue
Coleman Hawkins
The Hawk Relaxes
Prestige
2006
Coleman Hawkins had every right to rest on his laurels by the time of this 1961 recording. But
The Hawk Relaxes
finds the father of the tenor saxophone—aka "Hawk" or "Bean"—doing anything but clinging to his perch. He may no longer be soaring in search of prey but he's gliding on buoyant and vital air-streams, performing to near-perfection an all-ballad program that rewards the attentive listener at each turn...
Continue
Lee Morgan
Tom Cat
Blue Note
2006
As a cat owner, I've learned the hard way that the outdoor variety of felines quickly exhaust their nine lives. Lee Morgan's
Tom Cat
must be the exception. Recorded in 1964, the session was first released in 1981 (too late, even, to count as "posthumous"), before its most recent reincarnation as an RVG remaster. Blue Note's reason for originally holding back the date is somewhat of a mystery, since besides the catchy title track it's a session featuring a strong program and sparkling performances by all hands, with the trumpeter/leader, especially, in characteristically good form.
Continue
Oliver Nelson with Eric Dolphy
Screamin\' the Blues
Prestige
2006
Screamin' the Blues
is an apt description of the soloists' approach on this 1960 session, the first of three matching leader Oliver Nelson with avant-gardist Eric Dolphy. Although not as well-known as Nelson's masterpiece,
Blues and the Abstract Truth
(1961), the date is characterized, above all, by "generosity." Nelson's tenor solo on the title tune is the equivalent of an operatic tenor aria—full- throated, dramatic, played to the back row. It alone is testimony to the remarkable player he was before putting the horn aside and arranging for everyone from Thelonious Monk to Ringo Starr...
Continue
Art Blakey & The Jazz Messengers
Caravan
Riverside Keepnews Collection
2007
Given the limited activity of Art Blakey's Jazz Messengers for the Riverside label,
Caravan
is a somewhat curious early entry in the string of remasters making up the Keepnews Collection. Even avid collectors of the band's recordings tend to lose interest when the "invisible member"—recording engineer Rudy Van Gelder—isn't on hand to place his unmistakable stamp on their overall sound. All the same, the audio quality no less than the personnel and the music on this studio session support Keepnews' decision to reissue the date.
Continue
Etta Jones
Don\'t Go To Strangers
Prestige
2006
Mention Etta Jones to casual followers of the jazz vocal scene, and brace yourself for a quizzical expression in return. Or if the name produces a spark of recognition, wait long enough for the frequent retraction ("Oh, I thought you meant Etta James") before comparing notes. For an artist whose career spanned nearly sixty years and yielded no small number of memorable recordings, Etta Jones remains one of the better kept secrets among major jazz vocalists of the past century. Quite simply, Etta Jones was a once-in-a-lifetime talent arguably deserving mention in the same breath with Ella Fitzgerald, Sarah Vaughan, Carmen McRae and Nancy Wilson...
Continue
Sarah Vaughan
At Mr. Kelly\'s
Verve
2007
She flubs lyrics and knocks over a microphone, but divinity has its privileges, and the Divine One has never sounded more heavenly. Verve has remastered the 1991 reissue of this 1958 session and, in the process, removed the 11 out-takes of the previous edition. What remains are nine indispensable masterpieces by a diva for the ages. Vaughan has no equal at reinventing a song\'s melody after the first chorus ("September in the Rain" and "Stairway to the Stars" are simply inspired) or at penetrating the thickest of skins (try to keep your composure as she hums a chorus of "Be Anything But Darling Be Mine"). As a scat singer she has only one peer, whom she meets head-on with a version of "How High the Moon" that, while less flashy and pyrotechnical, is more inventive than Ella's. It's doubtful that Vaughan has been in better voice and that a better example of jazz singing exists.
Best New Releases
(including first-time issues of historic recordings)
Bill Evans Trio
The Oslo Concerts
Shanachie Entertainment Corp.
2007
Arguably sharing with John Coltrane the distinction of being the primary shaper of the language of jazz over the past fifty years, Bill Evans was also a remarkably focused and consistent artist who paradoxically manifested different musical personae, each capable of attracting its own cadre of followers or detractors. Despite the spatial proximity of these two Evans' concerts, released for the first-time on this stunning and illuminating DVD, the temporal distance between them offers the spectator-listener some difficult if enviable choices...
Continue
Miles Davis
Live at the 1963 Monterey Jazz Festival
Monterey Jazz Festival Records
2007
This recording is so fresh and alive sonically and so rich and rewarding musically that forty-five years literally melt away upon hearing it. One doesn't know whether to express gratitude to the producers for releasing a recorded event of such historic significance and rare beauty, or annoyance at those responsible for keeping it on ice for all these years. In any case, it's music that could have been recorded yesterday. Another example of what is known as Davis' "transition period" (1960-1964), the playing is good enough to make a listener wish the transition had lasted indefinitely...
Continue
Charles Mingus Sextet with Eric Dolphy
Cornell 1964
Blue Note
2007
Following upon the first-time release
Mingus At UCLA
(Universal 2007), which afforded penetrating if uneven glimpses into the Mingus creative process, this latest two-disc release offers at once more satisfying music and a fuller picture of another, earlier, smaller but more distinguished Mingus ensemble—the fabled 1964 touring unit that would be recorded later in the same year in Paris. Though Dolphy understandably will always be a magnet, each of the soloists is heard to maximum advantage on this earlier American concert. Moreover, the presence of Johnny Coles' trumpet means that, unlike the European concert, the sextet comprises six rather than five members...
Continue
.
Michael Brecker
Pilgrimage
Heads Up International
2007
If there's any solace to be gained from the dramatic, heart-rending final months of Michael Brecker's life, it's that perhaps some of the attention bestowed upon this towering musician and exemplary human being will be directed to the vital African-American art form that he influenced and contributed to. As recently as 1990, the average life span of jazz musicians was estimated to be 43, with the cases of saxophone legends Charlie Parker (who died at the age of 34) and John Coltrane (40) more often held up as typical rather than exceptional. It's difficult to recall the case of a jazz musician's premature death that has provoked the outpourings of sympathy, love, and respect, along with the unrestrained critical and popular assessments of his music that this one has. But Brecker's was a special case...
Continue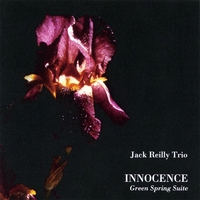 Jack Reilly Trio
Innocence: Green Spring Suite
Unichrom
2007
"A man's reach must exceed his grasp, or what's a heaven for?" Pianist/composer Jack Reilly is a creative spirit whose temperament matches that of an indomitably positive, life-affirming major poet such as Robert Browning. Seeing obstacles as challenges, set-backs as opportunities, and failures as mere preludes to success, both artists embrace a creed that insists on going for broke, and doing so with gusto.
Innocence: Green Spring Suite
is an ambitious, wholly engaging musical odyssey based on the pianist's recovery from life-threatening cancer while receiving treatment at John Hopkins' Spring Green Station. But the two-disc package, comprising twelve movements and an encore, is also about his journey as a musician and a powerful testament to his lifework....
Continue
Bill Holman
Hommage
Jazzed Media
2007
Believe it or not, some of us as college students remember cutting our big band teeth on Bill Holman's incisive, baroque charts that somehow made their way into Stan Kenton's primarily Wagnerian book. A mainstay tenor saxophonist beginning in the 1950s, Holman is today among the 2-3 living legends among all jazz arrangers-composers. With veteran great players such as Pete Christlieb, Lanny Morgan and Bob Enevoldson along with potential future giants like Christian Jacob,
Hommage
is at once testimony to a vital tradition as well as a tribute to the valiant road warriors from the Duke and the Count to Kenton, Maynard, Rich and, above all, Woody. It's unlikely that we'll ever again see traveling Herds with bands of Brothers, but this exuberant, triumphant session gives us reason to hope that we haven't come to the last round-up.
Don Friedman
Waltz for Marilyn
Jazz Excursion Records
2007
The impressive vita and discography of Don Friedman are but touchstones to the musicianship of this pianist who, like Kenny Barron and Hank Jones, navigates the jazz mainstream while remaining perpetually fresh if not cutting edge. On
Waltz for Marilyn
the seasoned veteran is joined by three like-minded, proven young musicians who bring the leader's conceptions to realization while making strong statements of their own. It's as though the pianist's flowing inventiveness has been magnified by four...
Continue
Francesco Cafisi
New York Lullaby
Venus Records
2006
Yes, he
is
that good. Or was, on the occasion of this 2005 session, which features the fifteen-year- old native Sicilian saxophonist making his American recording debut accompanied by a crack New York rhythm section. Although it's common to hear rueful expressions about what a Charlie Parker or Clifford Brown might have accomplished had they lived longer, a player as precocious as Francesco Cafiso reminds us of the challenges facing an artist who appears to "be there" already, yet has a lifetime before him. In June 2007, when he was seventeen, the altoist made history of sorts when he entered Birdland, the domain named after the music's most acclaimed improviser, to play the "Bird role" in a re-creation of the predecessor-father figure's most popular recording,
Charlie Parker with Strings
. From the evidence on New York Lullaby, the young player is perhaps one of the few musicians up to such a formidable if not unenviable assignment....
Continue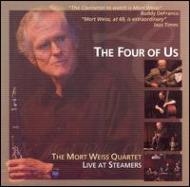 Mort Weiss
The Four of Us: Live at Steamers
SMS Jazz
2006
If it isn't a first, it's certainly not a common occurrence for a musician to take his ax out of storage after a forty-year lay-off without a missing a beat. And if Hammond B3 trios featuring tenor saxophonists with Selmer Mark 6s are a well-established instrumentation, the same can hardly be said about the combination of a B3 and a Buffet clarinet. So clarinetist Mort Weiss has pulled off a couple of milestones that would practically assure instant attention for any instrumentalist. But whereas jazz followers are likely to be familiar with the career moves of a clarinetist like Don Byron, who deliberately and deliberatively surprises with a succession of eclectic projects, Weiss has been more personally methodical in his approach, arranging a series of sessions that would prepare him for the challenge of DeFrancesco's B3 by placing him in the company of a constant but gradually burgeoning cast of players...
Continue
Kurt Elling
Nightmoves
Concord Records
2007
Nightmoves
has already garnered volumes of ink (
All Music Guide
devotes three times more space to it than Miles Davis\'
Kind of Blue
). Perhaps equally impressive testimony to Elling's eminence is that he can afford to take four years between albums and, like Sinatra in the 1950s, keep his Down Beat poll-winning streak as top male jazz vocalist intact. Although much has been written about Elling's adaptation of poets like Rumi and Roethke, in music the thought, emotion and wordsmithery of a Lorenz Hart or Cole Porter are hard to beat. Elling's strongest suit is musical storytelling. And if he doesn't draw his primary inspiration from Sinatra, he derives the same from the Chairman's instrumental equivalent, tenor giant Dexter Gordon...
Continue
Richie Cole and Alto Madness
Back on Top
Jazz Excursion Records
2006
Richie Cole is back with his "Alto Madness Orchestra," and no doubt many who haven't actually heard the group will assume it's one of those multiple-alto, one-upsmanship affairs on which Phil Woods takes on challengers young and old (
Four Altos
, Prestige 1957;
Alto Summit
, Fantasy, 1996). Assume again. The only alto player is Cole—in fact, he\'s the only composer (almost) and arranger on the ten tracks of this date, amounting to a new career phase as well as a tour de force for the multifaceted, energetic, and inarguably prolific leader (some estimates have credited Cole with as many as 5000 compositions, placing him within striking distance of the record-setting 8000 plus songs credited to the late Steve Allen!). If you haven't heard Alto Madness, think of orchestrations predating Gil Evans; instead, conjure up the Count Basie, Woody Herman or Buddy Rich bands compressed to septet size and playing exclusively swinging charts...
Continue
Frank Sinatra
Sinatra—Vegas
Reprise Records
2006
Downbeat Magazine\'s
listing of this five-disc CD/DVD package as among the best of 2007 reminds me that last year I was a year early in pronouncing it one of the best of 2006. The release merits a return appearance: Sinatra, in fact, was a classy hat trick, a spectacular three-act opera writ large. First, there\'s the Columbia, Capitol, and Reprise Sinatras; next, there's the swinger, the torch singer, and the surprisingly "legit" descendent of Caruso who projected Hammerstein ("Ole Man River," "I Have Dreamed") into orbit; finally, there's the matinee idol of the bobby-soxers, followed by the reactionary who rescued the Great American Songbook, followed by the commanding Chairman with blue eyes capable of reaching higher than Michael Jordan into the uppermost rows of the same Chicago Stadium where both stars shone. This set is a reminder of the latter Sinatra, who was the primary reason that Las Vegas was once a genuine "cabaret" city worth visiting as opposed to a family theme park gouging tourists before they'd ever seen a slot machine. The first disc, a 1961 show at the Sands, is worth the admission price all by itself, containing moments—much like those in the Sarah Vaughan set discussed above—when the performer seems no less caught off guard than we the listeners at the discovery of beauty so rare and ineffable that only a Sinatra profanity can dispel the emotion threatening to overwhelm the moment and keep the show moving along.
Continue
Post a comment