The Patti Wicks Trio: Room at the Top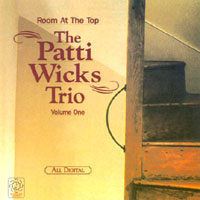 If there were more "room at the top —for Jazz artists, that is—here's one pianist who'd be knocking loudly on that elusive door known as fame. Patti Wicks, who's several light""years away from household name status even in south Florida, where she lives and performs, not only plays piano with as much warmth, elegance and charm as most of her more celebrated peers, she sings almost as well as she plays.
According to the liner notes, Wicks does have a following of sorts in West Palm Beach, Delray, Cocoa Beach and other Florida locales, so apparently there are some people there with good taste and perceptive ears. The next aim is to broaden that circle of admirers, something this album may accomplish if anyone can be persuaded to listen. What they'll hear is an uncommonly gifted Jazz pianist who deserves far wider recognition and applause than she'll probably ever earn. Listening to Wicks sing—which she does on seven of the 13 selections—I'm reminded of the late Carmen McRae, as her sonorous voice and caustic, unadorned style bear a striking resemblance to Carmen's (but Wicks is no clone; she has her own arresting bag of tricks).
I don't know if Wicks/Payne/Yarling are a working group, but they work quite well together on this studio date (which, as you'll note, is more than 70 minutes long). Few of those moments are misspent as Wicks and her companions glide smoothly through a delightful program of well""known standards, unpolished gems ("Lilac Time, "Love Is a Necessary Evil ), an original composition by Wicks ("Waltz for Rudy ) and two by bassist Payne ("Promise Me, "Here and Now ).
Wicks' piano style is modern mainstream, in the manner of Tommy Flanagan, Barry Harris and others in that groove. In a just world her album would receive plenty of airplay so listeners could appraise her talent for themselves; as it is, you'll either have to buy it or take my word for it.
Track Listing
I Hear a Rhapsody; Lilac Wine; How Deep Is the Ocean; You Don
Personnel
Patti Wicks, piano, vocals; Don Payne, bass; John Yarling, drums.
Contact: Recycled Notes Music Company, 861 NW 73rd Avenue, Plantation, FL 33317.
Album information
Title: Room at the Top | Year Released: 1999 | Record Label: Recycled Notes
Post a comment about this album