Mike Longo: Oasis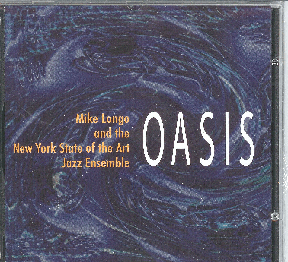 Mike Longo's New York State Of The Art Jazz Ensemble preserves the big band tradition that he served loyally with Dizzy Gillespie for more than sixteen years. Lyrical ballads and hot romps characterize the spirit well. Collectively, the band provides a balanced performance that swings with a relaxed air.
Vocalist Hilary Gardner interprets "Love Walked In," "Song of My Dream," and "The Night We Called it a Day." She's particularly effective on the latter Matt Dennis composition, where emotions take over and you're persuaded to breathe a big sigh in relief. Here, the band's Latin arrangement turns the piece into a casual celebration of fate turning things around in our favor. Equally effective is her interpretation of Frank Perowsky's "Song of My Dream," a heartfelt dedication to Duke Ellington.


Longo can be heard soloing on "No More Blues," 'Infusion," "Lazy Afternoon," and in several other key locations on the program. He prefers, however, to remain a vital part of the organization this time out and shine the spotlight on the artists he's assembled here. The ensemble's outstanding soloists include alto saxophonists Lee Greene & Bob Magnuson, bass clarinetist Matt Snyder, trombonists Sam Burtis & Eric Goletz, bassist Santi Debriano, tenor saxophonists Perowsky and Gerry Niewood, trumpeters Gary Guzio, Joe Magnarelli, Freddie Hendrix & Nabate Isles, guitarist Adam Rafferty, drummer Daryl Pelligrini, and pianist/leader Longo.

Track Listing: Bag of Bones; Chanson; Mike's Lament; Love Walked In; Alone Together; Infusion; The Godfather; Lazy Afternoon; Covenant City; Nocturnal Sea Voyage; The Night We Called It a Day; No More Blues; Song of My Dream.
Personnel: Mike Longo- piano, leader; Hilary Gardner- vocals; Joseph Magnarelli, Gary Guzio, Freddie Hendrix, Waldron Ricks, Nabate Isles, Seneca Black- trumpet; Bob Magnuson, Lee Greene, Gerry Niewood, Frank Perowsky, Matt Snyder, Claire Daly- saxophone; Sam Burtis, Bob Suttman, Eric Goletz, Curtis Fowlkes, Jonathan Greenberg, Don Mikkelsen- trombone; Santi DeBriano- bass; Daryl Pellegrini- drums; Adam Rafferty- guitar.
---