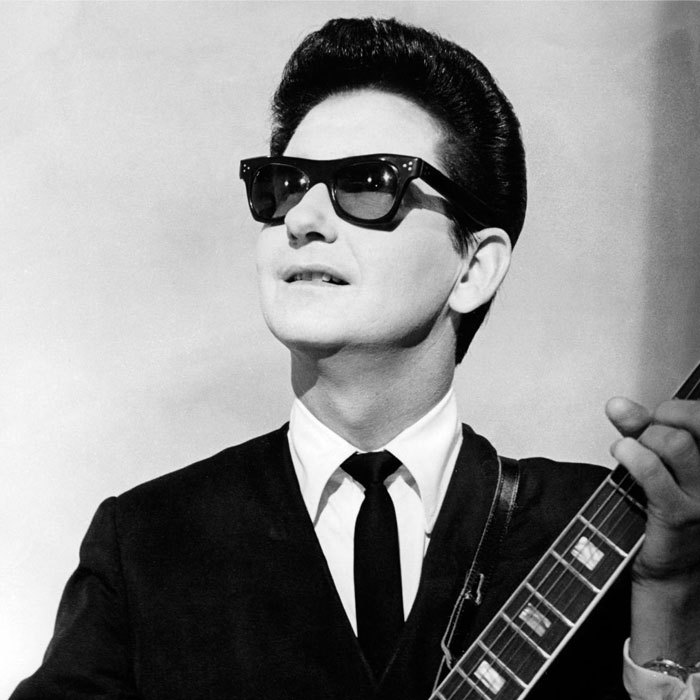 With images of lower Memphis struggling with a swollen Mississippi River, I spent yesterday listening to
Roy Orbison: The Monument Singles Collection (1960-1964),
a newly remastered, three-disc set from Sony Legacy. As readers know, I love everything about Memphis—the energy, the kindness of strangers, the ribs and pork shoulder, the city's rich blues and rock history, and the humidity. So Orbison's recordings were just right, reminding me how delightfully dark and somewhat misunderstood this early rocker was.
The new set's first CD covers Orbison's A-sides for Monument Records while the second disc is devoted to his B-sides. The 33 releases plus 6 bonus tracks are widely considered to be Orbison's greatest works. Twenty-two of them wound up in the Top 40 of
Billboard's
Hot 100 chart, which is pretty remarkable when you think about it.
The third disc is a revealing and previously unreleased DVD of Orbison performing nine Monument hits in the Netherlands in 1965, including
Oh Pretty Woman
. The video has been gloriously restored and shows Orbison in all his concert glory. Which is both eerie and captivating.
You may already know that Orbison performed standng still, dressed in all black and wearing thick dark glasses. But you may not be aware that he didn't move his lips much when he sang, as this footage shows. Yet his voice was capable of delivering a pureness and clarity that transfixed audiences and wowed fellow rockabilly sons of Sun Records—Elvis Presley, Jerry Lee Lewis and Johnny Cash.
Where Presley on stage never seemed to take himself completely seriously (but actually did) and Lewis seemed reckless and out of control (actually he knew exactly what he was doing), Orbison loved being low-key and was a master of stage cool and faux shyness. In fact, his stage presence was so lifeless that some people new to him thought he might be blind given his heavy dark glasses and lack of stage movement.
As is evident on the new set, Orbison's songs tended to be sweeter than the flashy blues and big-build opuses that Presley and Lewis favored. To this end, Orbison was more of a vulnerable troubadour trying to sing his way out of a broken heart or at least tyring ot make sense of it. You hear this melancholy on many of his biggest hits delivered with operatic flare, including
Oh, Pretty Woman, Blue Bayou, Crying, Lana
and
Falling
.
Admitedly, Orbison (1936-1988) requires a bit more work than Presley and Lewis, who were about sheer excitement and explosive emotions. Cash used a delivery that had more in common with the folk tradition than rock 'n' roll. Orbison, by contrast, was the more sincere and sensitive rocker. But don't let all that heart-tugging and falsetto fool you. As you can see from the mesmerized audience in this new set's DVD, Orbison knew exactly how to wrap a crowd of teens around his finger.
JazzWax tracks:
Roy Orbison: The Monument Singles Collection (1960-1965)
comes in two formats: The three disc set (with DVD) is
here
. Or you can buy just the A-sides
here
. The second CD and DVD is worth the extra $10.
JazzWax notes:
The set's remastering is terrific. The tracks have been restored to their original mono singles mixes, and there's a warmth and richness to the fidelity.
For more on Monument and Orbison, Bruce Sylvester wrote a fine article for
Goldmine
here
.
JazzWax clip: Here's
Roy Orbison in Laren, Holland, on March 25, 1965 performing
Dream Baby
from the Monument DVD included in the new set...
This story appears courtesy of JazzWax by Marc Myers.
Copyright © 2022. All rights reserved.