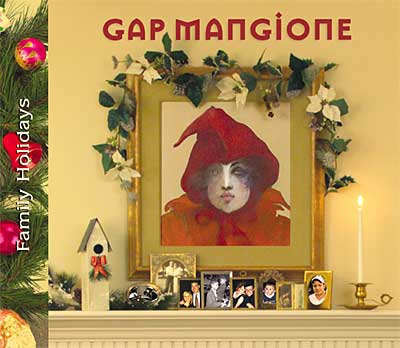 Each December for the past 11 years, I've carefully chosen a different album for inclusion in my annual JazzWax Vintage Holiday Album Hall of Fame. I established this yule honor in 2008 to steer you to great favorites that may be unknown to you or merely forgotten.
My holiday fave this year is Gap Mangione's
Family Holidays
. Recorded in 2005 at three different studios in Upstate New York for the Josh label, the album features Dennis Tribuzzi, Jeff Jarvis, Jack Schantz and Pat Carney (tp,flhrn); Mark Kellogg and John Hasselback (tb); Bob Kalwas (b-tb); Gerry Niewood (as,sop,fl); Andy Weinzler (ts,as,sop); Pat LaBarbera (ts,sop); Ed Xiques (bar,sop); Gap Mangione (p,keyboards); Grant Geissman (g,synt,perc,vcl); Neil Swainson and Tony Levin on different tracks (b); Steve Gadd (d) and Cindy Miller (vcl).
The album swings from start to finish and will put you in the jazz holiday spirit. Kudos to Gap for his knock-out big-band arrangements. [Photo above courtesy of Gap Mangione]
Here's Gap's
Bellezza
(Italian for beauty), featuring Gerry Niewood (as), Mark Kellogg (tb) and Andy Weinzler (ts)...
Bellezza
And here's
Sleigh Ride
, with solos by Andy Weinzler (ts), Jeff Jarvis (tp) and John Hasselback (tb)...
Sleigh Ride
You'll find Gap Mangione's
Family Holidays
here
or
here
.
Now meet the rest of the JazzWax Vintage Holiday Album Hall of Fame, in order of their induction...
2017—
Doris Day: Complete Christmas Collection
. (1964).
2016—
Ella Wishes You a Swinging Christmas
(1960).
2015—Two albums with the same name: Bobby Timmons'
Holiday Soul
and Don Patterson's
Holiday Soul
. Both trio albums were recorded for Prestige in Nov. 1964—the former on the 24th and the latter on the 25th.
2014—
Herb Alpert & the Tijuana Brass: Christmas Album
(1968).
2013—Steve Lawrence and Eydie Gorme's
That Holiday Feeling!
(1964).
2012—
Duke Pearson: Merry Ole Soul
(1969).
2011—
Urbie Green: A Cool Yule Tide
(1954).
2010—
Eddie Higgins: Christmas Songs
(2004).
2009—
June Christy: This Time of Year
(1961).
2008—
Jo Stafford's Happy Holidays: I Love the Winter Weather
(1950s).
This story appears courtesy of JazzWax by Marc Myers.
Copyright © 2022. All rights reserved.