Ray Blue
RAY BLUE - a big saxophone sound that touches your soul
Saxophonist Ray Blue has a sound and style that are energetic, powerful, and sensitive. Ray takes you for a musical ride that is characterized by passion and precision. He delivers dynamic poetic phrases, strong grooves and leaves audiences wanting more. A Ray Blue Music Experience stays with you for a long time.
"Ray Blue has a majestic presence. When playing, his sense of purpose is obvious. As evidence of that - people's enthralled smile. It's one thing to be a good composer it's another to be a great performer. Ray Blue's got the whole package." (Jean Szlamowicz, Jazz Hot, Down Beat)
"Growing up in New York in a musically rich environment, I learned an appreciation for all music", Ray says. "Through music I am able to help people experience wonderful moments… I love what I do, whether performing, composing or just listening ...music is wonderful. I want to bring people together to share and gain an understanding of the music and one another".
Having studied music and performed all his life, Ray began playing clarinet at age 8 and added tenor saxophone and bass clarinet at age 14. "My Jr. High School music teacher introduced the class to 'Kind of Blue' by Miles Davis. 'This is your music', he said. That was it for me."
Jazz, r&b and soul music became Ray's passion in High School and he started playing for dances and in clubs at age 15. During these years he was nurtured by several musicians in his community: the late Dr. Jesse J. Johnson, Dr. Art Davis, Asbury "Sticks" Medowbrook and Vince Corozine as well as his contemporaries, Chip White and Michael Cochrane. Ray learned to be a student of the music, the importance of being an avid listener and to embrace the tradition of jazz.
He later studied at the Jazz Mobile with Charles Davis also with Paul Jeffreys, Charlie Lagond, Sonny Sharrock and was mentored by Arthur Blythe and Ornette Coleman, with whom he maintains a close relationship. Ray Blue is a graduate of the University of Iowa and Wm. Penn University, which annually presents "The Ray Blue Jazz Award" to a graduating senior.
Over the years, Ray played in jazz, blues and r&b bands on the New York scene and learned from veteran musicians in a variety of contexts. He honed his skills as a saxophonist, composer and leader performing in clubs, concerts, at festivals and recorded with bands for Columbia Records, RCA Records and several Independent record labels. Ray has performed with a host world known musicians including Steve Turre, John Gilmore, Michael Cochrane, Eddie Henderson, Gary Bartz, Clfford Adams, T.K. Blue, Victor Jones, Joe Ford and Blues Legend Bob Gaddy, The Sun Ra Arkestra, The Cotton Club All Stars and others. He is also a main stay with the Spirit of Life Ensemble. As a leader; John Patton, Wycliff Gordon, Michael Cochrane, Ed Cherry, Larry Willis, John Betch, Wayne Dockery, Bobby Battle, Bruce Cox, Benny Powell, Chip White, Calvin Hill and many more have shared the stage and studio with Ray.
Read more
Primary Instrument
Saxophone
Clinic/Workshop Information
Ray Blue offers Saxophone Workshops and Master Classes for schools and colleges.
Concert Schedule
Recordings: As Leader | As Sideperson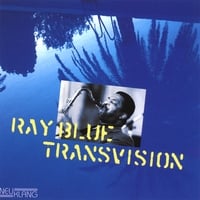 Neuklang Records
2006
buy