Michael Pedicin
As It Should Be: Ballads 2, the 14th album of tenor and soprano saxophonist Michael Pedicin's prolific career, is in many ways akin to his acclaimed 2011 CD, Ballads… searching for peace. Ballads showcasing the exquisitely lyrical aspects of Pedicin's playing are again the focus, but with a difference. Other than the John Coltrane classic "Crescent" and an especially tender treatment of Paul Simon's "Bridge Over Troubled Water" (a tune rarely performed in a jazz context), eight of the disc's 10 songs were composed as ballads by the saxophonist's longtime collaborator, guitarist Johnnie Valentino. Several of them, however, were treated to somewhat brighter grooves than had been originally intended after the musicians got to the recording studio, particularly "From Afar," which was double-timed at a bossa-nova-like clip by drummer Justin Faulkner and percussionist Alex Acuña.
The themes of Ballads…searching for peace and As It Should Be both reflect Pedicin's abiding concern with issues of peace and justice. "I'm one of those diehard Sixties kids that grew up concerned about peace and togetherness and acceptance," he explains. "I think about that every day of my life. We're all one. This is probably a necessary component in our world more than ever, at least more than ever in my lifetime. I believe that we're all human beings more than anything else: race, ethnicity, nationality."
Read more
March 20, 2017
April 19, 2014
August 13, 2013
July 01, 2012
September 14, 2011
September 06, 2010
May 12, 2008
April 22, 2008
April 08, 2008
"Whether you know it or not you've been digging Pedicin's sax for 45 years . . . With a jazz suite inspired by the happenings in Newtown, this soulful set shows an artist continuing to hit new high spots while at the top of his game."
"Michael Pedicin Jr. tempered the soft-focus lyricism that the quartet's saxophone chair has demanded with some discreet John Coltrane devices and an attractive sense of spacing and drama." —The New York Times
"Michael Pedicin Jr. seems more dedicated to his art than to radioplay." —Downbeat Magazine
"Pedicin stretches on tenor in a Breckeresque fashion." —Downbeat Magazine
Primary Instrument
Saxophone, tenor
Location
Philadelphia
Willing to teach
Advanced only
Credentials/Background
Saxophone instructor at University of the Arts, 1974-2000.

Senior lecturer at University of the Arts, jazz studies.

Director of jazz studies, Temple University, 1981-1988.

Currently associate professor of music/coordinator of jazz studies.....Richard Stockton College of New Jersey
From: Ballads... Searching For Peace
By Michael Pedicin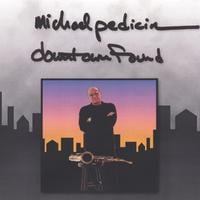 From: Downtown Found
By Michael Pedicin
From: Everything Starts Now...
By Michael Pedicin