Michael Pedicin
In 2014, saxophonist Michael Pedicin wrote about music in a brilliant article in Downbeat called "The Improviser as Musical Philosopher," writing, "No one thrives alone. We are all interconnected... Who we are is what we play." Putting the emphasis on the "we," Pedicin wrote, "...we do not play alone; we play with others." It's no wonder that this composer and improviser has been so drawn to John Coltrane all his life, as many instrumentalists are, if only for Trane's facility on his horn. But Pedicin recognized a long time ago that the art of playing music, of improvising, has a deep heritage that Trane had tapped into in his young life. Pedicin arrived at this recognition through the long and winding road and interplay of playing jazz with his education in medicine and cognitive psychology, and just living a life adapting to the vagaries of the music business and helping others through his private practice as a psychologist.
In his essay, Pedicin embellished on a South African belief system called ubuntu and rightly compared it to the dynamics of collective improvisation and the formation of spontaneous communities. Ubuntu says, "I am because you are," that one's humanity is affirmed through recognition of the other in all their uniqueness and difference. In improvisation, rules may be abandoned if they are limiting, and the band is always moving with each other and always engaged in a process of dialogue.
These are understandings learned from being involved in the act of experiencing live music early on. When his very supportive father, early rock and roll pioneer Mike Pedicin, would drop his young son off to hear saxophonist Willis "Gator Tail" Jackson at Club Harlem on famous Kentucky Avenue in Atlantic City when he was 15 years old and leave him there (protectively overseen by a bartender the senior Pedicin knew well) while he did a gig in the same town, both father, son, and the clientele of Club Harlem trusted in the power of the music, crossing racial and cultural boundaries to appreciate the interconnectedness of jazz and blues.
Michael Pedicin went to Philadelphia Music Academy (PMA), a strictly European classical institution, which eventually became the University of the Arts; expanding its vision to jazz and more contemporary pursuits well after Pedicin had graduated. Of course, they hired him later as an educator, teaching at University of the Arts from1976 to 198. While at PMA, Pedicin studied with the premier music theory coach of Pat Martino and John Coltrane, and many of the city's serious jazz players—Dennis Sandole. Clarinetist Michael Guerra and saxophonist Buddy Savitt were other mentors that brought Pedicin to the point that he switched from alto to tenor saxophone and almost instantly became a sought-after session player in the 1970s with Sigma Sound Studios, working with producers Kenny Gamble, Leon Huff, and Thom Bell on hundreds of sessions with the Spinners, the O'Jays, Lou Rawls (in between touring with Maynard Ferguson), Stevie Wonder, and David Bowie.
Read more
March 20, 2017
April 19, 2014
August 13, 2013
July 01, 2012
September 14, 2011
September 06, 2010
May 12, 2008
April 22, 2008
April 08, 2008
"Whether you know it or not you've been digging Pedicin's sax for 45 years . . . With a jazz suite inspired by the happenings in Newtown, this soulful set shows an artist continuing to hit new high spots while at the top of his game." "Michael Pedicin Jr. tempered the soft-focus lyricism that the quartet's saxophone chair has demanded with some discreet John Coltrane devices and an attractive sense of spacing and drama." —The New York Times
"Michael Pedicin Jr. seems more dedicated to his art than to radioplay." —Downbeat Magazine
Primary Instrument
Saxophone, tenor
Location
Philadelphia
Willing to teach
Advanced only
Credentials/Background
Saxophone instructor at University of the Arts, 1974-2000.

Senior lecturer at University of the Arts, jazz studies.

Director of jazz studies, Temple University, 1981-1988.

Currently associate professor of music/coordinator of jazz studies.....Richard Stockton College of New Jersey
From: Ballads... Searching For Peace
By Michael Pedicin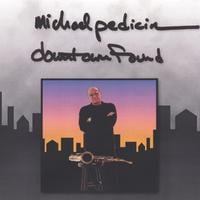 From: Downtown Found
By Michael Pedicin
From: Everything Starts Now...
By Michael Pedicin