All The Things You Are by Patrizia...The Sultry Lady Of Jazz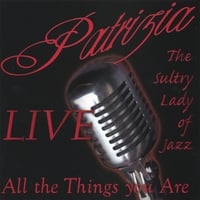 Buy Album
From the album
Album Title: All The Things You Are
Label: Puramente Jazz
Released: 2007
Listen
Broken link? Report it to us
About the Album
This straight-ahead jazz album consisting of an impressive collection of 12 Classic Jazz Standards was recorded live on August 25, 2006 in the music room of Irwin and Joan Jacobs. All of the compositions were chosen by Patrizia because of their extremely beautiful timeless music, and the emotional depth of the lyrics. Alan Zundelevich arranged each composition especially for her. Patrizia put together a stellar group of master musicians, consisting of Richard James on Piano, Daniel Jackson on Tenor-Sax, Bob Magnusson on Bass, and Ronnie Stewart on Drums. Each one of the sidemen knew the role of their instrument so well, that even upon seeing the arrangements for the first time, the performances they deliver are truly outstanding.
Personnel
Date featured
March 13, 2007
This song appears by permission of the contributing artist and/or record company.
It is for personal use only; no other rights are granted or implied.