Jazz Pianists: Russ Kassoff, John di Martino & Matt Savage
The trio setting leaves no place for a pianist to hide. A strong rhythm section may make up for a weak left hand, but unless the leader chooses an interesting program and carries his improvisational weight, all is for naught. These three pianists challenge listeners with their song selection and arrangements.
Russ Kassoff
Somewhere
RHK Jazz
2006
Russ Kassoff has an extensive resumé backing singers (Frank Sinatra, Liza Minelli, Sylvia Syms and Chris Connor) or accompanying instrumentalists (Red Norvo, Bucky & John Pizzarelli), leading big bands and writing arrangements, but
Somewhere
marks his first jazz date as a leader playing in a solo/trio setting. Joining him are Martin Wind (bass) and Tim Horner (drums), two first-call musicians who both have extensive experience with pianist Bill Mays. Kassoff naturally gravitates to time-tested standards that he's played with countless singers during his long career, yet he is able to bring something fresh to each song. Examples include his soft, wistful setting of the Leonard Bernstein title track, which incorporates a catchy vamp as a repeated motif, or decoying the listener with the opening lick of "Take the A Train before switching to a joyful stride piano solo rendition of Duke Ellington's "Love You Madly . Even an old warhorse like "Lady be Good benefits from his approach, with humorous interludes and rapid-fire Art Tatum-like runs in his solo introduction before his partners join him for a swinging performance. One surprising choice is folkie Pete Seeger's "Where Have All the Flowers Gone , dedicated to Kassoff's father who died shortly after the sessions were completed and before he could hear the results. The pianist also adds several original ballads, each of which could easily hush a noisy nightclub audience, especially the dreamy but not overly sentimental "I Remember .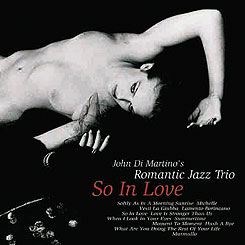 John di Martino
John di Martino's Romantic Jazz Trio
Venus
2005
While most jazz musicians have concentrated on Broadway tunes by the greats who were active from the 1920s-50s, relatively few have explored today's composers exclusively on a single CD. Pianist John di Martino's
Music of the Night
, with bassist Boris Kozlov and drummer Tim Horner, draws from shows such as
Cabaret
, Les Miserables,
Beauty and the Beast
, along with three songs by the fiercely debated Andrew Lloyd Webber (from
The Phantom of the Opera
and
Cats
). di Martino's imaginative arrangements use these themes as springboards for the trio's improvisations, uncovering their possibilities as future standards. Highlights include a bossa nova setting of "Music of the Night and the dreamy rendition of "Beauty and the Beast . In fact, only one of his selections has been recorded extensively by other jazz artists ("Send in the Clowns ), though most jazz fans will be grateful that di Martino bypassed Webber's more overblown pieces.
Matt Savage Trio
Quantum Leap
Savage Records
2006
Matt Savage has commanded a lot of media attention during his brief career because of his surprising ability as a jazz pianist and composer, which has taken off in spite of a diagnosis of autism at the age of three. Only 14 years old at the time of this recording,
Quantum Leap
is already his sixth date as a leader, once again with bassist John Funkhouser and drummer Steve Silverstein. Savage's playing is bop-oriented, featuring 11 originals, with only one having an obvious source of inspiration: "Curacao , which utilizes the chord changes from "Night in Tunisia . He is getting more ambitious in his exploration of standards and well known jazz works, which include a rollicking treatment of "Lullaby of Birdland and a lively Latin-flavored "All the Things You Are , though his solo interpretation of "A Child is Born somewhat overshadows this timeless ballad's natural beauty.
Tracks and Personnel
Somewhere
Tracks: Look For The Silver Lining; Somewhere; It Only Happens When I Dance With You; A Sackets Sunset; The Best Thing For You; You Are All The World To Me; Samba du Sackets; I Remember; Love You Madly; It Never Entered My Mind; Oh, Lady Be Good; Where Have All The Flowers Gone.
Personnel: Russ Kassoff: piano; Martin Wind: bass; Tim Horner: drums.
John di Martino's Romantic Jazz Trio
Tracks: All That Jazz; I Dreamed a Dream; Music of the Night:; Memory; When You're Good to Mama; All I Ask of You; Mein Herr; Maybe This Time; On My Own; Beauty and The Beast; Tomorrow Belongs to Me; Send In The Clowns; If You Could See He.
Personnel: John Di Martino: piano; Boris Kozlov: bass; Tim Horner: drums.
Quantum Leap
Tracks: Give Me a Break; Couch Potato Blues; Lullaby of Birdland; Serenity; Free and Easy; Curacao; A Child is Born; Wobble Waltz; Closer Than You Think; All the Things You Are; Flights of Fancy; Dreaming of You; Hide and Seek; Blues in 33/8; Monk's Dream.
Personnel: Matt Savage: piano; John Funkhouser: bass; Steve Silverstein: drums.
Post a comment