Paster/Ryan/Hall: Invisible Horizon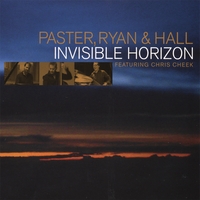 They say "it don't mean a thing if it ain't got that swing." If that's so, then
Invisible Horizon
must mean a whole lot, 'cause it swings mightily on its opener, "Sweet and Lovely," a standard much-covered by none other than Thelonious Monk; and covered here by pianist Bennett Paster, bassist Gregory Ryan and drummer Keith Hall.
The group's last piano trio outing,
Skyline
was full of bright, approachable melodies on a set of mostly originals by the individual band mates, but including tunes from the pens of Oliver Nelson, John Coltrane and Leonard Bernstein—with lots of swing, lots of optimistic sparkle, a set that could spin back-to-back-to-back and not wear out its welcome.
Invisible Horizon is more of the same: the band's buoyant take on "Sweet and Lovely, Cole Porter's "Everything I Love," played with a light but implacable forward momentum; and the closer, a turn-up-the-tempo take on "East of the Sun." Five more tunes come from Paster's pen, two from Ryan and one from Hall—mostly outward looking, swinging and melodically accessible sounds.

The group slips into darker territory with the Paster-penned "Dark Day," an inward-looking ballad, full of sadness—but beautiful. The guest slot, three consecutive tunes featuring saxophonist Chris Cheek, follows, the sound staying introspective on the mid-tempo "No Milquetoast" and "Epiphany"—from the pens of Paster and Ryan, respectively. Things then crank up with a bit of a Latin tinge on Paster's "Invisible Horizon." Cheek's tone is dry and slightly gravelly, with a Dexter Gordon-like heft that nicely counterpoints the trio's lighter approach.

The sequencing of the tunes—putting the guest spot numbers together behind "Dark Day"—gives the CD a welcome two-sided album feeling on this top-notch trio/quartet outing.
Track Listing
Sweet and Lovely; Bunzo Bean; Wisdom...1st Things 1st; Everything I Love; The Wild Kitties; Almost Like Being With You; Dark Day; No Milquetoast; Epiphany; Invisible Horizon; East of the Sun.
Personnel
Bennett Paster: piano; Gregory Ryan: bass; Keith Hall: drums; Chris Cheek: saxophone (8,9,10).
Album information
Title: Invisible Horizon | Year Released: 2007 | Record Label: Self Produced