Bailey's Bundles
Harvie S: Give The Bassman Some
By
Bassist Harvie S's name is becoming practically synonymous with Latin jazz. Two recent recordings find the mercurial S wearing different musical hats, first leading his own band, then playing on and producing vocalist Sherri Roberts' disc.
Harvie S
Funky Cha
Zoho Music
2006
In 2004, Harvie S released his Zoho Music debut, the excellent
Texas Rumba
, inaugurating a perfect meeting of minds between artist and label. The bassist now follows that debut with
Funky Cha
. The album sees him continuing his evolution within the genre, while putting his own mark on the music's evolution. S's compositional ability is book ended well by "C7 Heaven and "Mariposa En Mano. The former is an abstractly jaunty, percussion-heavy line, providing all soloists with an angular framework for expression. Pianist Daniel Kelly launches tentatively into an avant-garde solo, which defyies all time signatures and rhythms and establishes its own rules. Saxophonist Jay Collins suggests what John Coltrane might have sounded like on soprano south of the border.
"Mariposa En Mano has many traditional elements to it, making it sound like Havana in the good times. The rhythm is tropical, lazily checked by Kelly's Latin piano and propelled to movie soundtrack level by Philip Dizack's trumpet. Jay Collins' flute adds musical grenadine to the mix, making the song a heady brew. All the while, S allows all plenty of space. He is nothing if not generous with solo time for the musicians, and gives them enticing charts over which to solo. The title cut allows William Bausch to show off his Latin drumming chops. Collins' tenor draws the melody line supported by the crack rhythm section of S, Kelly and drummer William Bausch.
The two standards are fun revelations. Latin Monk is exposed on a beautifully off-beat "Rhythm-A-Ning, with a re-orchestrated time signature lending a potent Latin vibe. Cole Porter's "What Is This Thing Called Love is given an ethereal introduction by Kelly, who sets the stage with a soft pillow of arpeggios and trills before S commands the stage with a definitive five-note motif recalling Coltrane's "A Love Supreme. Over this rumbling cauldron brewed by S and Kelly, Scott Avidon's tenor saxophone is accented alongside Dizack's bubbling trumpet. The piece is a jazz tone poem, full of anticipation and satisfaction.
Funky Cha
further documents Harvie S's commitment to the craft of Latin jazz. May we hear much more from him.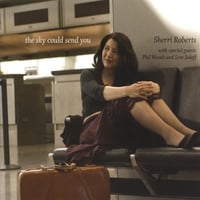 Sherri Roberts
The Sky Could Send You
Pacific Coast Jazz
2006
Native Georgian
cum
San Franciscan
Sherri Roberts
has a perfectly balanced voice, well suited to the humid Caribbean fare featured on
The Sky Could Send You
. Harvie S ably guides the session on bass, with the charts and from behind the board. Roberts and S are joined by saxophonist Phil Woods and trumpeter Lew Soloff, whose presence increases the jazz-specific gravity of the pieces.
The recording begins with breezy renditions of Bobby Troupe's "You're Looking At Me (featuring guitarist John Hart), and Irving Burgie's perfectly cast "Jamaican Farewell, replete with Tim Collin's mallets clinking like ice cubes in a tumbler of rum. Roberts and S composed the ballad "Before, where S takes a thoughtful solo. Roberts then steps out to honor pianist Roger Kellaway by covering his "Tell Me My Name, perfectly seasoned by Soloff's round tone. Roberts' interpretation of Jimmy Webb's "The Moon Is A Harsh Mistress is about as far from Joe Cocker as one can get. The piece is a provocative combination of American and Latin sounds and again features Hart.
At the disc's center are two Rodgers & Hart compositions, "You're Nearer and "Do It The Hard Way. The former sports an East Coast piano trio ballad, sung evenly and sumptuously by Roberts. The trio is bareley tethered to the song, giving the piece a floating feeling. "Do It The Hard Way has Roberts interpreting Chet Baker vocalese on perhaps the least Latin of the tracks. Roberts and S duet brilliantly for the first chorus, executing a rhythmic high wire act that accelerates as S hits 4/4 and Roberts channels Baker's trumpet. S solos (and I mean
solos
) without losing a beat.
The Sky Could Send You
demonstrates the synergy two empathetic artists can share when the stars are in line. This is a wonderful vocal outing.
Tracks and Personnel
Funky Cha
Tracks: Rhythm-A-Ning; C7 Heaven; Mariposa En Mano; Earquake; 'S'; Funky Cha; A Bright Moment; What Is This Thing Called Love; Coco Loco.
Personnel: Harvie S: acoustic bass; Daniel Kelly: piano; William "Beaver Bausch: drums; Jay Collins: tenor and soprano saxophones, flute (1-3,5-7); Scott Robert Avidon: tenor saxophone (3,4,8); Philip Dizack: trumpet (3,8); Wilson "Chembo Corniel: congas and Latin percussion (2,3,7,9); Ernie Colon: guiro, clave (3,7).
The Sky Could Send You
Tracks: You're Looking At Me; Jamaica Farewell; Before; Let Me; Tell Me My Name; The Moon Is A Harsh Mistress; Return To Paradise; You're Nearer; Do It The Hard Way; Slow Hot Wind; Far From New York; Por Toda Minha Vida; [For All My Life].
Personnel: Sherri Roberts: vocals; John Hart: guitar; David Udolf: piano; Phil Woods: saxophone; Lew Soloff: trumpet; Tim Collins: vibraphone; Daniel Sadownick: percussion; Renato Thoms: percussion; Ben Lapidus: tres; Skyler Jett, Daria, Sherri Roberts: background vocals (2).
Instrument: Bass, acoustic
Article Coverage
|
Calendar
|
Album Discography
|
Photo Gallery
|
Similar Artists
Post a comment