Stephane Morilla 5tet: Facon Puzzle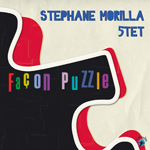 These are boom times indeed for fans of the Fender Rhodes in jazz. You have
Craig Taborn
in Chris Potter's Underground and
Uri Caine
in Dave Douglas's Quintet. Not so far back, we were even treated to six newly issued hours of
Keith Jarrett's
gloriously mind-bending early experiments with the instrument with Miles Davis on
The Cellar Door Sessions 1970
(Sony BMG Legacy, 2005).
Between the Jarrett era and the more recent innovations of Taborn and Caine (among others), there were thirty-plus years of wandering in the wilderness for the redoubtable electric keyboard. During that time, the Fender Rhodes could most often be heard in nondescript smooth-jazz settings. French pianist Stéphane Morilla's group mines this comfortable groove; if not always particularly challenging, it is quite easy to take.
At several turns ("Oued," "L'Ouest"), the compositions and playing—particularly that of electric bassist Greg Theveniau and some of Antoine Bost's soprano sax interventions—call
Weather Report
to mind. This affinity is very much in the air in France these days;
Façon Puzzle
was preceded by the venerable François Jeanneau's very Weather Report-ish
Quand se taisent les oiseaux
(Bee Jazz, 2007).
The fusion supergroup's sound, however, was orchestral, liberally drawing upon the constantly burgeoning technological opportunities offered by the recording studio. Morilla's group, by contrast, sounds intimate, live, semi-acoustic. On the numbers with harder funk elements (the title cut, "Dithyrambique," "Youpie musique"), this distinction is especially clear. The interplay of aggressive drummer Hervé Humbert and percussionist Jorge Costagliola, critical to the acoustic and funky edges of this music, merit particular commendation.
Two guest artists liven up the already lively proceedings. Up-and-coming
Emmanuel Bex
's Hammond organ is delightfully cool on the title cut and the closing "Des moments simples." Electric guitarist James Mac Gaw of
Magma
, meanwhile, provides two solos, one nicely psychedelic ("A l'ouest"), the other elastically funky ("Youpie musique"). (As a footnote, curious non- French readers might be interested in exploring the supremely weird Magma. Imagine a cross between Emerson, Lake and Palmer and Kiss, singing in Klingon: that's pretty much Magma.)
Track Listing
Façon puzzle; Zarbe; Dithyrambique; Des moments simples; Oued; Daniel, Jean; A l'ouest; Youpie musique; Des moments simples.
Personnel
Stéphane Morilla: piano, Fender Rhodes; Antoine Bost: saxophones; Greg Theveniau: bass; Hervé Humbert: drums; Jorge Costagliola: percussion; Emmanuel Bex: Hammond organ (1, 9); James MacGaw: guitar (7, 8)
Album information
Title: Facon Puzzle | Year Released: 2008 | Record Label: Aphrodite Records
Post a comment about this album