Mary Ellen Desmond: Darn That Dream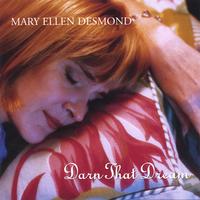 It is this writer's impression that, here in the Philadelphia area, some of our finest contemporary jazz artists are like diamonds in the earth, appreciated by those who know them but awaiting a larger national and international audience. Hopefully, the best of them will follow in the footsteps of Jimmy Bruno, whose extraordinary guitar musicianship has in the past few years led to several fine recordings and a burgeoning and well-deserved national reputation. Another such exceptional talent waiting to make the "big boards" is pianist Tom Lawton, whom I recently interviewed for All About Jazz. Still another is the vocalist, Mary Ellen Desmond, who with her first CD entitled "Darn That Dream," reveals her extraordinary gifts, well appreciated locally, to listeners beyond the Philadelphia and Delaware Valley club scene.
Ms. Desmond, according to her press release, is a classically trained mezzo soprano who also did a stint as a country and western singer before devoting herself to jazz, a decision for which jazz lovers can be eternally grateful. Jazz fits Mary Ellen Desmond like a soft white glove.
In this, her first album, and at venues such as the Forager Restaurant in New Hope, and Chris' Jazz Cafe in Philadelphia, Ms. Desmond comes forth as a comsummate musician with a superb voice, incredibly controlled and yet with a lyrical, if subdued, expression of the meaning of the words and the tune. Her sense of pitch, rhythm, and timing is extraordinary, and the only vocalist I can think of who is in the same league with her is the legendary Johnny Hartman , whose phrasing was as impeccable as the best of the instrumentalists. Ms. Desmond knows exactly where to put the note. And her voice, like the saxophone of her somewhat namesake (no relation, I suppose), Paul Desmond, is, as he once quipped about his own sound, like a dry martini.
Ms. Desmond picked a great group of musicians for her debut CD. I'm especially impressed with the piano work of Kyle Kohler, sensitive and well-attuned to Desmond's style throughout. John Swana's flugelhorn solo on "Darn that Dream" is superb, reminiscent of some of Art Farmer's legendary soloing on that instrument, yet with a silky sound which is Swana's own. All of the musicians surround Ms. Desmond's voice with a "pillow" of sounds, like that on the album cover, modest yet totally professional.
The selection of songs is very seductive and intriguing, drawing the listener into the "dreamy" mood. I was deeply moved by a tune entitled "Almost Blue." The lyric, about how a new lover bittersweetly reminds the singer of a previous very special love, is very subtle for a 'pop' song, and Ms. Desmond weaves the words and melody into a memorable moment of truth.
I know it sounds corny, but I sometimes wished Ms. Desmond had done one or two more "upbeat" tunes on the album. "You Hit the Spot," "Better Than Anything," I've Got the World on a String" and "It's Over Now (Well You Needn't)" were done very competently, but one hoped for one or two tracks with real "drive" of the sort reminiscent of Ella Fitzgerald or Anita O'Day, or, on occasion, Helen Merrill, to whom Ms. Desmond's voice bears a bit of resemblance. One gets a taste of Ms. Desmond's exceptional talent for 'scat,' but can she really get carried away?
I don't mean to compare Mary Ellen Desmond to a horse (!), but her singing reminds me of some lines from a poem entitled "A Blessing," by James Wright, about encountering two Indian ponies "just off the highway in Rochester, Minnesota..." To me, her singing, like the pony's long ear, is
"...delicate as the skin over a girl's wrist.
Suddenly I realize
That if I stepped out of my body I would break
Into blossom."

Track Listing: You'd Be So Nice to Come Home To; You Hit the Spot; Midnight Sun; Better than Anything; Darn that Dream; I've Got the World on a String; Corocovado; It's Over Now (Well You Needn't); Almost Blue.
---