Three Female Vocalists: Carla White, Amy Banks & Sarah DeLeo
Continuing our survey of recently released discs by female jazz vocalists we look at three thoughtfully produced recordings that have something to offer all listeners.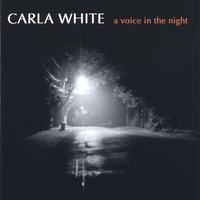 Carla White
A Voice In The Night
Bright Moon Records
2005


Bay area native Carla White earned her jazz bona fides in the academy, having attended London's Webber-Douglas Academy of Dramatic Art, and in her youthful sojourn through Europe and Africa. After completing her gypsy roaming, White returned to the United States to study with the mercurial Lennie Tristano and after his death, Warne Marsh, with whom she focused on scat singing. A Voice In The Night is White's eighth recording as a leader. Her earlier releases include The Sweetest Sound and Live At Vartan Jazz.

On A Voice In The Night, White is supported by a guitar-based quartet including trumpet/flugelhorn. While not unusual, this format does have advantages over piano-based ensembles when accompanying vocalists. White opens the disc with "Time On My Hands, which is floated above John Hart's soft and punchy electric chords. Claudio Roditi opts for flugelhorn over trumpet giving the piece a soft sepia tone that perfectly accents White's breathy alto delivery. Allowing this as the underlying theme, Duke Ellington's "It's Kind Of Lonesome Tonight adds a dizzy Champaign head and "You And The Night And The Music a Caribbean humidity. Standing out is Wes Montgomery's scat-sung "Four On Six and the scoot-blues "Your Mind Is On Vacation. A Voice In The Night has all of the elements of a fine vocal outing: sensible accompaniment, sharp arrangements, and a damn good singer.


Amy Banks
When The Sun Comes Out
Amy Banks
2006


Amy Banks is a Lancaster, PN native with 20 years experience in singing and acting. She has released three previous self-produced recordings. Banks' new disc, When The Sun Comes Out bisects the traditions of smooth and traditional jazz. The production is sleek and rounded, betraying smooth jazz methodology. The traditional elements are maintained in repertoire and soloing. Banks starts off by reaching back into "How High The Moon, working it out from Genesis through Revelation. Right behind she addresses the relatively recent "Poetry Man, giving perhaps the best jazz performance of the piece on record. On these songs, Banks shares the stage with Tim Warfield's soprano saxophone, which turns tenor on a powerfully driven "Devil May Care.

Pianist Allen Farnham propels the title cut, providing Banks a solid scat/vocalese landing strip. Banks ballad jones is sated on "I Get Along Without You Very Well. Bassist Steve Varner helps suspend the harmony over which Banks casts her spell. The Doobie Brother's "It Keeps You Runnin' is transformed as "Poetry Man, taken from pop confection to jazz classic. "Runnin' is treated with a Bobby Timmons' piano jaunt, all blues and soul. "Loveman and "Skylark are beautifully placed by Banks, the former within the sensitive bass playing of Varner and the latter alongside the Southern-ness of Steve Rupolph. Banks' exciting delivery and song choice make When The Sun Comes Out a compelling argument.


Sarah DeLeo
The Nearness Of You
Sarah DeLeo
2006


East Coaster Sarah DeLeo takes a no nonsense approach to her jazz vocals. Her instrument is uniquely uncomplicated and her delivery conservative and tasteful. DeLeo's newest recording, The Nearness Of You focuses attention on a middle-of-the-road set of jazz standards. Her band is nominally a guitar-keyboards quintet. But first that voice.

DeLeo expresses a wide range both sonically and in terms of repertoire. She favors light accompaniment, which her band amply provides her. An Islands' ambiance infuses "If I Had You. DeLeo softens Peggy Lee on "It's A Good Day while retaining the folksiness of the tune. "The Nearness Of You is well-cast with guitarist Chris Bergson in duo with DeLeo in the introduction. The song's instrumental development is gradual and perfectly paced with all members performing before the listener is aware. This is great arranging. "The Night Time Is The Right Time is the least suited song for DeLeo's delicate instrument though the singer does take the Ray Charles classic for an aerobic spin. David Cook's Fender Rhodes perfectly seasons the piece while Bergson adds a bit of grease to the fire.

The Nearness Of You is a narrowly focused collection of performances worthy of a listen. Many will find this disc exceptional.

Tracks and Personnel
A Voice In The Night
Tracks: Time On My Hands; It's Kind Of Lonesome Out Tonight; You And The Night And The Music; Charade; Four On Six; May I Come In?; I Still Love You; Sweet And Slow; Your Mind Is On Vacation; What Are You Doing The Rest Of Your Life?; Peace Of Mind; I Had No Time To Hate; I'll Never Pass This Way Again.


Personnel: Carla White: vocals; John Hart: electric & acoustic guitar; Dean Johnson: bass; Matt Wilson: drums & music box; Claudio Roditi: trumpet & flugelhorn.


When The Sun Comes Out
Tracks: How High the Moon; Poetry Man; Devil May Care; When The Sun Comes Out; I Get Along Without You Very Well (Except Sometimes); It Keeps You Runnin'; Foul Play; Ruined For The Rest; Lover Man (Oh Where Can You Be?); Skylark.


Personnel: Amy Banks: vocals; Steve Rudolph: piano; Allen Farnham: piano; Steve Varner: bass; Rich De Rosa: drums; Tim Warfield: saxophone; Tony Miceli: vibraphones.


The Nearness Of You
Tracks: If I Had You; It's A Good Day; The Nearness Of You; (The Night Time Is) The Right Time; The Glory Of Love; Blackbirds; Too Young For The Blues; Angel Eyes; It's Easy To Remember; So In Love.


Personnel: Sarah DeLeo: vocals; Chris Bergson: guitar; Brian Charette: piano; David Cook: Fender Rhodes; Chuck Mackinnon: trumpet; Mark Verdino: bass; Diego Voglino: drums.
Post a comment