Who Trio: The Current Underneath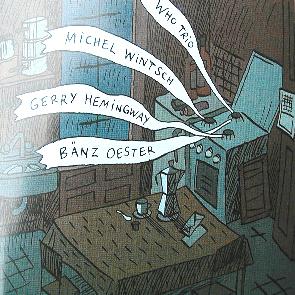 This new Who Trio (Michel Wintsch, Gerry Hemingway, Banz Oester) recording is a pastiche of improvised and written, live and studio pieces. As a free improviser, pianist Wintsch often opts for moody, drifting chords, melody percolating out of a gently boiling ground—too edgy to be New Age, not happy enough to be smooth jazz. His compositions tend to be much more jaunty, with big, unabashed mainstream jazz styles deftly employed then as quickly discarded.
Most of
The Current Underneath
is pleasant and sophisticated, if a little sleepy. Then come "Seduna in Wallis, Parts 1 and 2. This starts as a nicely twisting, cerebral jazz piece sketched carefully in muted colors. The end of Part 1 segues so seemlessly into the beginning of Part 2 it could easily be missed. In Part 2 Wintsch's serenity ignites and expands into something more spacious and intense than anything preceding it. Ornette Coleman's "Lonely Woman is quoted at the end, perhaps as homage, or maybe a clue to the composer's heart.
The flame leaps again on track seven, "Rabin's Cat, which proceeds out of a deliciously dark, jagged groove and then lightens and lifts into a nice bass/drums platform for some fine free piano work. The session closes, the excellent trombonist Ray Anderson added, with another lovely, languid, thoughtful piece. While more fiery stuff is preferable, this is fine jazz, no doubt. Wintsch's composition work, at its best, evinces the best we can hope for in current jazz: it is plainly connected to tradition, yet pushes outward with skill, intelligence, and courage.

Track Listing: 1. Quartier Lointain [live] 9:44; 2. Swantra 5:27; 3. Jerusalem 6:09; 4. Seduna in Wallis, Pt. 1 3:04; 5. Seduna in Wallis, Pt. 2 [live] 11:15; 6. Ma P'tite Chanson 3:11; 7. Rabin's Cat 4:28; 8. Mir Mag Halt Niemert ?-ppis GŁnne Burkhard 7:37; 9. J'Irai 8:30.
Personnel: Ray Anderson: Trombone; Gerry Hemingway: Drums; Banz Oester: Bass; Michel Wintsch: Piano, Fender Rhodes;
---