The Current: Classical to Contemporary & Beyond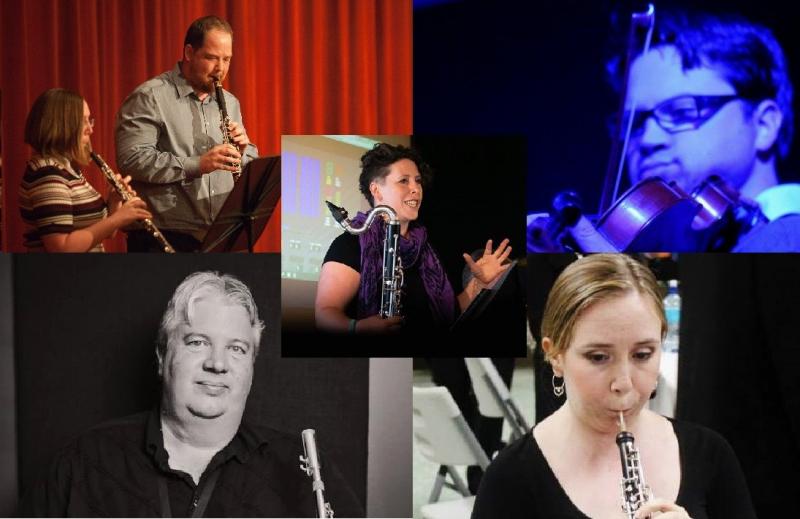 The Current: New Music Open Mic
Facebook Live
April 21, 2020
Since 2011 the Charlotte New Music organization has been working diligently to increase the city's awareness of contemporary music (in a broad range of forms), as well as to raise the profile of Charlotte, NC as a New Music center. The yearly Charlotte New Music Festival has had the highest profile, bringing musicians and composers together from the Charlotte area and all over the United States. There have also been several live New Music Open Mic shows. The most recent series was curtailed by the pandemic, so the logical thing was to move the shows to the virtual space, as so many others have done.
The first ZOOM livestream took place on March 24th. Featured performers have come from all over the country (all with some connection to past festivals). The Sorce/Lodge Duo (piano & guitar) performed in Sunnyside, NY; Will Lang (trombone with live electronics) came from Brooklyn; double bassist Adam Booker was from Boone, NC; and Brazilian cellist/composer Luciano Corrêa from
New Orleans
. Charlotte has been represented by guitarist Troy Conn (playing his own composition on classical guitar); Colby Dobbs (keyboard/vocal, the only pop/rock music on the program so far); bassist John Shaughnessy (playing with electronics) ; pianist/composer Terrance Shepherd, and others. There have been some slight technical hiccups, but nothing as disruptive as the ZOOM bombing that interrupted the second show. There is now an Eventbrite ticketing process that better controls who can join the stream.
The April 21st installment began with a surprise piano solo from organizer/master of ceremonies Elizabeth Kowalski herself. She announced that this would be the first group of entirely local musicians, echoing the live New Music Open Mic events. Next up was Teil Buck. Originally from California, she has been in Charlotte for a year, freelancing on oboe and English horn. She first played one of composer Mark Buller's
Quantum Miniatures
. No. 21 is a Pastorale for English horn. That title sometimes implies rural serenity, but this music was chromatic and unsettled (which is maybe as calm as things get currently). Her second pieces were from English composer Benjamin Britten's
Six Metamorphoses after Ovid
for solo oboe. She played three of them: "Pan," "Phaethon" (surprisingly jaunty music for a character doomed to be cast into the Sun), and "Bacchus." Finally, she played
Miniature for Twoish
from composer Matthew Kenmore (another composer currently crafting a series of miniatures) with bass clarinetist Dylan Lloyd.
Lloyd continued with his own segment on clarinet. Composer Meyer Kupferman's
Moonflowers, Baby!
is subtitled "A jazz essay for solo clarinet." Written for clarinetist
Richard Stoltzman
, it combines jazz and New Music. Lloyd played an abridged version of the piece, reducing some of the repetitive elements. It included several recurring themes, one of which recalled the famous clarinet glissando in the opening passage of
George Gershwin
's
Rhapsody In Blue
. Jessica Lindsey continued the clarinet theme, playing bass clarinet on a new arrangement of her composition
Beast
. The title refers to both the instrument and the animal samples employed in the fixed electronic part. Lindsey is a faculty member of the University of North Carolina at Charlotte. The live part was played to a click track. This was hard to hear during the gecko samples in the first part, but when the bull's low roars began there were unison lines, and tuned samples that were audibly in sync with the clarinet playing.
Violinist David Strassberg played the first movement of Ernest Bloch's
Baal Shem
suite. Titled "Vidui" (Contrition), it is a reflective piece, full of drama and history —and a number of beautiful melodies. Strassberg's segment was relatively brief, but nonetheless made a strong impression. Jack Murray is a freelance woodwind player, who normally plays in touring Broadway shows and backup bands. He played Dutch composer Jacob TV's
Grab It!
In the original version for tenor saxophone and sound track. The sounds are sampled prisoner's voices, full of energy and raw language. Cut up into hip-hop rhythms, with jagged saxophone riffs following the vocal patterns, it makes a powerful impression. It was amazing to watch Murray power his way through the piece. There could hardly be a greater contrast between this music and Bloch's: a great way to end this virtual concert.
Post a comment