Ron Levy: Ron Levy's Wild Kingdom: VooDoo Boogaloo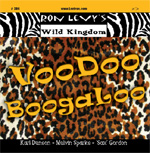 Ron Levy's Wild Kingdom
VooDoo Boogaloo
Levtronic
2005
Something doesn't seem fair. There's a lot of ideas at work, everyone plays their roles well and, yet the thought is "where is the excitement?


Maybe it's just too many people are doing modern organ jazz ensembles well these days. Or Ron Levy's been at it so long a solid performance merely meets expectations. Or a couple of songs from days past contributes to a been-there-done-that quality.


That said, there's little wrong with Ron Levy's Wild Kingdom's 2005 VooDoo Boogaloo. Levy wrings every brand of funk from his organ, vibes and a variety of other instruments. A trio of sax men kick out tasty leads and groovy solos. Guest artists like harmonica player Jerry Portnoy give authenticity to namesake tunes like "Memphis Mem'ries.


And yet...


Listen to 1985's Ron Levy's Wild Kingdom and it isn't as acclaimed, but it's hungrier and possesses more soul. Or give his live "Sons of Abe a spin and be assaulted by markedly inferior audio, yet a clearer musical statement emerges.


Maybe it's just not good for a party guy to be this polished.


The eight songs on VooDoo Boogaloo feel like they've gone through a spiritual compressor as well an audio one, where everything is above-average without soaring heights or missteps. It may all be executed well, but it's contrary to music where a cut-loose mentality should rule.


There's little subtlety as Levy opens with a heavy beat and shimmering organ on "Organ Colossus, featuring enough lively bit parts to act as teasers of what may come. But the brakes get hit on the subsequent 10-minute title track, a Latin ballad featuring Levy on vibes. Levy, flautist Karl Denson and guitarist Melvin Sparks turn in some relatively straightforward moments of note, but if one has to go back and listen for them on an album like this it's like an overly intellectual joke where the punchline has to be explained - the sense of fun is lost.


Maybe this is what makes "Spy On The Fly, a "take off on '60s' Quincy Jones cop show soundtracks, complete with sirens, string synthesizers and smokin' Sax one of the album's more enjoyable tracks. Gimmick songs can be tacky without a second act, but Levy's simple lines impart a sense of fun and the hook has character. On other other hand, "Better Save Yo'seff seems like an actual TV theme from the "Sanford And Son era with little beyond some decent guitar work by Jeff Lockhart to save it.


A new version of "Spank! loses nearly three minutes of length and Levy's most lively moments on the organ from an earlier rendition. "Wes Side West is a renamed, slightly extended and pumped-up version of "The Wes Side, but spends too much time on the vamp and makes the sense of "been there all the worse.


The good news is Levy sends everyone home with some of the ensemble's better work on the previously mentioned "Memphis Mem'ries. The funk proceeds at a moderate pace, but Portnoy's harmonica, Denson's sax and Levy's keys are full of a down-and-dirty quality without overreaching into far-flung complexity.


There's no need to worry yet Levy is losing his touch or getting complacent after several decades of performing, but by setting a high standard on his best albums music that might pass as quality work by other hands feels less accomplished in his. Newcomers can buy VooDoo Boogaloo and understand why Levy is so acclaimed and diehard fans will doubtless find support for their arguments of his ingenuity. But one can't help thinking that when they really want to party they'll likely reach for something else.
Personnel: Ron Levy (composer, producer, organ, piano, electric pianos, vibes, strings, basses, clavinet, Korg MS -20, arranging and programming); Melvin Sparks (guitar on "VooDoo and "Wes Side West ); Karl Denson (alto, tenor sax and flute on "VooDoo, "SPANK! , "Wes Side and "Memphis Mem'ries ); Jeff Lockhart (guitar on "Love Retoined and "Save Yo'seff ); Russ Lawton (percussion, drums, tambourine); Yahuba Garcia (congas, timbales); Adrome "Acidman" MacHine (drums, percussion); "Sax" Gordon Beadle (baritone sax on "VooDoo and "SPANK! , tenor sax on "Organ Colossus, "Save Yo'seff and "Spy ); Jerry Portnoy (harmonica on "Memphis Mem'ries )
Track Listing: 1) Organ Colossus; 2) Voodoo Boogaloo; 3) Love Retoined; 4) Better Save Yo'seff; 5) Spy On The Fly; 6) Spank!; 7) Wes Side West; 8) Memphis Mem'ries
Track Listing
1) Organ Colossus; 2) Voodoo Boogaloo; 3) Love Retoined; 4) Better Save Yo'seff; 5) Spy On The Fly; 6) Spank!; 7) Wes Side West; 8) Memphis Mem'ries
Personnel
Ron Levy, composer, producer, organ, piano, electric pianos, vibes, strings, basses, clavinet, Korg MS -20, arranging and programming; Melvin Sparks, guitar on
Album information
Title: Ron Levy's Wild Kingdom: VooDoo Boogaloo | Year Released: 2005 | Record Label: Levtronic
Post a comment about this album