Joe Bourne with the Gary Moran Trio: Remembering Mr. Cole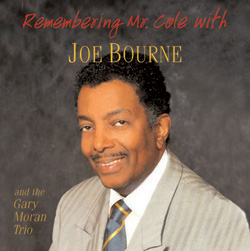 You may have noticed that there aren't a whole lot of male jazz singers on the scene today. I ran across one of that vanishing breed last January at the IAJE Conference in Long Beach, California, and he handed me a copy of his most recent CD,
Remembering Mr. Cole.
The singer in question is Massachusetts-bred Joe Bourne, and he and the Gary Moran Trio, who share top billing, are much better than expected.
The album is of course a tribute to the incomparable Nat King Cole, which is entirely appropriate, as there's a lot of Cole in Bourne's silky-smooth phrasing and articulation. As for the trio, its makeup (piano, bass, guitar) is the same as Cole's celebrated group from the '40s on which he played piano as well as sang. As one would expect, many of the songs performed by Bourne and the trio were closely linked to Cole, including one—"Satchel Mouth Baby —that was written by Nat. The best-known include "Orange Colored Sky, "Walkin' My Baby Back Home, "When I Fall in Love, "Sweet Lorraine, "'Tis Autumn and "For All We Know. Bourne gives each one a pleasing spin, as he does the others, including "Sunny Side of the Street, "Little Girl, "Is You Is or Is You Ain't My Baby, the lovely "Besame Mucho and amusing "Best Man.
If you're wondering why you've not heard of Joe Bourne, it's probably because he made his home in the Netherlands for 25 years, performing and winning awards all over Europe before returning to the States and settling in Tucson, Arizona. The liner notes speak of his "dynamic showmanship, which can't be seen on the album but can certainly be felt. He must be a pleasure to see. Stylistically, he's not a Nat Cole clone but has just enough of the master in his approach to serve as a reminder of Nat's unrivaled genius. And I can't say enough nice things about Moran's trio, which is supportive at every turn, making this a near-perfect partnership.
Even though Bourne has shared the stage with Nat's daughter, Natalie Cole, as well as Ray Charles, Nina Simone, Dionne Warwick and others, he's a long way from being well-known in this country. But given the dearth of reputable jazz/pop singers in today's market (even rocker Rod Stewart has endeavored to fill the void), that could change. Bourne has the talent; what he needs is the exposure. Albums like this one may help. The sound is quite good, playing time a marginally respectable fifty minutes.

Track Listing: This Is My Night to Dream; The Best Man; Besame Mucho; Youíre Looking at Me; Frim Fram Sauce; Satchel Mouth Baby; Slow Down; On the Sunny Side of the Street; ĎTis Autumn; Little Girl; When I Fall in Love; Walkiní My Baby Back Home; Sweet Lorraine; Orange Colored Sky; Is You Is or Is You Ainít My Baby; For All We Know (50:00).
Personnel: Joe Bourne, vocals; Gary Moran, piano; Scott Black, bass; Ed DeLucia, guitar.
---