NYJO, Buselli-Wallarab Jazz Orchestra, University of Northern Iowa
National Youth Jazz Orchestra
Out of Hamelin
Stanza Music
2007
Having lavished praise on the CD version of composer Paul Hart's stellar four-movement suite, Out of Hamelin, I am now ready to do the same for the DVD. The suite, based on Robert Browning's poem, "The Pied Piper of Hamelin," was commissioned for the BBC's Millennium Proms Concert, and this performance, taped at London's Royal Albert Hall in 2000, marks its debut. To say that the National Youth Jazz Orchestra and flutist Gareth Lockrane were primed for the occasion would be an understatement. Hart's sophisticated music is deftly interpreted and flawlessly played, readily captivating the Hall's large and receptive audience.
Lockrane establishes the theme on the opening movement, "An Army Mutters," with trombones depicting the rats that have been infesting the town of Hamelin. The second movement, "No Evil Star" (backward, "Rats Live On"), is a torrid flag-waver with bristling solos by Lockrane, tenors Josephine Davies and Ollie Weston, and a dazzling sax soli before Claire McInerney's mellow baritone sax signals that the rats have been "disposed of" in a nearby river.
Henry Collins' gentle flugelhorn introduces the third movement, "Three Notes on the Enraptured Air," in which the townspeople party to a groovy melody reminiscent of Chuck Mangione's music from the 1970s. Lockrane, playing flute and piccolo, recaptures the spotlight on the final movement, "Paying the Piper," as Hamelin learns it's not nice to short-change an angry exterminator. Trumpets solo, then altos before the orchestra departs, leaving alto saxophonist Sammy Mayne, representing the only child not taken from the village by the Piper, alone onstage to mourn the loss of his friends. A brilliant way to end the concert.
As the suite runs for slightly under twenty-nine minutes, hardly enough to offer fair value, the four movements are "replayed" in segments, separated by Helen Ashton's splendid narration of Browning's poem, with graphic illustrations by Kate Greenaway, lending an agreeable context to the instrumental performance. An interview with the composer adds another six-plus minutes, raising the DVD's over-all playing time to 74:30. Photography and sound are first-class, as are Lockrane and NYJO. An invigorating experience from start to finish.
Buselli-Wallarab Jazz Orchestra
Carol of the Bells
Owl Studios
2007

It's the time of year when some big bands stray from the norm to offer music of the season, and when I lay aside, at least temporarily, my aversion to band singers, as the lyrics to some of these holiday themes deserve to be heard. Everett Greene is the vocalist on Carol of the Bells, recorded by the Indianapolis-based Buselli-Wallarab Jazz Orchestra, and it's easy to admire his warm, soulful baritone, which sounds to me like a cross between Al Hibbler and Billy Eckstine with traces of Johnny Hartman, Ernie Andrews and perhaps Andy Bey.
Greene is out front on seven of the album's dozen selections. Each was arranged by co-leader/trombonist Brent Wallarab who framed all the charts save "Jingle Bells," on which the B-W Orchestra defers to Duke Ellington's chart. Wallarab solos on that one, as he does on "The Christmas Song" and "O Tannenbaum," while co-leader Mark Buselli's trumpet is heard on "Jingle Bells" and "Joy to the World," his flugelhorn on Vince Guaraldi's "Christmastime Is Here."
Soprano Rob Dixon and clarinetist Frank Glover display some fancy footwork on a second Guaraldi composition, "Skating," complementing incisive statements elsewhere by trumpeters Mike Hackett and Jeff Conrad, altos Mike Stricklin and Tom Meyer, trombonist Loy Hetrick, bass trombonist Rich Dole, bass clarinetist Ned Boyd and pianist Luke Gillespie.
One small caveat: the songs are listed in proper order on the back of the booklet but incorrectly on the inside, so one has to make a slight mental adjustment. Aside from that, everything is in apple-pie order. Wallarab's charts are superb, the orchestra impressive, Greene regal, and Carol of the Bells is sure to brighten anyone's seasonal point of view.
UNI Jazz Band One 2006-2007
Renovation
UNI Jazz
2007

Hardly a year goes by without another visit to the recording studio by the University of Northern Iowa's prolific Jazz Band One. Renovation is the fifth album in as many years under director Chris Merz, continuing the pattern begun more than twenty years ago by his predecessor, Bob Washut.
The UNI band has won a carload of awards, and deservedly so, as it is as poised and well-prepared as any university-level ensemble you are likely to encounter. Perhaps too much so, for the session as a whole evinces an antiseptic quality that tempers the energy and passion to which one has become accustomed. This is especially true of the selections ("From the Heart," "One Mint Julep") on which organist Sam Salomone guests. Even though they are well-played, the random sparks never coalesce long enough to catch fire.
There are moments of heat, as on Kenny Werner's exhilarating "All That" (spicy solos courtesy of pianist Peter Roberts, alto Rachel Price, trombonist Andrew Thoreen), Jerome Kern's venerable "Yesterdays" (tenor Ryan Middagh, trumpeter Noah Alvarado) and Middagh's bracing "Renovation" (bass Jake Staron, soprano Rachel Price, flugel Chris Arnold), one of his three compositions (trombonist Joel Nagel wrote "Davidicus"). But as a whole, the flame burns too moderately. The usual high marks for competence, but no better than average for intensity.
Jentsch Group Large
Brooklyn Suite
Fleur de Son Classics
2007

Here's an interesting concept: a seven-part suite for orchestra centered around Chris Jentsch's electric guitar, which plays a pivotal role throughout. Jentsch wrote the Brooklyn Suite, commissioned by the American Composers Forum, as an homage to his home for the last eight years. It's a seamless work, played without pause between the particular movements, which vary in length from about one minute to more than thirteen.
While almost symphonic in framework, character and purpose, the suite embodies harmonic and rhythmic elements of jazz, with occasional improvisation arising from its well-structured bedrock, and is seldom less than engaging. The "Jazziest" segment, "Follow That Cab," is also the longest, and includes crisp solos by drummer John Mettam and tenor saxophonist Mike McGinnis. Trumpeter Russ Johnson and alto Ben Kono are impressive on "Imagining the Mirror." The suite precedes Jentsch's elaborate compositions "See You in Bali" and "Our Daily Bread," which mirror the suite in their innovative point of view.
Jentsch's music isn't for everyone. Casual listeners should be forewarned that it requires one's undivided attention to unearth and appreciate the myriad subtleties of consonance and color expressed therein. Those who admire, say, Maria Schneider, Carla Bley, Matthias Rüegg, Abdullah Ibrahim, Jamie Begian, Stan Sulzmann or their kin should find it amply rewarding.
David Linx / Brussels Jazz Orchestra
Changing Faces
O+ Music
2007

Changing Faces is quite a departure for the world-class Brussels Jazz Orchestra, the first album (to my knowledge) in which the BJO has chosen to play a supporting role from start to finish, setting the stage for singer David Linx and three guest vocalists. Linx, a well-known performer in Belgium, wrote the music and/or lyrics for eight of the album's dozen selections and sings on every one, either alone, in duets with Ivan Lins ("Bilhete"), Natalie Dessay ("Home, In the Spring"), Maria João ("Por Toda Minha Vida," "Miziane") or with a chorus ("Sweet Suite"). Lyrics to every song are printed (in lieu of liner notes) in the album's booklet.
The BJO is outstanding, even in a secondary assignment, while Linx is a talented and personable vocalist (for comparison's sake, think Kurt Elling or even Mark Murphy). The problem I have is with the songs, none of which is of more than passing interest, either melodically or lyrically. To state it more candidly, this ain't Porter, Berlin, Gershwin or Rodgers and Hart. It could be age-related, but I am seldom able to warm to today's popular songs, especially when compared to those written during Tin Pan Alley's golden age.
Others may feel differently, of course, and deem the BJO / Linx marriage highly pleasurable. As for me, unless the BJO were backing Sinatra or Tormé, an alliance that's no longer possible, I'd rather hear the band.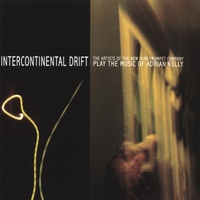 New York Trumpet Company
Intercontinental Drift
Self Published
2007

Intercontinental Drift pairs five members of the New York Trumpet Company with an Australian rhythm section and other musicians from Down Under including trumpeter/composer Adrian Kelly, trumpeter David Elton and trombonist Jeremy Greig (the last two on one track each) and a three-member string section called Bojeme. According to the booklet, there appear to have been a number of recording sessions, in Chicago, Saratoga, NY, and Perth, spanning nearly two years in 2005-06, with the trumpets recorded here, the rhythm, strings and guests in Australia. It's not clear whether Kelly, who wrote and arranged everything, was recorded in the States or in Oz.
Considering the logistical barriers, the finished product sounds pretty good, even though its sundered genesis isn't hard to discern, as there are times when the music fairly shouts "overdub." But that's not necessarily a drawback, as dubbing and other electronic procedures are more or less customary these days. What counts most is the music, not so much how it was pieced together.
Kelly's music leans rhythmically toward fusion, funk and rock, making fine use of the trumpets, individually and in unison, while supporting them with a strong and insistent backbeat. The lone exception is the colorful "Fanfare and Reflections," on which seven trumpets have the stage to themselves. Trombonist Greig is featured with trumpeters Garret Savluk and Nick Drozdoff on "Crawl, Slap and Boogie," while the strings are most prominent on the mellow "Three Days in Saratoga."
If you're partial to trumpets, these gentlemen won't let you down. Keep in mind, however, that trumpets and rhythm are, for the most part, what you get. There are no reeds, a trombone on but one track, strings on a couple. And there's no piano, as Graham Wood plays only synthesizer. While nothing save the fanfare really turned me on, that's my sentiment, not yours. Trumpet fans may wish to give it a spin and make up their own minds.
Doug Beavers Rovira Jazz Orchestra
Jazz, Baby!
Origin Records
2007

Doug Beavers Rovira isn't the first bandleader to reach out to the "diminutive demographic," but he may be the first to do so without pretense or condescension. In other words, Rovira doesn't play "down" to toddlers and children, he raises them "up" by clothing nearly a dozen nursery rhymes and songs in clever orchestral arrangements that would please even the hippest adult listeners. Blend in charming vocals by Matt Catingub and Linda Harmon and you have Jazz, Baby!
Coincidentally, Jazz Baby (sans comma or exclamation mark) is the name of a two-disc set released not long ago by Casablanca Records, but unlike Rovira's self-contained enterprise, it's a compilation featuring such well-known singer/entertainers as Rosemary Clooney, Billy Preston, Dr. John, Cybill Shepherd, Janis Siegel, Jim Belushi, Freddy Cole, Barbara Morrison, Claudia Acuña and Kymberly Evans. Also unlike Rovira's big-band album, the "Jazz" content is sporadic, not steady.
Rovira's choice of material is delightful, from "Twinkle, Twinkle Little Star" and The Hokey Pokey" to "Itsy Bitsy Spider," "Shortnin' Bread," "Comin' Round the Mountain," "The Ants Go Marching In," "Hush Little Baby" and "You Are My Sunshine." At the end, Harmon ushers in nap-time with a soft and gentle version of the "Brahms Lullaby."
Are toddlers ready for a regular diet of jazz? One can always hope. In any event, there's no harm in exposing them to it. I raised my three on steady doses of Stan Kenton, Count Basie, Woody Herman, Buddy Rich, Zoot Sims, Stan Getz and others. Did it work? Well, I can't honestly say they're as passionate about jazz as their old man, but they at least understand and appreciate it, along with other kinds of music. For those who have toddlers, or who simply love children's songs, Rovira's Jazz, Baby! is warmly recommended.

Tracks and Personnel
Out Of Hamelin
Tracks: Out Of Hamelin (An Army Mutters/No Evil Star/Three Notes On The Enraptured Air/Paying the Piper), performed by the National Youth Jazz Orchestra. "The Pied Piper of Hamelin" by Robert Browning, read by Helen Ashton. Interview with composer Paul Hart.
Personnel: Paul Hart: composer, arranger; Gareth Lockrane: flute soloist; Bill Ashton: conductor, music director; Helen Ashton: narrator ("The Pied Piper of Hamelin"); The National Youth Jazz Orchestra—Craig Wild, Nathan Bray, Tom Rees-Roberts, Brian Davis, Henry Collins: trumpet; Sam Mayne, Simon Meredith: alto sax; Josephine Davies, Ollie Weston: tenor sax; Claire McInerney: baritone sax; Mike Feltham, Andy Wood, Bob Dowell, Bill Bouzon, Dave Williamson, Lewis Edney: trombone; Kerin Black: French horn; Steve Holness: piano; Adam Goldsmith: guitar; Dave Foster: bass; Darren Williams: drums; Martin Briggs: percussion.
Carol Of The Bells
Tracks: Have Yourself A Merry Little Christmas; The Christmas Song; O Tannenbaum; Joy To The World; Silent Night; Jingle Bells; I'll Be Home For Christmas; Carol Of The Bells; Let It Snow!; Skating; Christmastime Is Here; What Are You Doing New Year's Eve?.
Personnel: Mark Buselli: co-leader, trumpet, flugelhorn; Brent Wallarab: co-leader, arranger, trombone; Joey Tartell, Jeff Conrad, Mike Hackett: trumpet, flugelhorn; Tom Meyer: alto, soprano sax, flute, clarinet; Mike Stricklin: alto sax, flute, clarinet; Frank Glover: tenor sax, clarinet; Rob Dixon: tenor, soprano sax; Ned Boyd: baritone sax, bass clarinet; Loy Hetrick, Jason Miller: trombone; Rich Dole: bass trombone; Luke Gillespie: piano; Jack Helsley: bass; Jesse Nolan: drums; Everett Greene: vocals.
Renovation
Tracks: From The Heart; Light House; Soul Bagel; Onmo; All That; One Mint Julep; Davidicus 25:8; Isfahan; Yesterdays; Renovation.
Personnel: Chris Merz: director; Chris Van Leeuwen, Maryann Hinman, Noah Alvarado, Sam Kreassig (1,2): trumpet, flugelhorn; Robert Espe, Rachel Price: alto, soprano sax; Jeff Guntren: tenor sax, clarinet; Ryan Middagh: tenor sax, flute, clarinet; Evan Smith: baritone sax, clarinet, bass clarinet; Joel Nagel: trombone, vocal (6); Andrew Thoreen, Mike Conrad, Andrew Fletcher: trombone; Peter Roberts: piano; Jason Shadrick: guitar; Jake Staron: bass; Dave Tiede: drums; Ryan Hoagland (2): cajon. Special guest—Sam Salomone (1,6): Hammond B-3 organ.
Brooklyn Suite
Tracks: Opening Shards; Inside (interlude); Outside Line; Going to Hail (interlude); Follow That Cab; Imagining The Mirror; Closing Shards; See You In Bali; Our Daily Bread.
Personnel: J.C. Sanford: conductor; Jon Owens, Russ Johnson, John Carlson, Laurie Frink: trumpet; Ben Kono. John O'Gallagher, Mike McGinnis, Dan Willis, Andy Laster: reeds; Kurtis Pivert, Brian Drye, Jacob Garchik, Alan Ferber: trombone; Chris Jentsch: guitar; Jim Whitney: bass; John Mettam: drums.
Changing Faces
Tracks: Deep Night; Down On Lovers Lane; Black Crow; Bilhete; Then We'll Be Home; A Day's Journey; Home, In The Spring; (Intro) The Land Of Joy; Por Toda Minha Vida; Miziane; There Is You; Sweet Suite; For The Time Being.
Personnel: Frank Vaganée: artistic director, alto, soprano sax, flute; Serge Plume, Nico Schepers, Pierre Drevet, Gino Lattuca: trumpet, flugelhorn; Dieter Limbourg: alto, soprano sax, clarinet, flute; Kurt Van Herck: tenor, soprano sax, clarinet, flute; Bart Defoort: tenor sax, clarinet; Bo Van Der Werf: baritone sax, bass clarinet; Marc Godfroid, Frederik Heirman, Ben Fleerakkers: trombone; Laurent Hendrick: bass trombone; Nathalie Loriers: piano, Fender Rhodes; Hendrik Bræckman: guitars; Jos Machtel: bass; Martijn Vink: drums, cajon; Minino Garay (3,6,8,12): percussion; Manu Codjia (6): guitar; David Linx, Ivan Lins (4), Natalie Dessay (7), Maria João (9,10): vocals.
Intercontinental Drift

Tracks: Long Haul Flight; Decay Of Conviction; Intercontinental Drift; Curious Yellow; Foray Into The Unknown; Fanfare And Reflections; Crawl, Slap And Boogie; Three Days In Saratoga.
Personnel: Adrian Kelly, Nick Drozdoff, Russ Johnson, Tony Gambaro, Garret Savluk, Felix Vayser, David Elton (6): trumpet, flugelhorn; Jeremy Grieg (7): trombone; Bojeme (Jessica, Bourby, Emma): strings; Freddie Grigson: guitar; Graham Wood: synthesizer; Paul Pooley: electric bass, fretless bass; Ric Eastman: drums.
Jazz, Baby!

Tracks: Twinkle, Twinkle Little Star; The Hokey Pokey; Itsy Bitsy Spider; Shortnin' Bread; Conga Intro; Comin' Round The Mountain; Hush Little Baby; I've Been Workin' On The Railroad; The Ants Go Marching; You Are My Sunshine; Brahms Lullaby.
Personnel: Doug Beavers Rovira: conductor, arranger, solo trombone; Louis Fasman, Mike Olmos, Dave Scott, Joel Behrman: trumpet; Alex Budman, Larry De La Cruz: alto sax, flute; Sheldon Brown, Matt Cowan: tenor sax, clarinet; Jim Dukey: baritone sax; John Grove, Marty Wehner, Adam Theis: trombone; Mike Rinta: trombone, euphonium; Marc Bolin: bass trombone, tuba; Dan Zemelman: piano; Will Bernard: guitar, banjo; Gerry Grosz: vibes, xylophone, glockenspiel; Kevin Axt: bass; Steve Moretti: drums, percussion. Special guests—Matt Catingub, Linda Harmon: vocals; Giovanni Hidalgo: congas, guiro, cha-cha bell.
---