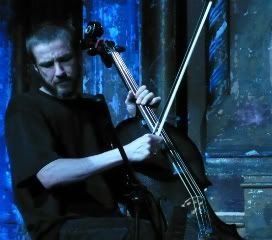 Tuesdays on the Terrace presents another inspiring season of free evening jazz concerts on the MCA's Terrace and Sculpture Garden. Hosted by local radio personalities, visitors are invited to enjoy cocktails, Puck's Express snacks, or a dinner buffet from Puck's Cafe while listening to Chicago's finest jazz musicians.
Dinner reservations at Puck's are recommended, call 312.397.4034. In case of rain, the event takes place in Puck's.
WHAT:
Tuesdays on the Terrace


WHO:
Fred Lonberg-Holm


WHEN:
Tuesday, August 26th 5:30 - 8 p.m.


WHERE:
MCA Terrace and Sculpture Garden


COST:
Free


Cellist and composer Fred Lonberg-Holm leads a jazz trio through original and interpretative compositions at the MCA Tuesdays on the Terrace. The Chicago-based musician has lent his talent as a leader and member of many area jazz collectives, including the Valentine Trio, Vandermark 5, and the Lightbox Orchestra. Lonberg-Holm's jazz style reflects his past work in rock and avant-garde genres combined with his studies under Anthony Braxton, and at the Juilliard School of Music. He will be joined by Jason Roebke on bass and Charles Rumback on drums.
For more information contact All About Jazz.