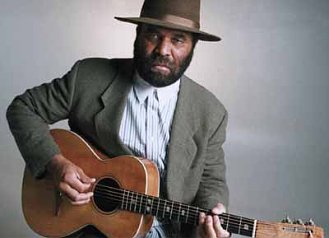 Otis Taylor's Contraband features Cassie Taylor, Larry Thompson, Anne Harris, Jon Paul Johnson, Chuck Campbell, Ron Miles, The Sheryl Renee Choir and more

BOULDER, Colo.—Otis Taylor isn't defined by any single category. A musical alchemist and a true innovator, Taylor has never been afraid to experiment beyond the blues tradition. He's a master craftsman who has created his own signature "trance blues" style by melding haunting guitar and banjo work, syncopated rhythms and a combination of gruff vocals, shouts and yells with raw passion.

"When I sing, I just do what I do," Taylor says. "Whatever comes out—that's the way I leave it. And if I make a mistake, I leave it in. I like to keep the emotion." Otis Taylor's Contraband is evidence of that. Set for release February 13, 2012, on Telarc, a division of Concord Music Group, Taylor's new album finds the artist on familiar thematic terrain: love, social injustices, personal demons and war.

The album takes its title from an article that appeared in the May/June 2011 issue of Preservation Magazine about runaway slaves who during the American Civil War escaped to the Union lines at Fort Monroe, Va.. Known as "contraband," they lived in camps where conditions were often worse than life on the plantation.

Otis Taylor's Contraband isn't just speaking to the African American experience, but to the entire human experience. "I'm not really a protest singer or even a very political person," says Taylor. "I just try to tell an interesting story and let people interpret it as they wish."

On Otis Taylor's Contraband, the iconoclastic bluesman is reunited with several longtime collaborators including the supple-toned Ron Miles on cornet; pedal steel guitarist Chuck Campbell from American Sacred Steel gospel group the Campbell Brothers; djembe player Fara Tolno, a master drummer born in Guinea, West Africa; fiddler Anne Harris from Chicago, Ill.; and the Sheryl Renee Choir. Bass is handled by Taylor's daughter Cassie and Todd Edmunds. Rounding out the band are Jon Paul Johnson on guitar, Brian Juan on organ, and Larry Thompson, former house drummer for Colorado's world-renowned Caribou Ranch recording studio.

The recording took an ominous turn in April 2010 when Taylor became victim of a serious illness and had to undergo major surgery. "I found out that I had a cyst connected to my liver and my spine," he says. "I've always had a bad back, but the cyst was as big as a softball and it was pushing on the nerves in my spine. It was a pretty serious thing. So I went into the studio three days before the operation and recorded seven acoustic songs . . . just in case. If you listen to parts of the album carefully, you can tell I was in excruciating pain."

Otis Taylor's Contraband offers 14 compelling originals. "The Devil's Gonna Lie," a rousing showcase for the entire band, opens the album with Taylor's trademark howls and a demonic laugh. As he writes in the liner notes, "When there is peace, the devil wants war. When there is love, the devil wants hate." On "Yell Your Name," one of the project's original seven acoustic tunes, Taylor sings about a man wants his lover to come back.

The insistent rhythm of another acoustic love song, "Look to the Side" spotlights the distinctive sound of Taylor's specially made electric banjo. Of the foot-tapping "Romans Had Their Way," he says, "I wrote this song in the '60s when I was a kid, listening to groups like the Kinks. This is the only old song on the album—all the rest are new."

A stark meditation on race, "Blind Piano Teacher" tells the story of a young black piano teacher who lives with an older white man, while a man begs a woman for compassion on "Banjo Boogie Blues."

With its swirling guitars and hypnotic lyrics, "Contraband Blues," a song about Civil War slaves who were held by the Union Army as contraband (or captured property), is the powerful centerpiece to the album. "During the Civil War, slaves were free, but not as people," Taylor says. "We don't usually think of people as contraband, but this is about treating humans as animals."

The bleak and haunting "Open These Bars"—the longest song on the album—refers to the Jim Crow years in the South, when a black man could be lynched for just looking at a white woman. On "Yellow Car, Yellow Dog," a poor man wishes he had money and could win the love of a woman. Taylor calls this "one of my more poetic songs."

"Never Been To Africa" is the simmering tale of a black soldier who's fought all over the world in World War I, but has never seen Africa. There's desperation in Taylor's voice when he sings "Cold sweat running down my leg, I can feel the gas coming across my face, I know I don't believe in war, but I'll fight anyway."

On the final track, "I Can See You're Lying," Taylor captures the energy and emotion of romance and relationships perfectly. "It's another one of my dark, twisted love songs," he says.

By taking blues music as an art form to a higher level altogether, Otis Taylor's Contraband is both subtle and challenging. Another thought-provoking entry in his canon, Taylor's eighth Telarc album is the follow up to Clovis People, Vol. 3, released in May 2010.

"It's all a balancing act," Taylor says. "A new album has to be different, but you can't be too different. It has to be the same, but not exactly the same. It's like a riddle."

Trance Blues Jam Festival

On November 25-27, 2011, hundreds of musicians will come together for a celebration of the art of creating music when Otis Taylor presents the first annual Trance-Blues Jam Festival. The line-up includes world-renowned guitarist Bob "Steady Rollin'" Margolin, banjo virtuoso Tony Trischka, multi-instrumentalist Don Vappie, bassist George Porter Jr., guitarist/vocalist Standing Bear and Cassie Taylor, among others. The event begins with a pre-Trance Jam hosted by Taylor and his band with guest artists at the Boulder Outlook Hotel.
For more information contact conqueroo.