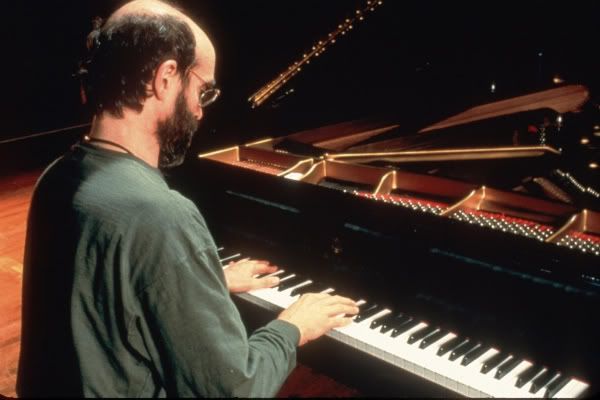 Pianist George Winston recorded a tribute album in 1996 to jazz pianist Vince Guaraldi (1928-1976), a musician beloved by generations for the compositions he recorded for various Charlie Brown television specials and for his standard "Cast Your Fate to the Wind." That album was Linus & Lucy--The Music of Vince Guaraldi, and Winston revisits his musical hero a second time with Love Will Come--The Music of Vince Guaraldi, Vol. 2, a collection of a wide range of Guaraldi interpretations. The 16-song album will be available February 2nd.

Many of the songs from Winston's new album are from the Charlie Brown episodes, and tracks for them written by Guaraldi include "Time For Love" from the episode, There's No Time For Love Charlie Brown, "Be My Valentine, Charlie Brown, " "Love Will Come, " "Woodstock, " "Little Birdie, " "It Was a Short Summer Charlie Brown, " "Rain, Rain, Go Away, " "Air Music, " and "You're Elected Charlie Brown." The album also features other Guaraldi compositions from his jazz albums.

As a sixteen year old Winston (not yet playing music, but an avid fan of instrumental music) became captivated by the Charles Schulz film, A Charlie Brown Christmas. Immediately after purchasing the soundtrack, Winston immersed himself in the sixteen Peanuts television specials scored by Guaraldi, becoming captivated by Vince's sounds and compositions. Many of the songs featured on Linus & Lucy were also from Vince's soundtracks from the Peanuts series.

"There are three composers that I have at one time or another tried to play all of their songs: New Orleans R&B pianist Professor Longhair, The Doors, and Vince Guaraldi, " says Winston. Vince Guaraldi and his music are so much a part of the deep heart and soul of San Francisco, and for those that know his music, of the experience of childhood, and people of all ages. I love Vince's melodies and his chord progressions and his piano playing - especially his left hand." George Winston integrates his passion for Vince's music and New Orleans R&B piano, together with childhood experiences in order to create a sound inspired by legends such as The Doors, and New Orleans pianists Henry Butler, James Booker, and Professor Longhair. Winston conveys a sense of life through his music with a sensibility of the seasons and topographies of Mother Earth.

On December 1, George Winston hit the stage in New York, NY to kick off his 29-city tour.