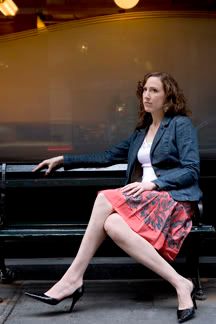 World Culture Music Recording Artist
Jazz Vocalist and Composer
JULIE HARDY
To perform in Baltimore at An Die Musik Live!

"On her new album, The Wish, Ms. Hardy burnishes her growing reputation as a musically astute and thoughtfully modern jazz singer." - Nate Chinen, New York Times

"[Hardy's] is a serious art, based in songs of longing and reflection with arrangements that challenge anyone's notions of what constitutes forward-thinking music." - Ken Micallef, Downbeat

"Three years ago, with her debut release "A Moment's Glance", Julie Hardy proved herself, as both singer and songwriter, a fresh force to be reckoned with. [With "The Wish"] Hardy is back to make good on that promise with an even finer, more bracingly intuitive, assortment of originals and covers." - Christopher Loudon, JazzTimes



New York City-based vocalist and composer, Julie Hardy will perform at An Die Musik Live! on Saturday, January 26th, sets at 8PM & 9:30PM.

One of the most distinctive voices among the growing ranks of female jazz singers in New York City belongs to Julie Hardy, whose An die Musik appearance coincides with a new CD entitled The Wish. This is Julie's most fully realized recording to date and her first release through World Culture Music, an artist collective label and multi-faceted music company created by drummer/composer Kendrick Scott. Hardy has performed at the Diet Coke "Women in Jazz" Festival (Jazz at Lincoln Center), the Jazz Standard, Birdland in NYC and received a 2006 ASCAP Young Jazz Composers Award for her composition "No Turning Back."

Hardy grew up in Fremont NH and attended Oyster River High School in Durham. She then moved on to study music composition at UNH and received her Masters degree from the New England Conservatory of Music in Boston. For more information on Julie please visit: www.juliehardy.com

The vocalist will be accompanied by a band of up and coming NYC jazz artists; Randy Ingram, piano; Matt Clohesy, bass; and Jared Schonig, drums.

When: Saturday, January 26th, sets at 8PM & 9:30PM.
Where: An Die Musik Live! Located: 409 North Charles Street, Second Floor, Baltimore, Maryland 21201
Who: Julie Hardy Quartet: Randy Ingram, piano; Matt Clohesy, bass; and Jared Schonig, drums.

Tickets: $ 15 general / $ 12 seniors & students Call: (410) 385-2638


This story appears courtesy of All About Jazz.
Copyright © 2021. All rights reserved.
For interview requests or more information contact All About Jazz.