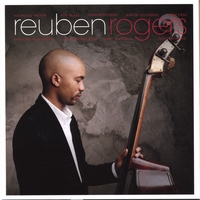 Bassist Reuben Rogers releases his Debut CD
The Things I Am
On June 15th, 2006
"Reubens impeccable musicianship and fresh approach to each performance keeps me perpetually inspired. His consummate playing allows him to rise comfortably in most any musical situation. ~ Dianne Reeves, Grammy award winning jazz vocalist
The Things I Am, is a brilliant testimonial from the creative, young bassist/composer Reuben Rogers. On his debut recording as a leader, Rogers takes the listener through a time line of his musical lifes journey. From original compositions like "Wala Wala" to the classic Sonny Rollin's composition "St. Thomas", The Things I Am, speaks from Reuben's heart and demonstrates his unparalleled musicianship and compositional style. With an all-star line up of Joshua Redman, Nicholas Payton, Aaron Goldberg, Mark Whitfield, Ron Blake, Gregory Hutchinson, Adam Cruz, Kahlil Kwame Belle, and David Gilmore, this recording promises to be one of the top jazz releases of 2006.


Reuben has a great talent and ability to play in the now with wonderful intelligence and a beautiful inventiveness. He is deeply passionate and brings humor and a warm humanity to the whole situation. ~ Charles Lloyd, legendary jazz saxophonist


Reuben R. Rogers has a natural penchant for story telling. And Rogers, himself, will be the first to tell you his skills have coalesced under the influence of his impressive contemporaries. Rogers' ability to transport the emotion of a piece into his accompaniment is akin to that of a fine woven tapestry, creating a blanket of rhythm and harmony that is welcomed by vocalists and instrumentalists alike. From a hard-hitting groove to a featherlike touch, with each interjection, Rogers echoes an affirmation of the soloist's statement, rendering a musical conversation in which the narrative is smoothly passed. Rogers' command of both the electric and acoustic bass has aided him in adapting to various musical genres.This versatility in addition to the creative energy that Rogers brings to the stage and recording studio has led him to be one of the most sought after bassists of his generation.
Rogers' musical education is punctuated by numerous outstanding student awards, most notably, a scholarship endowed by the Fish Middleton Jazz Society. He earned his Bachelor of Music in 1997 from Berklee College of Music.
He has enjoyed the opportunity of intense musical relationships with jazz artists of world-renown, such as Wynton Marsalis, Roy Hargrove, Joshua Redman, Marcus Roberts, Nicholas Payton, Mulgrew Miller, Jackie McLean, Charles Lloyd and Dianne Reeves, amongst others. He has toured extensively all over the globe, and has recorded on over 60 Cds. Rogers' peers continue to influence and enrich his musical style and direction.
For more information contact All About Jazz.