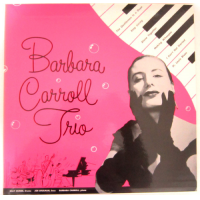 In February, just after pianist Barbara Carroll's death, I posted a tribute in which I focused on the grace of her chord voicings and swing time in the early 1950s. From 1954 to 1956, she was with RCA and recorded five superb albums. Prior to these dates in the '50s, Carroll recorded 10-inch albums for the Discovery, Livingston and Atlantic labels. All featured an artist with bass and drums who was determined to show off her energetic elegance and marvelous technique. As noted in my earlier post, this era and the '40s featured quite a few gifted female pianists, many of whom started out playing at bars during intermission as background filler. Carroll was among the most gifted of these pianists in terms of the swinging story she told when taking on standards and her cozy familiarity with bop and lush pop.
If you love Carroll as much as I do, then you'll appreciate this update: I found a four CD set that covers her entire early 1950s period. It's called
Barbara Carroll Trio: Complete 1951-1956 Recordings
(Fresh Sound). You'll find it
here
or
here
. Fresh Sound also combined Carroll's
Funny Face
and
Barbara,
originally on Verve from 1957, on a single CD or download (
go here
).
JazzWax clips:
Here's
Let's Fall In Love
...
Here's
Give Me the Simple Life
...
Here's
Come Rain or Come Shine
...
Here's
Love Is a Simple Thing,
with Barbara on celeste and piano
...
Here's
You Make Me Feel So Young
...
And
here's
Fancy Pants
...
This story appears courtesy of JazzWax by Marc Myers.
Copyright © 2022. All rights reserved.