As the world of advertising continues to evolve, independent artists must learn to rely more on permission-based inbound marketing, rather than more traditional invasive advertising tactics. 
Guest Post by Jeff Barrett on Hootsuite
Small business marketing has turned a corner, and traditional outbound marketing efforts such as direct mail, TV ads, and telemarketing are becoming less and less effective. In fact,
86 percent of people skip TV ads
, more than
200 million Americans are on the do-not-call list
, and
90 percent of execs ignore cold calls
.
Consumers are in control. They can tune out your marketing efforts and search online for products and services. To capture their attention, small businesses need a more effective
permission marketing
-based strategy to attract, engage, and convert more visitors into lifelong customers.
Inbound marketing
utilizes that permission-based approach, reaching people organically through SEO, blogs, and social media. Instead of interrupting consumers with cold calling and ads, inbound marketing leverages captivating content that solves a real problem for your target market, ultimately guiding potential customers directly to your website where you can pull them into your sales process. And it really works. Inbound marketing delivers
54 percent more leads
than traditional marketing at
much lower costs
.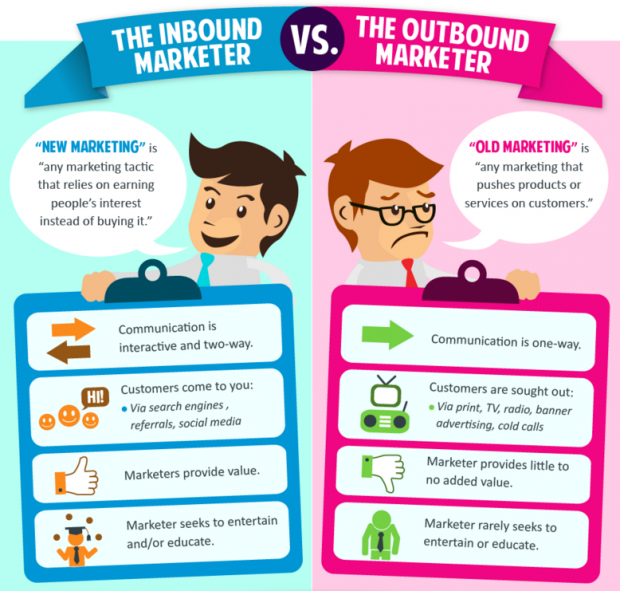 Image via Voltier Digital on Mashable
So how can your small business tap into inbound marketing to capture and convert more customers without spending more money? Here are four things you should do to make inbound marketing work for you:
1. Develop your content strategy
The first step to an inbound marketing strategy is to provide valuable content to your audience. Think about
who your ideal customer is
and understand their needs, wants, and interests to create the content that drives inbound marketing for your small business.
Image via River Pools
For example, Marcus Sheridan, owner of River Pools and Spas, stopped investing in ads and direct mail, and instead started blogging and distributing content that
answered his audience's burning questions
about inground pools. By positioning his business as a thought leader in the inground swimming pool industry, Sheridan was able to cut costs associated with outbound marketing and
drive more traffic to his website than any other pool website
in the world.
2. Build your social media following
Once the content is created, it needs to be released in engaging and entertaining ways that encourage sharing. Creating a quality social media following is one of the most impactful ways to spread content.
Through market research, you'll find that your audience gravitates towards certain platforms and tends to engage with social media at different times of the day. Once you've settled on the two or three main social media channels you're going to use to distribute content and interact with your audience, social media tools can help you organize and intelligently time distribution.
Much like the shift from outbound to inbound marketing, the way we post has changed. Research has shown that visually stimulating posts are drastically increasing. Short videos, pictures, and infographics are much more likely to be viewed and shared. In fact,
photos
and
videos
will soon account for almost 70 percent of content published on Facebook.
The variety of visual options also means that content can be reformatted and recycled. For instance, a popular infographic can be transformed into a whiteboard animation video without having to start from square one.
3. Capture prospects with form submissions
Attracting and engaging interest from prospects is only the first step in converting customers and fueling sales. When content is trusted and is viewed consistently, it becomes easier to create leads by using resources and form submissions.
When prospects view the website is an excellent opportunity to get their information by offering additional content or an email subscription to be updated with content. To acquire this information, send prospects to a landing page where they will enter their personal details (such as name and email) to access a stream of quality content they'll find useful or engaging.
There are numerous programs and companies that offer automated email response systems to streamline this process. These systems can also collect information, tracking clicks as well as the types of emails each prospect has been most responsive to. Using this information, targeted emails can be sent to the most engaged prospects converting them into customers.
4. Nurture prospects into customers
Whether your inbound efforts generate leads from social media, organic search, or your blog,
lead nurturing
can help you get a higher return on investment (ROI) from your inbound marketing efforts by turning more leads into customers.
Not everyone is ready to become a customer after interacting with your content, but email marketing can help you continue to educate prospects and keep your business top-of-mind when the time does come for them to buy.
Small business marketing automation and customer relationship managed software provider,
Hatchbuck
, advises that small businesses nurture new leads with a series of touchpoints. As contacts are nurtured, the actions they take can indicate their level of interest and readiness to buy. Actions such as visiting a link, watching a video, or filling out a form can impact lead score so that marketers can systematically determine when a lead is ready to be sent to the sales team.
With lead nurturing, instead of burning through every lead right away only to have few convert, your business can nurture them over time, increasing your conversion rate.
If your company hasn't invested in inbound marketing, it's time. It's been shown that
adopting inbound marketing strategies doubles website conversions rates
from 6 percent to 12 percent. The future of marketing will rely heavily on creating trust and relationships with customers through content and getting found through inbound channels such as SEO, blogs and social media.