Rick Parker Collective: New York Gravity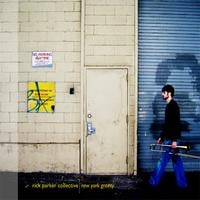 Trombonist/composer/leader Rick Parker and his band are the best-kept secret in New York right now. But in light of this fine debut and a steadily growing live demand, the secret's not likely to be kept much longer.
At 25, Parker is already a tested vet, sharing his horn talents with Frank Ku-umba Lacy's colossal Vibe Tribe, the Charli Persip Superband, and his own trio, in addition to the sextet featured here. A Connecticut-born Yankee, Parker started out playing in ska bands before meeting up with his mentor, esteemed DC-area trumpeter/flugelhornist/composer Thad Wilson.


Ironically, it was session guest Wilson, the only player here who has not succumbed to Gotham's residential lure, who penned the title piece. Opening the album and boldly establishing the group's hard bop M.O., "New York Gravity" is a disorienting ride through Midtown's chaotic, claustrophobic streetscape. With its Monkish, angular arrangement, it also boasts an excellent downward-spiraling break from drummer Kyle Struve.


On "Experiment in Mist-ery" and "Thank You," bassist Matt Grason and pianist Andrew Haskell ably conjure the moody, rain-swept backdrop of the classic Coltrane Quartet's most introspective moments; "M.C. Filmmaker" boasts Haskell's welcome, novel use of Fender Rhodes, recalling The Doors' "Riders on the Storm" or any number of '70s R&B chillers—no bad thing at all. The band's secret weapon is Charis Ioannou, on soprano and tenor saxophones and bass clarinet. Tracks like the explosive "The New Path" and the appropriately sinister "10/31 at Dusk" feature Parker's lusty smears and patented skewed horn charts, but also give Ioannu ample ceiling height with which to blow his (and our) brains out.


At times dissonant but overflowing with the smoky noir of early Lounge Lizards, New York Gravity is a winning fist effort, one that pulls of the tricky task of being both fresh and familiar. Fans of modern as well as slightly bent straight-ahead sounds will devour it, eagerly awaiting Parker's next outing.
Track Listing
1. New York Gravity (Wilson) - 5:30 2. Experiment in Mist-ery (Parker) - 8:24 3. M.C. Filmmaker (Parker) - 4:48 4. Thank You (Parker) - 4:42 5. On the Move (Parker) - 7:39 6. Transitation (Parker) - 4:52 7. The New Path (Parker) - 7:04 8. The Exit (Parker) - 7:45 9. Going Out (Parker) - 5:00 10. 10/31 at Dusk - 6:38
Personnel
Rick Parker - trombone; Charis Ioannou - soprano and tenor saxophones, bass clarinet; Andrew Haskell - piano and Fender Rhodes; Matt Grason - bass; Kyle Struve - drums; Thad Wilson - trumpet and flugelhorn.
Album information
Title: New York Gravity | Year Released: 2004 | Record Label: Fresh Sound New Talent