Rick Parker Collective: New York Gravity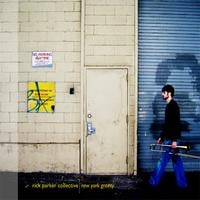 The Rick Parker Collective proves that its possible to be groundbreakingly innovative in 4/4 time, at least most of the time. These days the opposite is thought to be true - that changing the time is the only way to go. To be on the cutting edge you
have to be
messing around with alternative time signatures. I like to call it Potter-Colleyitis (if you are in the know, you know what I mean).
The album's title, coined by guest trumpeter Thad Wilson, describes the force that sucks musicians up from their home turf and brings them to the city of New York, considered by many as the capital of the jazz world... in Parker's words "due to the intense creative energy that exudes from every facet of the city." The trombonist goes on to say that "[Thad is] ironically...the one musician in the group who has still not given it to the city's pull."


I personally saw the old "Thad Wilson Big Band" in D.C. many times and one night even sat in with them on tenor to fill a spot. That group was then in residency at D.C.'s HR-57, to which Wilson truly helped bring public attention. Back then, HR-57 didn't have a liquor license, so the audiences were sparse at times, but the band (whose personnel often changed) certainly had a following among young and old folks alike.


The music on New York Gravity speaks for itself, and each tune speaks from a different part of the group as a whole, or collective. Many of Parker's pieces are introspective and show signs of a musician searching for his own voice both as a soloist and composer. Wilson contributes a free "New York Gravity," with horn punches and hits that signify that "sucking" nature of New York as a magnet for jazz musicians. Bassist Matt Grason contributes the minimalistic plaintive ballad "Thank You," on which Parker's somberly introspective trombone guides the three-horn line (of trombone, flugel, and bass clarinet) in perfect harmony while later taking his most emotional solo of the album.


Reedist Charis Ioannou excels on the ballads; however on the opener he struggles to keep his sound firm as he stretches out and plays lots of notes. Later he redeems himself on his composition "Going Out" and "Transitation," conceived by Parker the day before Thanksgiving while in traffic between New York and Washington. Drummer Kyle Struve really shines along with the horns on Parker's "The New Path."


Parker's leadership, writing, and sound truly show signs of a budding star trombonist. You musicians and listeners out there should watch for these cats to be making great strides in the next few years as they all settle into their new home, New York.

Track Listing: 1. New York Gravity 2. Experiment in Mist-ery 3. M.C. Filmmaker 4. Thank You 5. On the Move 6. Transitation 7. The New Path 8. The Exit 9. Going Out 10. 10/31 at Dusk
Personnel: Rick Parker - trombone; Charis Ioannou - soprano and tenor saxes, bass clarinet; Andrew Haskell - piano and Fender Rhodes; Matt Grason - doublebass; Kyle Struve - drums; & Special Guest - Thad Wilson - trumpet, flugelhorn.
---