Rachel Lauren
Singing classic jazz standards fueled by raw emotion and an innovative style, Rachel Lauren is an artist who will not only delight your ear, but revive your spirit. One can hardly imagine she's just 21! Rachel's ability to appeal to fans in her own age range all the way up to long time jazz listeners sets her apart from other young artists. With the self release of her first album away from the crowd, Rachel has succeeded in stepping away from the anonymity of the larger music scene and into a spotlight of her very own.
As a vocal stylist, Rachel pays homage to the music that created jazz, flavoring it with original emotional expression. "Its not about how many notes or beats you have," says Rachel, "If you have people feeling something, feeling what you are feeling, that's what jazz is about." Rachel infuses this mantra into jazz standards, reviving vintage tunes with an emotional interpretation of her own.
With her sultry and mature tone Rachel accepts the challenge of making an old song feel new, giving an enchanted twist to words that have been performed by generations of jazz artists before her. As a young person, Rachel brings pop and rock influences like Stevie Wonder, and casts them into a jazz mold, thus creating a sound that is both familiar and fresh.
According to Rachel, this "freshness" is what she strives for to make her music different from her contemporaries. In away from the crowd Rachel accepts the challenge of a traditional vocal stylist by presenting a collection of jazz classics, but expressed as a new emotional encounter. In her album, Rachel not only respects the great heritage of jazz music, but participates in it as well.
Accomplishments and Performance Experience:
Featured Performer, May 2008 Union Street Festival "San Francisco Featured performer, April 2008 UNC Jazz Festival Featured performer, March 2008 USC Trustees Retreat Featured performer, Dec 2007 opened the Carlsbad City Library Jazz Series Award recipient, Dec 2007 Lamont Dozier Scholar, USC Charles Dickens Dinner Featured performer, Nov 2007 South Carolina museum of the arts Featured performer, Oct 2007 USC Global Conference in Japan Featured performer, July 2007 Fillmore Jazz Festival Album release, May 2007: Away From the Crowd Featured performer, Soka University, January 26th, 2007- also featuring Mike Garson trio with Peter Erskine and Dave Carpenter Featured performer, NAMM 2007 for Kurzweil, January 20th, 2007- also featuring Mike Garson trio with Joe La Barbara and Derek Oles Featured performer, Carlesbad City Library Winter Jazz Series, January 14th, 2007- also featuring pianist Mike Garson Guest performer, GRAMMY Foundation benefit concert, A Starry Night, Villa Casablanca, Malibu, July 22, 2006 Counselor, GRAMMY Camp 2006 Featured performer at the Napa Wine Auction with Jay Leno, Meadowood Country Club, June 5, 2005 Featured entertainer " Menlo Country Club, April 9, 2005 Guest performer on The Late Show with David Letterman, February 2, 2005 Member of 2005 Gibson/Baldwin GRAMMY Jazz Ensemble Released self titled CD " August 2004 " Chris Camozzi, Producer Awarded a full scholarship " Berklee College of Music "" Summer 2004 Performance Program Featured entertainer for the Redwood City Summer Music Series " 2002, 2003 and 2004 Featured entertainer " Napa Valley Wine Auction dinner at Beringer's Winery, June 3, 2004 Opening performances " for Big Bad Voodoo Daddy - Fall 2003 National Tour Performed every Friday and Saturday evening April 2003-Aug.
Read more
Recordings: As Leader | As Sideperson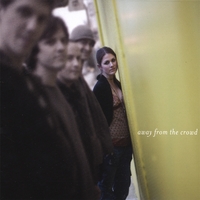 From: If Ever
By Rachel Lauren
From: If Ever
By Rachel Lauren