Jarrett Cherner
Hailed as "an impressive soloist and an immaculate accompanist" (Richard Kamins) with "a bright future" (Scott Yanow), Brooklyn-based pianist, composer and bandleader Jarrett Cherner has captivated listeners with his lyricism, technical facility and consistently evolving musical vision.
Originally from San Francisco, where he garnered praise as "one of the most exciting young pianist-composers on the Bay Area scene" (Andrew Gilbert, San Jose Mercury News), Cherner debuted on his own BaldHill Music label in 2006 with the compelling trio release Burgeoning, which earned recognition from the ASCAP Young Jazz Composer Awards. As a driving force behind the collective jazz quintet Sketches (sketchesmusic.com), Cherner released two albums, both critically acclaimed: Sketches Volume One (BaldHill, 2013) and Volume Two (Brooklyn Jazz Underground, 2014).
Cherner's 2016 trio release Expanding Heart (BaldHill, due October 2016) features bassist Jorge Roeder and drummer Jason Burger in a set that reflects personal growth, combining original material with covers of wildly disparate songs by Vincent Rose, Otis Redding and Ornette Coleman. Also to come in 2016 is Cherner's vlog #StandardsWithFriends, a series of home duo recordings with guests to be announced.
After earning a B.S. in mathematics from Tufts University in Boston, Cherner went on to a Jazz Piano Performance Degree from New England Conservatory, where he studied with master teachers Danilo Pérez, Jerry Bergonzi, Frank Carlberg and Michael Cain. Returning to San Francisco for a time, Cherner then moved to New York in 2008 to pursue graduate studies at Manhattan School of Music, studying with Jason Moran, Garry Dial and Dr. J. Mark Stambaugh. He has since toured throughout the U.S. as well as South America, Canada, Mexico and Europe, as both a leader and sideman. An adjunct professor at Franklin & Marshall College in Lancaster, PA, he also teaches through the New York Jazz Academy, and privately and via Skype from his Brooklyn studio.
Read more
"Pianist Jarrett Cherner brings beauty into the picture and serves as a go-between, linking the horns and the rhythm section together" —Dan Bilawsky, All About Jazz
"[Cherner is] an impressive soloist and an immaculate accompanist." —Richard Kamins, Step Tempest"
"Cherner has established himself as one of the most exciting young pianist-composers on the Bay Area scene." —Andrew Gilbert, San Jose Mercury News
"A lyrical player who sounds thoughtful even when playing an uptempo piece, Jarrett Cherner clearly has a bright future. His compositions are quite original (rather than being based on familiar chord changes), his improvising hints in spots at Bill Evans but is personal, and his interplay with his trio finds the three musicians often seeming to think as one." —Scott Yanow, LA Jazz Scene
"Cherner's music tells a story
Primary Instrument
Piano
Location
New York City
BaldHill Records
2016
buy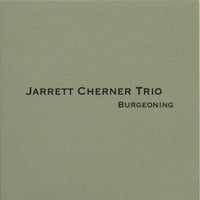 BaldHill Records
2006
buy