Christine Spero
Our latest show is "Spero Plays Nyro", a celebration of the music of Laura Nyro with a new CD in January 2015. Steve Katz of the Blues Project and Blood, Sweat and Tears will occasionally be joining the show. We continue to bring our original nujazz, Latin, pop music to fans.
The group brings their own kind of power to the music of Laura Nyro. Laura was a Grammy winning quintessential singer/songwriter/pianist. Her groundbreaking music crossed the genres of folk, rock and jazz and she was one of the most covered artists in the 1960's and 1970's (Eli's Coming, Stoned Soul Picnic, Wedding Bell Blues, Sweet Blindness). Her tragically premature passing in 1997 shocked her fans. Finally, in 2012 she was inducted into the Rock 'n' Roll Hall of Fame.
Christine has loved Laura's music from a young age when she was given "Eli and the Thirteenth Confession" by a radio DJ friend. She was inspired by Laura's music to be bold in writing, singing and piano playing. Her CDs are listened to around the world.
Even before Christine Spero began recording with her dynamic quartet, she was earning numerous accolades for her melodic, emotionally powerful and soulful songwriting and was Winner of the USA Songwriting Competition/Jazz category for her song, "He Wasn't Always That Way". She was also a finalist with "Caribbean Nights," a festive tropical celebration that typifies the joyful exotica that drives her second recording, "My Spanish Dream", a rich Brazilian/Latin/world fusion offering that dances blithely between pop and jazz.
Each one of Christine's pieces is a unique vehicle for creative improvisation. Add to that her evocative, soulful singing and you've got a smooth runway for the piano, saxophone, bass, drums and percussion to take off!
She recorded her first songs with Neil Sedaka and Don Kirschner on the RCA label as a teen, then moved from New York to San Francisco to further study music and botany. There, she was a member of Bob Braye's Peace and Rhythm Unit. Her eclectic and personal style of composing was influenced by many classical, pop and jazz musicians. She has performed with her own quartets and sextets over the years and now lives in the Catskill Mountains of New York, where she continues to write, record, and perform with her band.
Saxophonist, percussionist and producer Elliot Spero founded his own ensembles in San Francisco & N.Y.. He engineered and produced Christine's CD's, "We Call It Music" and produced "My Spanish Dream" with Scott Petito (Michael Franks, James Taylor). He is the owner of a recording studio in New York and does multiple duties on soprano and tenor saxes as well as percussion.
Read more
March 01, 2005
CD Review From Laura Nyro's brother.
Christine is keeping Laura's flame burning strong!
"Laura's music is in fine hands with Christine Spero who is a terrific musician. She can play and sing Laura's songs like few others. She knows this music inside out, and rises to the challenge on each song singing with expressiveness and power. At times her voice sounds like she could be Laura's twin sister! It's such challenging music to sing, and she does it so beautifully. I don't think I've ever heard anyone who's voice naturally sounds as much like Laura's as Christine's does (although it is certainly distinguished in it's own way). I also thoroughly enjoyed Christine's original song, "Laura and John". The arrangements are true to Laura's originals but with some sweet creative touches as well. The band members are all pros and Christine can really play that piano! Laura's fans should really enjoy this recording. Christine is a very talented woman, and I'm so glad she did such a beautiful job with my sister's music." Jan Nigro - Brother of Laura Nyro
Concert Schedule
Recordings: As Leader | As Sideperson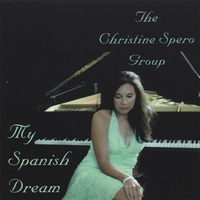 Collective Works Media
2007
buy