Greg Abate Quintet: Horace is Here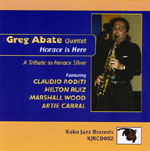 If a new jazz listener asked me about hard bop sounds, I'd probably have to send them off to listen to recordings by drummer Art Blakey and the Jazz Messengers—and pianist Horace Silver, too, on his brief collaboration with Blakey's unit, as well as their separate subsequent careers apart. These two musicians, along with drummer Max Roach and trumpeter Clifford Brown, practically invented the hard bop genre.
Or I could steer the inquisitive listener to saxophonist Greg Abate's
Horace is Here
, where Abate revisits the classic sounds of Horace Silver with an inspired reverence and spark. The group—all-stars all, in abilites if not the sense of having high profiles—get inside some of Silver's most famous songs, along with a couple of Abate originals that serve as Silver tributes.
The sound here is quintessential hard bop; you might think you've stumbled onto a forgotten Blue Note album from the early sixties on your first listen. The front line—Abate on tenor sax, alto sax, or flute; and Claudio Roditi on trumpet—blows clean and crisp, while the rhythm section bounces along on that line between flexible and tight grooves. Pianist Hilton Ruiz, sitting in Silver's chair, sounds particularly inspired, whether in accompaniment or solo mode, going deep into the music while maintaining an ebullience and bounce, adding a distincitive zing to the proceedings.
The group goes after some of Silver's best known compositions, including "Filthy McNasty," "Song for My Father," "Nutville," and "Peace."
Clean lines, driving horns, with a propulsion by turns relaxed and urgent... this is hard bop at its best.
Track Listing
Filthy McNasty, Horace is Here, Nica's Dream, Song for My Father, Nutville, Silver's Seranade, On the Road, Peace, May Reh, Quicksilver
Personnel
Greg Abate--saxophones and flute; Claudio Roditi--trumpet; Hilton Ruis--piano; Marshall Wood--bass; Artie Cabral--drums
Album information
Title: Horace is Here | Year Released: 2005 | Record Label: Koko Jazz Records