The Industrial Jazz Group: Hardcore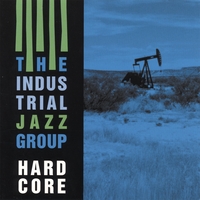 Perhaps this disc aims for high irony or some kind of inside joke, but the group is anything but "industrial" and their music defies any definition of "hard core." One might perhaps expect machine-like coordination or loud thrusting noise, but this quintet led by Andrew Durkin sticks to the open space of improvisation around (often) arranged accompaniment. The pieces span a reasonable variety of styles, with a generally upbeat and swinging feel. Occasional electronic tinkering adds an aura of mystique, and the two "Fantasies" play with classical themes in the jazz context.
As for Hardcore, the music is too open-ended and playful to fit this category as well. On the creative side of traditional straight-ahead swinging jazz, both the arrangements and the improvised solos display a refreshing level of innovation. Certainly not ground-breaking or monumental, the sounds on this disc nevertheless offer something special to the curious and open-minded listener. Hardcore deserves a listen and reveals depth upon close examination.
Track Listing
Daphne's Dream City; Valley of the Smokes; What Is Music For? (part one); Fantasy on Eine; The Man in the Godzilla Suit; Lucky Duck; Cozy 'n Tooty; Skeeter Goes Legit; Fantasy on Cozy; Plus or Minus Eleven; What is Music For? (part two); What is Music For? (part three); Art & Commerce preview; Art & Commerce; Godzilla Redux.
Personnel
Evan Francis: flute, alto saxophone; Mike Dodge: clarinet, tenor saxophone; Aaron Kohen: bass; Drew Hemwall: drums; Andrew Durkin: piano.
Album information
Title: Hardcore | Year Released: 2001 | Record Label: Ugly Rug Records
Post a comment about this album