Mark Elf: Glad to be Back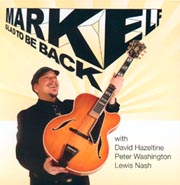 New York City guitarist Mark Elf has been missing in action for the past year. Mr. Elf spent the majority of 2003 and 2004 recovering from not one but two life-threatening health conditions. Now, convalesced and back on his feet, he offers us an expression of gratitude in
Glad to be Back
. Always in the company of great musicians, Mr. Elf recruits the stellar rhythm section of pianist David Hazeltine, bassist Peter Washington, and drummer Lewis Nash to join him on his new recording. Their presence elevates this recording above the typically excellent Mark Elf offerings to a sublime status.
Mr. Elf serves up his trademark quicksilver bop guitar on a collection more heavily seasoned with the guitarist's original compositions than previous recordings. Elf makes this a personal statement, as his compositions are all directed toward and dedicated to individuals instrumental in his recent recovery. The Latin-tinged "Groove for Gonzalez," the Carnival-infused "Bossa for Eric A," the waltz "A Fancy for Yancy," and the soft-spoken "Ballad for Bertrand" all specifically express Mr. Elf's gratitude in a very unique way. "Gaston's Gate" is a wonderful Basie-type blues that walks right off of the disc. These pieces all betray a great deal of thoughtful consideration in composition.
Of the remaining pieces, "Elfin's Pace" is based harmonically on John Coltrane's "Giant Steps." Elf takes an already demanding set of chord changes and spins a commanding melody over them, providing him and his rhythm section a superb vehicle for probing improvisation. Elf's playing is strutting and bright and his note choice perfect. Elf blazes through Hoagy Carmichael's "Little Old Lady," in which David Hazeltine submits a nifty solo with Elf capably comping behind him. There are two takes of the Rogers and Hart tune "Falling in Love with Love," each offering its own unique charm and loads of round tones from maestro Elf.
Visit Mark Elf on the web.
Track Listing
Elfin's Place; Little Old Lady; Groove For Gonzalez; Alfie; Bossa For Eric A; A Fancy For Yancy; Falling In Love With Love; Ballad For Bertrand; Gaston's Gate; Falling In Love With Love.
Personnel
Mark Elf--Guitar; David Hazeltine--Piano; Peter Washington--Bass; Lewis Nash--Drums.
Album information
Title: Glad to be Back | Year Released: 2004 | Record Label: Jen Bay Records
Post a comment about this album