Four Beethoven Symphony Cycles – Blomstedt, Blunier, Weil, and Martynov
My opinion may be little better than the layman's, but I believe it is incorrect to consider Beethoven's cycle of nine symphonies the 'bedrock of western music." It is not. The bedrock of western music was beginning to be established with the plainchant of the sixth century, evolving through the Renaissance, Baroque, and Classical periods, where it emerged, transformed, as the creative monolith that was Beethoven. Beethoven was the musical equivalent of sacred prophecy become manifest. This is why there can never be too many recorded cycles. Here are four disparate Beethoven symphony cycles that completed this year.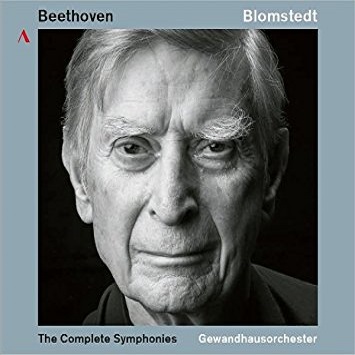 Gewandhausorchester, Herbert Blomstedt
Beethoven: The Complete Symphonies
Accentus Music
2017
Conductor Herbert Blomstedt is 90 years old and still conducting as many as 90 performances a year. He is rightly praised for the Beethoven cycle he recorded with the Staatskapelle Dresden in the late 1970s and early'80s, first released on Berlin Classics and then Brilliant Classics. These performances have been universally noted for their outstanding poise and refinement. For the Maestro's 90th celebration Accentus Music releases Blomstedt's newly recorded Beethoven symphony cycle with the Gewandhausorchester Leipzig, for whom he is honorary conductor.
Much may be said about artists re-evaluating music they had recorded earlier in their career. Of contemporary players, I cite Andras Schiff and his reconsideration of Bach on ECM and John Eliot Gardiner's second look at Beethoven on his Soli Deo Gloria label. These artists bring a lifetime of experience to these works, their latter performances often being the symmetric realization of their respective musical thought. I believe the same applies to Blomstedt and his Beethoven.
Blomstedt's Beethoven, then and now is characterized by a delicate precision that reveals any sharp edges or sonic bumps smoothed to a durable, if slightly romantic shine. These Gewandhausorchester Leipzig performances are the product of a master who has thoroughly considered his subject over a period of time. The First and Second symphonies are fresh and polished, the Third is confident. The Fifth is authoritative, while the Sixth symphony is sunny, ebullient, and the high-water mark of the series. Blomstedt's tempos and brisk and well-integrated over the symphony's five movement. Blomstedt owns the Seventh symphony's first movement like a boss, full of momentum and robustness that definitive and commanding. The second movement, the funeral march, is brooding and urgent. In all, Blomstedt's second look at the cycle is very much in keeping with his earlier run through with the Staatskapelle Dresden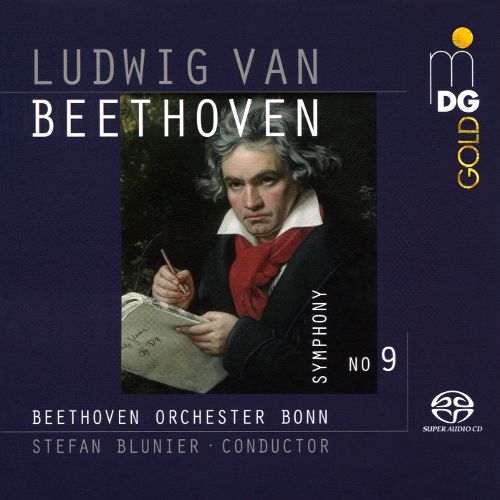 Beethoven Orchester Bonn, Stefan Blunier
Beethoven: Symphonies and Overtures
MDG Gold
2017
When I began my pilgrimage to Beethoven some 40 years ago, I always thought that Beethoven's music, particularly the symphonies, required first, the passage of time, and, second, the necessary technology and interpretation sensibility to achieve full realization. The first "classical" recording I purchased was Carlos Kleiber's now enshrined 1976 Deutsche Gramophone performances of the 5th and 7th Symphonies with the Vienna Philharmonic Orchestra. For not having the slightest idea what I was doing, I lucked into perhaps the finest single recording of both symphonies. The point being, my introduction to Beethoven was from the Wagner-Mahler side of things rather than the Haydn-Mozart side, the latter introduced to me by Sir Christopher Hogwood's mid-1980s L'Oiseau-Lyre cycle with the Academy of Ancient Music and Sir Roger Norrington's EMI cycle with the London Classical Players from the same period. I really liked the brisk tempos and crisp performance practices of these guys. But they did not have quiet enough juice in the 3rd, 5th, 7th, and 9th symphonies as seemed best realized.
How great would it be for a modern instrument band to adopt some period-performance techniques. This was achieved with Nikolaus Harnoncourt's fabulous Beethoven survey with the Chamber Orchestra of Europe. His forces were still pretty small, but this was some full-throated Beethoven with all of the period accoutrements. Presently, the Beethoven Orchester Bonn beneath the baton of Stefan Blunier has produced a Beethoven Cycle with both the period-performance sensibilities combined with battalion forces, 106 musicians, to be exact. The results are welcome. The most Haydnesque of the symphonies, the 1st, 2nd, and 4th are played with Classical grace emboldened by Romantic power. The 3rd and 5th are potent statements with impressive momentum. Symphonies 7 and 9 are simply titanic will all of the fire power that the BOB has available. Conductor Stefan Blunier favors historically-informed tempos, giving these recordings an almost nuclear momentum. These Super Audio records sport some of the best and biggest Beethoven sound in recent memory. This is a Beethoven Cycle for the 21st Century and is a welcome evolution of what Harnoncourt did with the Chamber Orchestra of Europe 20 years ago.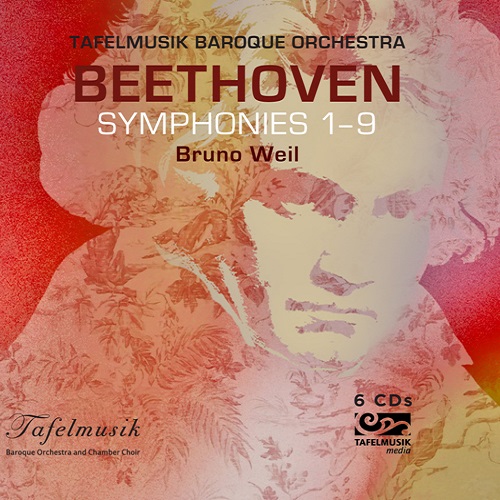 Tafelmusik, Bruno Weil
Beethoven: Symphonies 1-9
Tafelmusik Media
2017
The Canadian period instrument band, Tafelmusik Baroque Orchestra, followed a circuitous route in completing their survey of the Beethoven Nine. The cycle was originally begun beneath the baton of Bruno Weil rather than the group's traditional music director Jeanne Lamon, C.M. and the group's current director, Elisa Citterio. The first release was 2005's
Beethoven: Symphonies Nos. 5 & 6
(Analekta). This was followed, in 2008, by
Beethoven: Symphonies Nos. 7 & 8
(Analekta). I had enjoyed these recordings and was wishing hope against hope that a complete cycle would be forthcoming. So hopeful, I contacted the orchestra's media representative to find out it there were plans to record the remainder of the symphonies. Sadly, I was informed no, there would not be a complete set.
ADVERTISEMENT
Then, in 2012, appeared
Beethoven: Symphony No. 3 "Eroica"; Mendelssohn: Symphony No. 4 "Italian"
(Analekta), was released. An odd pairing, to be sure. The Beethoven 3rd garnered quite a bit of attention. With renewed hope, I contacted the orchestra again and was told there would be no cycle. Well, it seemed, at least tangentially, that there was one coming, but what did I know? Two years later came
Beethoven: Symphonies 1-4 & Overtures
(Analekta, 2014) and the accumulated symphonies began to resemble a cycle a hell of a lot. Finally,
Beethoven: Symphony No. 9
(Analekta, 2016) was released and the jig was finally up. Now, the entire symphony oeuvre is available as a five CD set.
Bright, brisk, and refreshing is the global impression of this music. The high points are the quick tempos employed in Symphonies 3, 6, and 7. This is Beethoven with vigor and smarts that always sounds in control. I caution the listener to have the proper expectations of the Fifth and Ninth Symphonies (see below) as they sound necessarily thin because of the humble numbers of players employed. The sonics of the present set are pristine compared to the first period-instrument Beethoven released almost 30 years ago. The performances remain enjoyable, but lack the steamroller quality of a large modern orchestra in the bigger symphonies.
A note on period-instrument Beethoven: Beethoven performed on period instruments will never sound like that performed by the Berlin Philharmonic with Furtwangler, Karajan, or Rattle at the helm. It just won't and it needn't. The problem with the majority of reportage on period instrument/performance Beethoven revolves around expectations. Period instruments will never have the fire power of the modern ones so expecting them to do so is a fool's wager. Orchestra size is another factor, Tafelmusik being about 40 strong while the above Beethoven Orchester Bonn sports 106 musicians. If one wishes to hear Beethoven as Beethoven would have (or, more properly, as Beethoven's audience would have), then the period instrument/performance rout is the way to go. But the usefulness of the approach does not stop there. When close attention is paid by an orchestra to the period performance practices, it is then that Beethoven reveals, particularly in his early symphonies (Nos. 1 through 4), the hand of Haydn and the more "Classical" sound. This is where Beethoven sounds revelatory. I cite Roger Norrington's controversial readings with the London Classical Players in the late 1980s as an example. The great thing is one can hear a variety of period and modern instrument performances and enjoy each for their own considerable charms. That is how durable this music is.
Yury Martynov
Beethoven-Liszt: Complete Symphonies
Alpha
2017
I like Franz Liszt's transcriptions of the Beethoven Symphonies for their ability to bare the bones of these great works. Liszt, the consummate talent and show-off, really knew how to put on a show. He often ended his performances with the fourth movement of his transcription of Hector Berlioz's
Symphonie Fantastque
, ""Marche au supplice" (March to the Scaffold)," a dramatic reading, to be sure, to the delight of his audiences. His Beethoven transcriptions are no less dramatic. Add this highly-charged music to the fiery Russian temperament of pianist Yury Martynov, and sparks are sure to fly. Martynov, who has recently completed his survey of the Beethoven-Liszt symphonic cycle, is not the first Russian to do so. Konstantin Scherbakov provided Naxos Records this a well-integrated and performed reading of the repertoire in the early 2000s. I compare both of these performances to those of the French-Cypriot pianist Cyprien Katsaris and the Turkish pianist Idil Berit, whose readings tended toward a meeker presentation.
The Russian performances (and certainly Martynov over Scherbakov) are authoritative in the vein of the late Sviatoslav Richter, whose pianism had a high level of Romantic precision. Martynov is well suited for Liszt's music, which requires a larger-than-life consideration. Stopping short of saying there is a lot of banging going on, I am sure that Liszt intended these pieces to be played robustly. I would fault Liszt for being heavy handed on the more contemplative Beethoven, such as the Sixth Symphony, which Martynov makes sound like the march to defend Stalingrad. Part of this is due to Martynov's clever use of period pianos, as Erard piano from 1837 and a Blüthner dating from 1867. Both instruments are contemporary with Liszt's career and offer a provocative look (hearing) of the time. That said, these are exceptional performances that started on Out There Music, Symphonies 1-8 and then picked up by Alpha Records with Symphony 9 and the collected box set.
Critic's Note:
Anno Domini
2017, marks the 100th Anniversary of recorded jazz, deftly noted by the release of the Original Dixieland Jazz Band's shellac "Dixieland Jass Band One-Step (A)/Livery Stable Blues (B)," Victor 18255, recorded February 26, 1917 and released March 7, 1917. Just for perspective, in 1917, my father was 18 months old and my mother was yet to be born for two years. It is also the twentieth anniversary of me writing for
All About Jazz
. The first recording I reviewed for the magazine was Art Pepper's
San Francisco Samba
(Contemporary, 1997), published December 1, 1997. I am using this article as part of a series noting my twentieth anniversary with the magazine and paying special tribute to my fellow writers at
All About Jazz
and Publisher Michael Ricci.
Watch