Aki Takase & Silke Eberhard: Ornette Coleman Anthology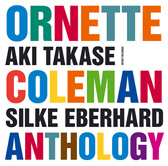 buy album
Label: Intakt Records
Released: 2007
Views: 959
Track Listing
CD1: Turnaround; Lonely Woman; Free; The Blessing; Folk Tale; Open To The Public-Checkout Time; Cross Breeding; The Sphinx; Dedicated To OC-Doughnut; Revolving Door; Mr. And Mrs. People; Angel Voice; Motive For Its Use; The Disguise; Change Of The Century; Focus On Sanity. CD2: Congeniality; Airborne; Broadway Blues; Beauty Is A Rare Thing; Face Of The Bass; Peace; Little Symphony; Eventually; Humpty Dumpty; Eos; W.R.U.; Check Up-Enfant; I Heard It Over The Radio; Round Trip; Music Always; Lve Call; Una Muy Bonita.
---
Personnel
Additional Personnel / Information
Silke Eberhard: alto saxophone, clarinet, bass clarinet; Aki Takase: piano.
---
Post a comment about this album