Alaskan Cool: Jazz from The Last Frontier
Contrary to popular myth, Alaskans don't live in igloos, Eskimos buy refrigerators even from lousy salesmen and Jewel isn't the state's best musician.


It's tough finding a jazz musician from The Last Frontier with the notoriety of the 31-year- old singer/songwriter who left her "home town" of Homer 15 years ago. But look hard enough and one can find residents making their mark, such as the state's senior politician playing a role in the establishment of the Jazz Museum of Harlem.


"Particularly important was the enthusiasm of Senate Appropriations Committee Chairman Ted Stevens of Alaska, a jazz fan who, as a Yale undergraduate, spent weekends digging the New York jazz scene," a Wall Street Journal article from March of 2004 notes.


A lack of name recognition is—or ought to be—considerably less important than the music itself. Home-burned discs from street musicians often surpass the quality of Clear Channel's latest playlist, so there's no reason not to expect decent work from residents scattered across the vast landscape.


The following are capsule reviews of albums by Alaska musicians in alphabetical order, with a few performers from just over the border in Canada included since they often play in the state, as are some works by artists who have moved elsewhere. It's not a complete list or "best-of" collection, merely what I found during a few weeks of searching. Most feature free previews at their Web sites, if they have one. Ordering information is offered not for any commercial purpose other than it's hard to find many of these through conventional means.



Arctic Cool
Arctic Cool
The best thing about this album from a purely objective view may be its name - a dead giveaway for someone looking for Alaskan jazz - but as a pure listening experience it's awkward and amateurly engineered fusion. Read the linear notes, however, and at least one realizes sax/flautist Barry Beckett and guitar/keyboard player Fred Weltz are aware of this as they discuss "utilizing both woodstove and computer technologies." In other words, it's basically a homebrew effort from a couple of reasonably talented guys, composed in a log cabin 12 miles by boat from the tiny town of Cordova. As an exercise in quirky rural culture it has merit; as an example of the best the state has to offer it doesn't.
Maurice Coyle
Vital Signs
The song listing and distinctive-looking picture of this Anchorage doctor in a tux on the back of his second album speaks volumes about its content, a straightforward and classic treatment of well-known ballads. He's not reviving Sinatra with the contemporary flair of someone like Michael Buble, but his lower-key arrangements and deep, even-handed vocals may be easier on the ears for fans of the classics. None of the songs are of extended length, but Coyle does provide space for some thoughtful solos, most notably the delicate work by keyboardist/vibraphonist Tom Barelski on songs such as "Where Or When." Proceeds from the album benefit the city's Children's Hospital.


John Damberg
Human Hands; Angie's Samba
This percussionist/vibraphonist is in the upper echelon of the state's talent roster, with a lengthy list of albums as a leader and sideman. These two albums represent very different projects. Human Hands is a collection of quality gentle acoustic trio fusion, much like Jack DeJohnette's Parallel Realities. Angie's Samba is a more upbeat and contemporary set by his Latin Jazz Quintet. Both are worth listening to, but ultimately Human Hands is a better and more pleasing showcase for his talent - unless one wants to hear him on vibes - since his technique relies more on intellect than intensity. A new album by his JoMaLa sextet, Azure is scheduled for release in June of 2005.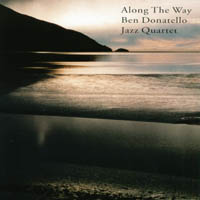 Ben Donetello
Along The Way
Diversity is usually a good thing for a musician, but this is an album that would be better with less of it. The alto saxophonist shows a deft, if uncomplicated, straight-ahead touch on songs like "The Look Of Love" and "River Of Light," with contributions from co-players to match. But some departures from the formula are a poor fit here. His sax does little more than phrase the lyrics on "Swing Low Sweet Chariot." Worse, the Cure's "Love Song", featuring John Gaines on vocals, doesn't belong here at all, with Donetello's flourishs closer to Candy Dulfer than the legit player heard most of the time elsewhere. An OK outing, but one that leaves listeners wanting something more consistently reflective of his abilities.


Caroline Drury
Loving You, Loving Me
This singer, a native of the Yukon city of Whitehorse, has something of a hometown Norah Jones quality, with an even mid-range performance on an album of mostly original compositions. (AAJ review). She is also part of the Peters Drury Trio, which puts some contemporary spin on standards on albums such as When Old Met New.


The Emeralds
Off The Edge
The second album by this group that began playing as kids shows them growing up both in age as material, as the seven folk-oriented instrumentalists tackle classic jazz by the likes of Django Reinhardt and David Grisman. It's an album better suited for the folk dance floor than the easy chair, with cheerful and pleasantly orchestrated arrangements that adhere too closely to the lyrical concepts of the compositions for deep introspection. But they perform solidly, harmonizing and supporting each other well through a mix of arrangements within songs without the clutter an ensemble of this size can create. (AAJ review)


Melissa Bledsoe Fischer
Jazzman Returns; Jazzmom EXPOSED; By Request
Something about her "Jazzmom" nickname suggests more novelty than substance, but don't be deceived - this husky vocalist and pianist has a lengthy list of credits on some of the better albums recorded in the state. Fischer is at her best on classics from the romping "Straight No Chaser" to heartfelt "Good Morning Heartache," although she manages to perform R&B ballads like "Sweet Love" with reasonable authenticity. There are songs that don't entirely work, such as a pop/blues "My Funny Valentine" and smooth harp-drenched "Over The Rainbow," but such songs are the exception not the norm on all three albums. She also has a Christmas album (Merry Jazzmom) which, judging only from three samples at her Web site, appears to be a step below her other albums - although still above the typical throwaway smooth Christmas jazz album.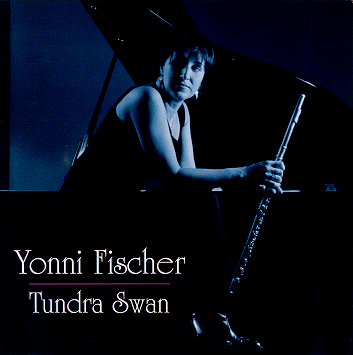 Yonni Fischer
Tundra Swan
This album is as mellow as it's blue-hued cover portrait of the flautist suggests, the sort of music likely to appeal most to the Sunday morning Starbucks crowd or at-home yoga session. Tunda Swan is described as "neo-classical with jazz and Latin overtones," a lot of words that sound more sophisticated than "New Age." Pretty much everything is middle-of-the-road, from the length of songs to to moderate variation of styles to instrumentation that is neither minimalist nor excessively drenched in synthesized textures. Fischer's flute is well-defined and she doesn't limit herself to predictable riffs, but listeners won't find any breakthrough technique or ideas. Among the accolades at her Web site are comments calling her "the Diana Krall of flute" and "a good frontal lobe massage." If such descriptions appeal, than the music likely will too.
Eric Holle
Banjo Rebop
Banjo Rebop is something akin to an eclectic redneck Bela Fleck album, which in this case is a compliment. Holle, a resident of the tiny artist-oriented town of Haines, has recorded an album where the sum exceeds its parts. Solid but seldom spectacular performances blend into a diverse musical portrait that is a consistent pleasure, ranging from standards like "Minor Swing" to oddities such as "Bad Cop, No Donut!" (AAJ review)
Greg Holloway
Play Therapy
The drummer's 1999 sextet album is a perfect example of why local acts aren't graded on a curve: too much undue praise robs gems like this of their due. This collection of straight-ahead originals is above all a remarkable demonstration of the all-too-rare skill among modern drummers of being constantly alive presence without needing to dominate the ensemble. His elaborate beats and wide variety of tones are always in the listener's mind, but unless he's soloing the prevailing impression is one of an exceptional road map being laid out for the player of the moment. His unaccompanied "Play Therapy - A Drum Thang" is a mastery of percussive phrasing with an emphasis on lyricism rather than giving into the temptation to merely show off technique. He returned to his native Washington, D.C., after numerous years in Anchorage, a huge loss for those wanting to claim him as the state's own.
Ford James
This One Moment; Sunlight
These are "smoother" albums than I'd expect from this collection of musicians, but decent offerings within that realm. James, a Juneau guitarist and bassist who plays a few additional instruments on his albums, cruises through these originals more like Ralph Towner than John McLaughlin, both of whom he cites as influences. It could easily be the latter with this group, including reed player Wayne Nordlund, leader of the band Psychedelic Psax, and drummer Andy Engstrom, who is part of a space-age "mayhem" rock project. James is best on acoustically inclined pieces such as "Valentines" rather than the processed Russ Freeman/Lee Ritenour lines on songs like "Light Under Dark." Also featured is pianist Robert Cohen, although ethics forbid me to rate his playing since he runs the city's lone music store and is therefore where I buy many of my albums. However, his advice is nearly always worthwhile and he recommends This One Moment as the superior album.


Mallaka
Live At D Str.
Those looking for an ambient/experimental album with what passes for a regional accent may find this jam quintet (whose name has a meaning related to "flexible" that can't be fully detailed on a family Web site) to their liking. The five compositions feature lengthy, if someone wandering, violin leads by Gwendellin (yes, only one name) to a variety of Native and world acoustic and electronic beats that avoid getting overwhelming. There's a bit too much sameness and lack of progression at times, but also signs of classical intellect such as the "Cannon In D" elements of the closing "Set Five."


Kerry Maule and the Snapping Turtle Swing Band
Snappitude
Just looking at this album with its splashy Rippingtons-like cover graphics and list of 14 ragtime classics on the back suggests a fun-spirited neo-Dixie session, and Snappitude doesn't disappoint. Anchorage trumpeter Kerry Maule and nine other players, many featured on other albums in this article, are razor sharp on a recording featuring top-notch arrangements and engineering. All of the songs are three to five minutes, a bit too sterile for a group that clearly could do more with room to roam, but it's at least somewhat offset by not trying to squeeze too many solos into each piece. Easily one of the state's best contemporary big band albums.


Swingshift
Nightcap
This collection of hard R&B originals is reminiscent of Big Bad VooDoo Daddy in that, even if the songs aren't familiar, they tend to feel like they are. They're not a soundalike group - there's fewer horns, more rock guitar - and not as much life as BBVD's classic albums. But a legitimately fun and funky Dr. John-like spirit exists, There aren't a ton of standout instrumental moments, but a few highlights such as a playful woodwinds and guitar exchange on "Jen's Blues" deserve mention. Maybe not the most accomplished album the state has to offer, but it's right up there among those likely to provide immediate satisfaction. It seems easy enough to find in Anchorage record outlets (Mammoth Music, easily found through Google, is the largest local store), but no homepage or e-mail information is available as of this writing.
Tropicante
Curt Terrall And Mark Jeleniewski
Saying this Latin smooth jazz album makes one feel peaceful would probably be a high compliment for Terrall, a guitarist and member of the activist group Juneau People for Peace and Justice. The co-leader on this disc of 11 originals is a consistently strong melodic acoustic performer, best heard on less dense arrangements such as "Puesta Del Sol," where his acoustic picking is clean and a good match for Jelenieski's laid-back keyboard style. But he's essentially playing an instrumental vocal line without deviating much from the lyrics. His work is similar, but more engaging on the waltz of "Paso Encantado," which he carries solo except for a scattering of unnecessary strings. Jeleniewski is consistently smooth in a David Benoit sort of way and decent contributions are made by side players, such as Michael Bard's flute on the lively "Vientos Allegros."


MENTIONED, BUT NOT REVIEWED FOR VARIOUS REASONS


Mike James
Five free MP3s
This Anchorage drummer has plenty of album and performance credentials, but I was unable to locate anything he may have recorded as a leader. However, five free MP3s featuring some notable state performers are available at his Web site, making him worth a mention here.
J. Althea
Happy-Tonk Piano; Parlor Room Rags
I cannot in all fairness review these piano ragtime collections, since I know the pianist and played with her for a few months at a church we attended. So I'll merely note their existence - those wanting to evaluate their merit can sample four free MP3 songs here. Happy-Tonk Piano is aimed at a younger/more casual crowd with "sing-along" pieces like "Old Susanna" and "Bill Bailey." Parlor Room Rags is a collection of ragtime compositions by women.
Not part of the "official" list because Michael Faubion is one of the state's endless acoustic folk/rock talents on the quirky side, but 1) he's very good and 2) a nicely commented collection of free MP3 songs can be downloaded from his Web site. If one is going to experience Alaska music, then this is a trip outside the realm of jazz worth taking.


Shauna Lee and David L. Jones
Live at Steamers
I only know of the existence of this album recorded at a Ketchikan restaurant that appears to lean toward the smooth side, but have not heard enough of it to make any judgments.
Post a comment