Multiple Reviews
Reel Recordings: Progressive Leanings with an Archivist's Care
Reel Recordings crept into the reissue market in 2007, somewhat under the cloak of obscurity, but word is spreading that their CD issues of unearthed archival recordings and rare album reissues are not only audiophile gems for the digital age, but some of the most honest and beautiful-sounding CDs on the market.
Unlike some audiophile specialty labels, Reel Recordings concentrate on the far-left field of contemporary improvisation and avant-rock. Rarely has free music been captured with this much care and dedication to the sound of the medium.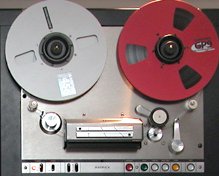 class="f-right" > A quick history. Engineer Mike King, whose name crops up on some of Cuneiform's archival releases, began the Ontario-based Reel in 2007. The label was started following a repair project on reel tapes of guitarist G.F. Fitz-Gerald in duo with reed player Lol Coxhill; the tapes had developed "sticky shed" syndrome (where the binding agent attracts moisture, degrades and becomes sticky, rendering the contents unusable) and had to be baked in order to salvage them.


King discovered how singular is the music contained on these tapes—what is now Echoes Of Duneden, reviewed below—and promptly worked on issuing the material. The first five entries into the Reel catalog follow King's interest in progressive British music, including both improvised and rock groups: reed player Gary Windo and his pianist wife Pam, guitarist Ray Russell, drummer Ken Hyder, Coxhill and the Canterbury circus of singer/guitarist Kevin Ayers. For 2008, a 1981 concert performance of altoist Mike Osborne (an early favorite of King's) will get the Reel treatment, as will recordings by pianist Steve Miller and altoist Elton Dean.
"Audiophile" and "compact disc" are terms that usually don't go together, but Reel Recordings are glass mastered in real time (1x playback) using vintage and high-end equipment (I don't want to admit this makes a difference, but my ears say it does) for a stable and rich return. The audio files are converted at a 96/24- bit rate in Sony Sound Forge, a bit-rate which is normally used for digitizing voice recordings and which presents an extraordinary amount of detail in the source material. Finally, before the digital master is created, King converts the files into analog and "warms them up."


All but the Ken Hyder reissue are from original master tapes, and the audio preservationists and archivists out there will duly note the packaging, containing photos of the exact tape boxes and tape reels that originally held the music.
The source material for the Windo and Ayers discs isn't the greatest quality, but even in low-fidelity sources, King notes that "musical emotion will transfer quite well on a compromised recording." The process by which Reel Recordings are mastered and packaged is one that keeps the sheer integrity of the artist intact, and that's what sets these discs apart from their brethren. As King says, "we're just here to do best by the music."


Ken Hyder's Talisker
Dreaming Of Glenisla
Reel Recordings
2007


Originally released on Caroline Records in 1975, the debut session from Scottish drummer Ken Hyder is the only Reel Recordings CD to be taken from vinyl source material (not that it's noticeable). Talisker were a unique outfit in UK improvisation, taking as much if not more influence from traditional music of the Scottish Highlands as from jazz, blues, and African music. The result sounds somewhere between saxophonist Albert Ayler's Love Cry (Impulse!, 1967) era and early Pentangle. Hyder is joined here by saxophonists John Rangecroft and Davie Webster, and bassists Lindsay Cooper and Marc Meggido, for five original compositions and six Scottish traditionals.
The combination of stately minor-key melodies, droning basses, and loose flurries of percussion will certainly appeal to Ayler fans, but it is truly an incarnation of "folk music from all over the world," an integration of Scottish, African and African-American traditions. Rangecroft's tone has a keen not unlike that one might hear from a Texas tenor's bell; clean, ringing and earthy.


Webster, in turn, has an almost saccharine tone with a wide vibrato; his work with the bassists on "Lament for Mal Dean" is bagpipe-like, with his alto playing the high ballad melody over a thick constant canvas. "Ca' The Yows" is an interesting three-part piece, with Rangecroft opening on clarinet and sticking to the theme, followed by a heavy and free bass duet and a hard-swinging post-bop tenor solo atop rhythms that are just this side of pulling apart. Indeed, this is a fine introduction to Hyder's work, and a little known aside to improvisational music in the United Kingdom.


Ray Russell
Secret Asylum
Reel Recordings
2007


Guitarist Ray Russell offers an entirely different synthesis of sounds on Secret Asylum, his fifth LP as a leader and certainly his most defiantly avant-garde. His process of sonic purification and exultation was uniquely captured by an evolutionary, progressive catalog of releases.


He's joined here by regular conspirators, drummer (and poet) Alan Rushton, bassist Daryl Runswick and trumpeter Harry Beckett. Reedman Gary Windo replaces Tony Roberts, who'd occupied that chair on two previous dates. Originally released in the UK and Germany on Intercord/Black Lion in 1974, this is the session's first proper reissue and is taken from the original master tapes.
Many copies of the original vinyl had the labels switched, so it took some research to find out which was the real "Stained Angel Morning," but it is correctly placed here, a pensive vignette for flute, bluesy acoustic guitar and bass that belies nothing of what's in store. Windo opens "Spinetree" with a yelp, his burnished split-tone growl out in full force. Whereas players like Evan Parker, Alan Skidmore and Roberts are extraordinarily controlled in their technique, Windo is uniquely exuberant among British reedmen in his litany of squawks, blats and shouts, brimming with pure free expression. Rushton is perfectly suited for this music, a constant but ever light pummeling, keeping the music in a swirl of non-directional movement.

Probably the most infamous piece of the date is "These That I Am," a blissfully over-the-top duet between Russell and Rushton of seasick midrange noise, skittering tremolo and piercing feedback. It's the scumbled cousin to Masayuki Takayanagi's "Mass Projection," not to mention the blueprint for the Arto Lindsay-Thurston Moore canon. Yet Russell's roots are in British jazz and in backing blue-eyed soul singers, and his arrangement of "Sweet Cauldron" (a feature for Beckett's deft wisps) is out of the Surman/Warren and Keith Tippett schools.


Secret Asylum is essential listening for fans of no wave, British free improvisation, Barrett-era Pink Floyd, Stefan Jaworzyn's Ascension, and anything else that falls through the musicological cracks.
Pam & Gary Windo
Avant Gardeners
Reel Recordings
2007


Avant Gardeners is one of the very rare unadulterated collections that exist of Gary Windo's work. In addition to the above session with Russell, Windo worked in the Brotherhood of Breath and with ex-Soft Machine bassist Hugh Hopper, composer/pianist Carla Bley, and as a decidedly feral foil for Alan Shorter on the trumpeter's Tes Esat (America, 1970). That album contains his duet with drummer Rene Augustus, one of the cornerstones of saxophone-drums improvisation.


This set joins him with his wife Pam in a tenor-piano duet, a fantastic trio with percussion-collector Frank Perry (Ovary Lodge), and a quartet featuring Brotherhood colleagues bassist Harry Miller and drummer Louis Moholo. Despite the fact that the recordings were made for archival and personal-review purposes, they certainly capture most of the sounds made on these occasions.
The set opens with a two-part duo improvisation recorded in 1976 at Maidstone College of Art in Kent, Pam Windo's glassy pointillism slowly morphing into rolling churchy block chords, an eliding transition that recalls Bobby Few or Jaki Byard in a glass enclosure. She's a good foil for the saxophonist, empathetic to his often turn-on-a-dime whims, and able to coax gruff, velvety blues out of the skronk. She lets him hang in the air unaccompanied for "Primal Stream" as he brays, shouts, digs and whinnies, his vocal cry slipping out alongside the horn. There's almost—almost—a purr, then a moan, then one last eviscerating run before it's over.
Frank Perry, normally a very detailed percussionist, sounds positively Hans Bennink-like, tumbling over the toms on "Roarin'" as Pam roils in the lower registers and Gary's tenor practically splits in half out of the gate, as though he were pushing everything out at once. There's a processional for gongs, temple blocks, piano and bass clarinet in "Shepp Heard," measured and tense that leads into the brief-but-raw unaccompanied bass clarinet of "Bass Space." To say Gary Windo's world is intense is an understatement— it's as if he's taking one look into the primal void and, with a yelp, jumping in naked. Thankfully, part of his journey was captured on tape.


Kevin Ayers And The Whole World
Hyde Park Free Concert 1970
Reel Recordings
2007


The Whole World was vocalist/guitarist Kevin Ayers' band following his departure from the Soft Machine, immortalized on his Shooting At The Moon (Harvest, 1970). Captured shortly before that album's release in concert in London's Hyde Park, Ayers is joined by usual suspects saxophonist Lol Coxhill, pianist David Bedford and bassist Mike Oldfield, along with soon-to-be-ex-Softs drummer Robert Wyatt. The source material is the least high-fidelity of the current Reel Recordings crop, and though unabashedly raw and overdriven in the best of ways, there is a degree of murkiness (especially in the vocals) and some pretty notable phasing on the tape.
The surreal island affair "Clarence In Wonderland" opens the concert, taken at an extremely fast tempo and probably the tightest performance of this set. Barely holding together as Coxhill chirps in dialogue with himself, groundswells of feedback and freedom rise in time with Ayers' lyrical cues. The instrumental section is a chance for Ayers and Bedford to stretch out, writhing in a dark alternate universe in direct counter to the tune's usual sunny disposition.


"Did It Again" and "Why Are We Sleeping" are carryovers from the first proper Softs LP (The Soft Machine, ABC/Probe, 1968), the Oldfield-Wyatt team churning and pounding out a raucous 4/4 as Ayers' detached monotone becomes a throttled yelp alongside his dissonant guitar battering. I assume it's Bedford that pounds the hell out of the organ somewhere between Sun Ra and Mike Ratledge, a breakdown extended to a fuzz-faced romp.
Wyatt, despite his aversion to the jazz leanings of the Softs, had a hugely improvisational percussive bent during this period, clearly out of Elvin Jones and even Sunny Murray. Yet with Ayers, his straight-time pummeling is almost oppressive, but perhaps necessary as the ragtag cathartics could cause the whole thing to collapse. Ayers sounds biting and angry on "Why Are We Sleeping," and the instrumental passages with Coxhill's soprano taking the reins are more tension than release. If ever a line such as "my head is a nightclub/with glasses and wine" could be delivered more snarkily, I've yet to hear it.


Hyde Park Free Concert 1970 is probably one of the better starting points for investigating Ayers' work, not to mention a welcome addition to his small catalog.


G.F. Fitz-Gerald and Lol Coxhill
Echoes Of Duneden
Reel Recordings
2007


Echoes of Duneden captures English soprano saxophonist Lol Coxhill in three duets with Scottish guitarist G.F. Fitz-Gerald, recorded at the Edinburgh Fringe Festival in 1975 and slated for a Caroline LP that went unreleased. Compared to Coxhill, Fitz- Gerald's work isn't all that common, otherwise relegated to a scarce progressive LP, Mouseproof (UNI, 1970, reissued by Sunbeam) and a track on the compilation Guitar Solos II (Caroline, 1975).
Though clocking in a tad shy of thirty-five minutes, one wouldn't know it from the immersion in echoed, delayed and redoubled psychedelic strumming from the players' pinched and darkly whimsical sound-world. This is environmental music in many ways, resonant with the hall in which it was recorded, especially on the title track. Contained within the hills and dells of the sonic landscape, Fitz-Gerald's guitar hammers like chimes in a clock tower and then scuttles out a sly blues reference. "Elfin Tree" carries with it the most clear incantation of the record's subtitle ("Three Fairy Dance Duets"). Coxhill's phrases are less buried here and sashay with the gnatty energy of his duet partner.


The saxophonist's other Caroline LPs have a grab-bag aesthetic to them as they're often culled from a number of sessions. His humor is often worn a little more on the sleeve, fitting in rather neatly with the Canterbury scene stereotype. To be sure, they are a unique experience and one's never sure what one's going to get. But the collaboration with Fitz-Gerald yields another result—shadowy, mysterious, dense and difficult. The beholder's ear is a bit more inverted as a result.
With these first five recordings, it's clear that Reel Recordings are up to the task of presenting vanguard improvisation and progressive rock in a careful, dedicated and loving manner. We're lucky to have them on the scene.



Tracks and Personnel
Dreaming Of Glenisla
Tracks: Dreaming Of Glenisla; Diddlin' For The Bairns & Lament For Dairmid; Drum Salute & Lament For Mal Dean; Mrs. Macleod Raasay & Soldier's Song; Ca' The Yows; Mingulay Boat Song; Heel An' Toe, Foot An' Moo'; Homeward; He Mandu; Tha Cu Ban Againn; The Black Bear.
Personnel: Ken Hyder: drums, voice and penny-whistle; Davie Webster: alto saxophone; John Rangecroft: tenor saxophone and clarinet; Marc Meggido: bass; Lindsay Cooper: bass.
Secret Asylum
Tracks: Stained Angel Morning; Spinetree; Sweet Cauldron; All Through Over You/Nearer; These That I Am; To See Through The Sky; There The Dance Is; Children Of The Hollow Dawn.
Personnel: Ray Russell: electric and acoustic guitars, piano; Gary Windo: tenor saxophone and flute; Harry Beckett: trumpet and flugelhorn; Daryl Runswick: bass; Alan Rushton: drums.


Avant Gardeners
Tracks: We're On Our Way/Primal Stream; Roarin'; Shepp Heard; Bass Space; Frank 'n Myrrh/Incensed; Maiden Stone.
Personnel: Pam Windo: piano; Gary Windo: tenor saxophone and bass clarinet; Frank Perry: drums and percussion; Harry Miller: bass; Louis Moholo: drums.
Hyde Park Free Concert 1970
Tracks: Clarence In Wonderland; Red Green And You Blue; May I?; Hat Song; Did It Again; Why Are We Sleeping.
Personnel: Kevin Ayers: vocals and electric guitar; Lol Coxhill: soprano and tenor saxophones, Gibson Maestro, slide whistle and percussion; David Bedford: electric piano and organ; Mike Oldfield: electric bass; Robert Wyatt: drums.

Echoes Of Duneden

Tracks: Fairy Dance; Echoes Of Duneden; Elfin Tree.

Personnel: G.F. Fitz-Gerald: electric guitar; Lol Coxhill: soprano saxophone.
Post a comment