Jazz Articles | Blog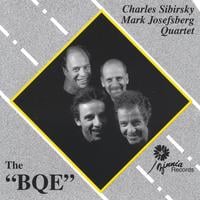 The Brooklyn-Queens Expressway receives its due credit on The BQE for bringing the two halves of this quartet together. It also appears in its own way through the music itself: ranging from dreamily slow to head-long fast, changing tempos and moods at a moment's notice. Sibirsky asserts that most of this record was improvised, built around spare compositional frameworks. Indeed, the openness of the quartet to evolution and devolution is the record's greatest quality.
While the members of the rhythm ...
read more
The vibes slide around the theme to "Sweet and Lovely", last note's echo crowding this note's tone; it sounds a little like the speed is wrong or the disc is off-center. The tune develops; the sound continues. Through lush chords and unexpected turns, Mark Josefsberg has you looking at a standard through new eyes. It's a defining moment; it tells you these guys are different. That and the nuts-and-washers portrait on the cover.
Josefsberg's tone is interesting. On many tracks ...
read more
---