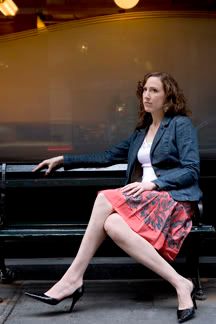 World Culture Music presents:
Julie Hardy, LIVE AT THE JAZZ STANDARD, OCTOBER 16, celebrating the release THE WISH, featuring WCM artists guitarist Mike Moreno and label founder, drummer, Kendrick Scott

Boston CD release party/performance: TUESDAY, DECEMBER 11 at RYLES!

"Hardy lives, like [Kurt] Elling and [Bobby] McFerrin, in a musical world of her own, and it is a marvelously dynamic place." - Christopher Loudon, JazzTimes

On September 12, 2007 World Culture Music will proudly release The Wish from vocalist/ composer Julie Hardy. WCM will also present Hardy live at The Jazz Standard on October 16, in celebration of this recording. From the opening phrase of "We Kiss In A Shadow" (Rodgers and Hammerstein) it is clear that Julie Hardy is not only a gifted re- inventor of standards, but so much more. She possesses a beautiful, round, full tone that rings with honesty and fervency, and her love for singing this music is ever-present in her timeless delivery and phrasing. In short, her voice delivers everything you could hope to hear from a great singer in any genre.

Julie Hardy, a recent winner of the ASCAP Young Composer award, presents a diverse program on The Wish, demonstrating her formidable talent as a composer with six original compositions. "On the Verge," "Patience" and "Soaring" form a suite depicting the artist's personal journey as a musician in New York City, and showcase her gift for creating stunning melodies set over modern harmonies and grooves. Hardy feels that she can "tell a story with or without lyrics", and her compositions prove to be just as evocative as the great standards found on this recording.

When listening to The Wish, one can hear that Hardy's every musical move is fully integrated within the ensemble. The vocalist/composer's approach is unique and multi- faceted in that she aims to "break down the barriers that commonly exist between vocalists and instrumentalists, and use the voice as another melodic texture, no differently than what a saxophone or trumpet would do." Of course much of the emotional weight of Hardy's music still lives in words. She explains further, "at the same time, I don't want to forget how powerful lyrics can be. My goal is to present the music that moves me, be it one of my own compositions or a standard that I love."

For the recording of The Wish Hardy brought together an amazing lineup of musicians who are causing a major creative impact on today's jazz scene, including Ben Monder (guitar), Jaleel Shaw (alto saxophone), Sam Sadigursky (saxophones, clarinet), Randy Ingram (piano), Matt Clohesy (bass), and Kendrick Scott (drums). These artists have collectively performed with jazz luminaries such as Roy Haynes, Terence Blanchard, John Scofield, Paul Motion, Maria Schneider, Dianne Reeves and many others. "I purposely chose the players of The Wish because I didn't want to have to give them tons of direction. I wanted to capture each musician's unique sound and I wrote music that would provide a platform for them to express themselves," said Hardy.

Composer, drummer and World Culture Music founder Kendrick Scott was an obvious choice for Hardy; "Kendrick has the ability to bring life to my compositions and has such a different perspective than other drummers that I have played with. I'm learning to expect that he will do something fresh and new each time we play one of my compositions".

With the release of The Wish, Julie Hardy joins a roster of some of the world's premier talents, including drummer Kendrick Scott, guitarist Mike Moreno, and trombonist Nick Vayenas on the New York based label, World Culture Music.

More on drummer/composer/WCM Founder Kendrick Scott: In the words of Terence Blanchard, "Kendrick is a true artist of the highest order. He is not bound by the conventional wisdom of the music world. I've noticed that he never says why, but rather why not. He is exactly what the music world needs: someone with the vision and courage to press forward and expand the world of music. I am blessed to have him around and look forward to seeing what he does every time we play."

Drummer Kendrick Scott is one of jazz's young masters of the instrument. He was born in Houston and attended the High School for the Performing and Visual Arts, winning Downbeat Magazine student awards, IAJE's Clifford Brown / Stan Getz award and the National Foundation for the Advancement of the Arts. Kendrick was awarded a scholarship to attend Berklee College of Music where he majored in Music Education. As a performer, Kendrick joined The Crusaders and The Terence Blanchard Group; he has also shared the stage with Dianne Reeves, John Patitucci, Stefon Harris, Kenny Garrett, Pat Metheny, Nicholas Payton, Gary Burton, Mark Turner, Joe Lovano, Herbie Hancock, John Scofield, David Sanborn, Roy Hargrove and many more, including playing on numerous film soundtracks by Spike Lee. Kendrick recently released "The Source" his debut recorded and first World Culture Music release to rave reviews. With this debut, he secures his position as part of an elite group of young New York-based improvisers and composers impacting jazz around the world.

World Culture Music is an artist collective record label and multi-faceted music company that was created by Kendrick Scott to form an alliance of like minded musicians who are making a significant impact on both today's jazz scene and on music in general.

WCM's mission is to blur the labels in music, cross the cultural divides, bypass the corporate structure and provide the next generation of talent an outlet to fulfill their creative visions.

As an alternative approach to the traditional record label, World Culture Music's objective is to bring the artist closer to the listener with no filters in creativity and honesty. WCM provides young creative musicians an opportunity to maintain all artistic control over their music and enables the musician to decide how it will be presented to the world. Unified under WCM, its artists can connect with their audience on a broad scale.

WCM presents artists of the highest caliber who are some of today's most in-demand musicians. Drummer Kendrick Scott, vocalist-composer Julie Hardy, trombonist Nick Vayenas, and guitarist Mike Moreno have established themselves as some of the leading musical figures of their generation. They have played on over 35 recordings combined and performed with some of today's top jazz acts including Joshua Redman, Terence Blanchard, John Scofield, Nicholas Payton, Greg Osby, David Sanborn, Joe Sample, Dianne Reeves Jeff "Tain" Watts, Michael Buble, Kenny Garrett, and Ravi Coltrane. More on Julie Hardy: Julie Hardy grew up in Fremont, New Hampshire, an area not known for jazz, but one with more than enough resources to nurture her talents. She started singing and writing her own tunes at a young age, with classical piano studies starting at age 9. Hardy had her singing debut at age 11 in a school variety show and she went on to study jazz in high school with Marc Laforce, an accomplished tenor saxophonist, and continued to compose music, which culminated in the writing, directing and conducting of a full-length musical in her senior year.

Hardy went on to the University of New Hampshire, where she studied both classical and jazz composition as well as piano and voice. When she heard Wayne Shorter's album "Speak No Evil" it opened up a new world of knowledge and feelings which greatly influenced her composing and reinforced the direction she was heading in.

After graduation Hardy received a scholarship to attend New England Conservatory of Music, where she expanded her musical horizons even further. She came under the influence of artists such as Kenny Wheeler, Pat Metheny, and Keith Jarrett. She also had the chance to work with inspirational teachers such as Dominique Eade, John McNeil, Jerry Bergonzi, George Garzone, and Fred Hersch. Inspired by Eade, she continued to compose wordless melodies and treat the voice like an instrument. Graduate studies helped Hardy lay the groundwork for life as a professional musician in New York City.

In July of 2002, Julie was one of two vocalists in the nation selected to attend the prestigious Jazz Academy Snowmass in Aspen, Co. directed by Christian McBride. That following March of 2003, Hardy attended the Betty Carter Jazz Ahead, held at the Kennedy Center in Washington, D.C. She was one of four vocalists chosen internationally to attend and have her piece performed at the Kennedy Center and broadcasted live on-line across the world.

In June of 2003, four days after moving to New York City, Julie recorded her debut CD A Moment's Glance, featuring two fellow NEC colleagues Robert Stillman (tenor sax) and Randy Ingram (piano). Bassist Ben Street and drummer Adam Cruz (of the Danilo Perez Trio) completed the ensemble. The record was released on the Fresh Sound/New Talent label in April 2005 making Hardy the only American vocalist on its roster at that time. Hardy released A Moment's Glance to a full house at the Jazz Standard in New York City. She was also selected to perform at the Diet Coke Women in Jazz Festival at Jazz at Lincoln Center. Last year Hardy was acknowledged for her talent as a composer by receiving the 2006 ASCAP Young Jazz Composers Award for her composition "No Turning Back" which is featured on A Moment's Glance. Julie Hardy currently lives in Brooklyn, NY with her fiance/pianist Randy Ingram.
For more information contact Jason Byrne, Red Cat Publicity.