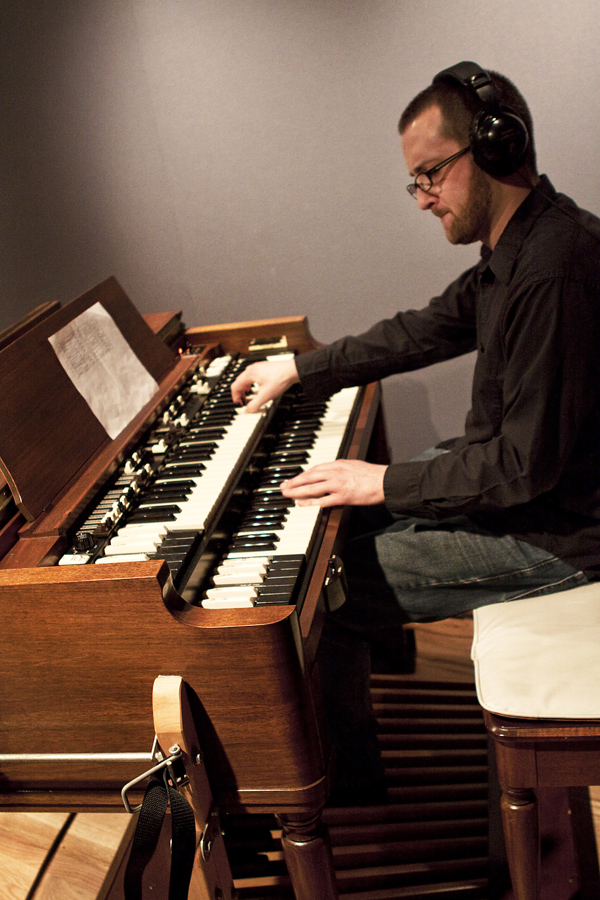 The first time Chris ever saw a real Hammond B-3 organ was in a dark club in Kansas City, MO called Bobby's Hangout. After taking an interest in the sound of the instrument on some recordings,
Jim Mair
(his college professor) recommended he go to see the man at the helm, renowned organist
Everette DeVan
. Chris knew instantly that night that the B-3 was the instrument he was destined to tackle. After several weeks of going to Bobby's and some subtle coaxing, Mr. DeVan took him on as a student, teaching him the ins and outs of the instrument and the art of that all familiar Hammond groove. Having played bass, piano, and guitar in school, the transfer was a natural one.
Not much later, Chris organized and started playing with a quintet of some of Kansas City's most promising young musicians called Grampa's Cough Syrup. This group provided a platform for learning, writing, and performing at numerous venues around Kansas City. During this time he also played with the
Brody Buster
Band as well as the
Tony DiPardo
Pack Band, the in-game music for the
Kansas City Chiefs
.
In 2007, Chris recorded his self-titled debut album at Soundtrek Studios in Kansas City, MO. This recording featured his friends and regular bandmates
Nick Rowland
on alto saxophone and
Kevin Frazee
on Drums. In addition, it featured the incredible
Danny Embrey
on guitar and as a producer. Only a month later, Chris made the decision to move to New York City.
During his time in the Big Apple, Chris regularly performed at venues such as Showman's, Minton's Playhouse, the Lenox Lounge, Jules' Bistro, the Bar Next Door, the Garage, Perk's Lounge, and the Harlem American Legion. He received constant support and tutelage from Harlem organ legend
Seleno Clarke
and was a working member of guitarist JC Stylles' trio. In 2009, he had the honor of befriending and studying with the world's premier jazz organist,
Dr. Lonnie Smith
.
Since moving back to Kansas City in 2009, Chris has started performing again with trio mates
Danny Embrey
and Kevin Frazee in several of the area's premier jazz clubs including Jardine's and the Blue Room. He directs a gospel choir for young adults at the "Historic" Centennial United Methodist Church in the 18th & Vine Jazz District.
The new album from the Chris Hazelton Trio, entitled "Peregrination", was recorded straight to analog tape in December of 2011 at Westend Studios in Kansas City, KS. It features 5 new Hazelton original compositions, an Embrey original, and few other fun tunes. It is scheduled to be released on
Artists Recording Collective
in May 2012.
CHRIS HAZELTON TRIO – PEREGRINATION:
Featuring: Chris Hazelton – Organ Danny Embrey – Guitar Kevin Frazee – Drums.
Recorded live to 2″ analog tape at Westend Studios in Kansas City, KS on December 6th, 7th, and 11th 2011.
To be released on Artists Recording Collective - May 17th, 2012. Will be available for sale at CDBaby, iTunes, Amazon, and at live performances.
For more information contact Artists Recording Collective, LLC.