Robert Balzar
"....he sounds great, his solos are thought through, he's got unerring rhythm, he creates just the right sound for the band."
George Mraz
Born in Nachod, Czech republic. Robert Balzar began playing the acoustic bass at age eleven. Robert studied classical bass at Brno Conservatory- bass, piano. In 1985, he continued his career in Prague as a studio musician (TV bigband) and a jazz artist.
In 1996 he establish group under his own name - Robert Balzar Trio.
As a performer, he has played with Joe Newman, Benny Bailey, Tony Scott, Benny Golson, Wynton Marsalis, Lew Tabackin, Tony Lakatos, Victor Lewis, Hal Galper Trio, Craig Handy, John Abercrombie...
In the year 1990 Robert had begun working with the legendary Czech chanson singer Hana Hegerova.
Since 1998 began his association with funk group J.A.R.
Since 2000 Robert establish and play as a part of the Dan Barta's - Illustratosphere, along with Filip Jelinek on keyboard, Stanislav Macha on piano, Jiri Slavicek on drums and Jaroslav Friedl on guitar.
In 1996, Robert Balzar formed a group under his own name - the Robert Balzar Trio
and 1998 recorded their first CD called TRAVELLING (Jazzpoint),
In 2000, The Robert Balzar Trio recorded their second CD titled ALONE (Cube),
In 2005, Robert Balzar Trio recorded OVERNIGHT (Sony/BMG),
In 2008, Robert Balzar Trio release their latest CD with John Abercrombie TALE (B.C.W.D.Music).
Awards
CD Travelling was voted 1998 CD of the Year by Czech Radio Jazz Test
Robert Balzar was voted 1999 Best Czech Bassplayer of the Year
CD Alone was voted the Best Czech CD of the Year
Robert Balzar Trio was voted 2000 Best Czech Group of the Year
CD Overnight was nominated Czech Grammy Awards on the Sony/BMG label

Gear
DOUBLE BASS: Czech anonym
BOW: Pfretzschner
MIC: AMT S25B, Clip-on microphone for the Acoustic Bass
PICKUP: Fishman-Full Cirlce Upright Bass Pickup
STRINGS: Thomastik Spirocore-soft
ELECTRIC BASS: Five String signature series handmade Jan Vlasák
STRINGS: D'Addario XL5
AMPLIFIER: SWR Workingman's Twelve Combo
SPEAKERS: SWR BOX GOLIATH III.
EFFECTS: Radial Bassbone Bass Guitar Preamp and Direct Box.
CD TALES by R.Balzar Trio & John Abercrombie
....A SUPERB OUTING BY FOUR
EXTRAORDINARY MUSICIANS...
-- Bill Milkowski

CD OVERNIGHT by R.Balzar Trio
ABSOLUTELY GREAT - OVERNIGHT!
There's no need to look for superlatives and endorsements from world-renowned names because music created by Balzar - double bass, Macha - piano, Slavicek - drums leaves no doubt. I'm known as a sensible person, very judicious and critical, and also quite bored by jazz. However, the guys play fantastically! The solos! The sounds! This is timeless well-mastered mainstream, which oozes with jazz like the spring with new life
Recordings: As Leader | As Sideperson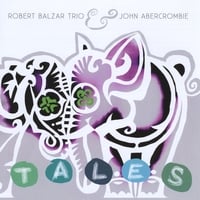 Jazzpoint Records
1999
buy