Glenn DeLaune
Born on October 19th, 1961 and classically trained at the age of five years old, Glenn started on a musical journey that to this day is still taking him down many roads. He quickly learned to perform and by first grade he was up in front of his classmates singing and playing songs like "Sweet Georgia Brown" and "Camp Town Races." Glenn attributes his talents to his grandfather Lester J. Lalande who taught Glenn to play at the age of four. Growing up in South Louisiana, he was exposed to many different kinds of music. He played the trumpet throughout his Jr. years and also started a band in tenth grade with a few friends. By the time he graduated high school in 1979, he started to immerse himself into jazz recordings from Jean Luc Ponty, Jeff Beck, Larry Carlton, Bill Bruford and others. Not too long after that Glenn went on the road playing everything from rock & country to cajun and blues music styles with various bands.
During the 1980's and early to mid-nineties Glenn fronted the rock band GANGSTER. Original members included Glenn, Pete Trowbridge, Ed Hale and Brad Bourgeois. This band gained notoriety in the southern region of the U.S. In 1984 the band broke up and Glenn re-formed with new members a year later. Their first CD entitled "Rock and Roll Hit Men" did very well in the southern regional market. They toured with many nationally known acts such as FOREIGNER, 38 SPECIAL, DAVID LEE ROTH, KANSAS, ZEBRA, BTO, GRAND FUNK RAILROAD, SAIGON KICK, FOGHAT and others. After the untimely death of one of the members (Pat Bearb) they disbanded. The remaining three members, Jackie Domengeaux, Wydell Chataginer and Glenn recorded a tribute CD to their friend. The CD is entitled "I'll See You Again" and is available at www.gangsterusa.com.
At that time Glenn was getting into contemporary Christian music. He built a studio combining analog and digital recording gear and started writing the songs for a new Christian CD. The CD, entitled "Calling All Hearts", was finally completed at the end of 1998 and was released on the Divine Recordings label. He also started a concert series for schools called the "Calling All Hearts Youth Concert Series". The series featured Glenn playing music from his CD and candid conversation about his experiences and what music has meant to him in his life. That CD was so successful that he recorded another. This project entitled "Your Love Has Lifted Me" was released on December 28, 1999 on the Divine Recordings label.
Read more
Recordings: As Leader | As Sideperson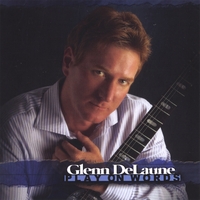 Divine Recordings
2007
buy