Dave Lisik
Canadian composer and trumpeter, Dr. David Lisik teaches jazz composition, arranging and theory at the New Zealand School of Music in Wellington.
Dave's diverse portfolio of compositions and arrangements includes 250+ works for jazz orchestra, small jazz groups, wind ensemble, orchestra, electro-acoustic combinations, chamber groups, and instrumental and vocal soloists. His Dave Lisik Orchestra featuring Tim Hagans released a debut CD in early 2010 entitled Coming Through Slaughter inspired by the novel of the same name by Canadian author Michael Ondaatje, based on the legend of early jazz cornet player, Buddy Bolden.
Dave's music has been performed and/or recorded in the United States, Canada, Asia and Europe by outstanding musicians including Tim Hagans, Donny McCaslin, Luis Bonilla, Matt Wilson, Marvin Stamm, Bill Mays, Carl Allen, Kirk Whalum, the Ron Paley Big Band, the Memphis Jazz Orchestra, David Spencer, the Winnipeg Brass Quintet, UNI Faculty Brass Quintet, University of Northern Iowa Jazz Band One, University of Memphis Jazz Orchestra and many university, high school and middle school concert and jazz groups.
Before moving to New Zealand, Dr. Lisik was Assistant Professor of Music and Director of Jazz Studies at LeMoyne-Owen College in Memphis, Tennessee where he created the African Drumming Ensemble (LOCADE) and the LeMoyne-Owen Records label, producing four CDs of student work.
As a trumpeter, Dave has performed as a member of the Jazz Orchestra of the Delta, Dave Lisik Orchestra, Ron Paley Big Band, Memphis Jazz Orchestra, Memphis King Beez, New Memphis Hepcats Jazz Orchestra, Bill Shepherd Big Band, Powerhouse Rhythm and Blues Band, Nightlife Blues Band, and jazz orchestras at the University of Northern Iowa, University of Memphis, University of Mary, and University of Manitoba. His other freelance trumpet work includes the Memphis Symphony Orchestra, Waterloo-Cedar Falls Symphony Orchestra, Bismarck Symphony Orchestra, the Metropolitan Brass Quintet, and many solo performances.
The Dave Lisik Quintet has released two CDs, Hurricane Ophelia (2008), and Bono in the Temple (2007), (a third recording, Machuat Man and a Superman Hat will be released in 2010), and has made many appearances in Memphis (TN), Tunica (MS), Winnipeg (Canada), Waterloo-Cedar Falls (IA), and Bismarck-Mandan (ND) including the Jazz Winnipeg Festival.
Dave completed his Doctor of Musical Arts degree in Composition with a Jazz Emphasis at the University of Memphis where he directed jazz ensembles, small jazz groups and taught Jazz Pedagogy, Jazz Ensemble Techniques, Jazz Ear Training, and Jazz History.
From 1998-2003, Dave was Director of Bands at Murdoch MacKay Collegiate in Winnipeg, Canada where his ensembles were awarded 12 Gold ratings at regional music festivals, 2 National Gold Awards and a Downbeat Magazine Student Music Award. The Murdoch MacKay jazz program released 3 CDs: Ty's First Jordans (2000); Silence (2002); and Close the Lights When You Leave (2003).
Read more
Primary Instrument
Trumpet
Location
Wellington
Willing to teach
Intermediate to advanced
Credentials/Background
EDUCATION: Doctor of Musical Arts, Compostiion (Jazz Emphasis), University of Memphis (2006); Master of Music, Jazz Pedagogy, University of Northern Iowa (1998); Bachelor of Science, Instrumental Music Education, University of Mary (1996) TEACHING HISTORY: Faculty: Jazz Composition, New Zealand School of Music (2010-present); Assistant Professor of Music/Director of Jazz Studies, LeMoyne-Owen College (2006-2010); Assistant of Jazz Studies, University of Memphis (2003-2006); Director of Bands, Murdoch MacKay Collegiate, (1998-2003); Assistant of Jazz Studies, University of Northern Iowa (1996- 1998); Private Studio: Jazz Studies, Trumpet, Composition (1990-Present)
Recordings: As Leader | As Sideperson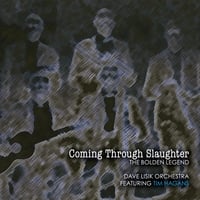 Galloping Cow Records
2010
buy
Galloping Cow Records
0
buy