Leo Records Recent Releases: Variations on a Theme
Leo Records
tags itself as "music for the inquiring mind and the passionate heart." Over the past two-and-a-half decades, the UK label has released albums featuring The Art Ensemble of Chicago, Han Bennink, The Sun Ra Arkestra, Mat Maneri, Cecil Taylor, Reggie Workman and many other high- to mid-profile jazz musicians, always with an eye (and ear) toward improvisation and originality. The label's latest batch of releases contains several variations on this theme, and mostly admirable ones at that.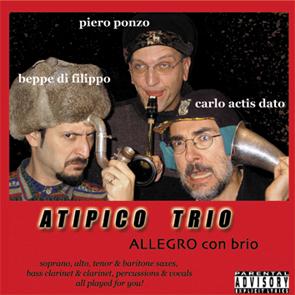 Led - rather like Groucho led the Marx Brothers - by multi-instrumentalist Carlo Actis Dato,
Atipico Trio
is the Frank Zappa or 'Weird Al' Yankovic of the jazz world. Along with his bandmates Piero Ponzo and Beppe di Filippo, Dato tackles every type of regional music from the Balkans to Brazil and back again, sometimes earnestly, sometimes with tongues pressed firmly into cheeks. Regardless of which particular folk genre they happen to be celebrating or lampooning on
Allegro con brio
, the trio is witty, irreverent, melodic, amusing. "Bagdad (sic) Party" aims for an ironically festive mood that isn't quite like the one gripping the Iraqi capital at this tumultuous moment, while "Red Tango" could easily be the soundtrack to an absurdist film noir.
The album never fully rises above the status of a novelty piece, and the clowning occasionally threatens to obscure the trio's real talent for synthesis. "Wolf Symphony No.37," for example, opens with Italian dialogue, which, I assume, is an appropriately warped version of Red Riding Hood's tale, but the joke is eventually taken too far, forsaking humor to childish repetitiveness.
Allegro con brio
is nevertheless a refreshingly original, feel-good affair, with the raucous "Circus Coming" and the zany "Calipsophone" among the best of its 19 tracks.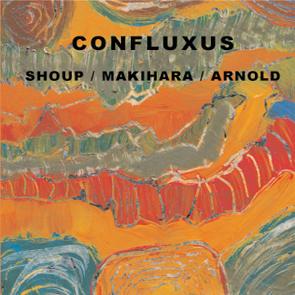 The
Shoup/Makihara/Arnold Trio
can claim to be just as audacious as Atipico Trio, but comedic wackiness is not on their agenda, at least not on
Confluxus
. Instead it is an extended exercise in synesthesia, namely the act of expressing and conjuring color through sound. The jazz on this album is about as free as it can possibly get: brash, urgent, wholly improvised, a self- abandonment to whim and entropy.
Alto saxophonist Wally Shoup gets intelligent, relatively balanced praise from writer, friend and fellow musician Tom Djll, whose liner notes make a decent argument for Shoup's individual style of music- making; but try as I might, I find the whole effort to be positively unenjoyable. At times I would even call
Confluxus
downright painful, unlistenable - and this, says the press release, is a "softer" type of music for Shoup. The snatches of melody are too far apart and random, if they come at all, and there is nothing overtly rhythmic or harmonic on which the listener might be swept up and into the music. It is altogether too abstract, too ambiguous, too incoherent. The musical canvasses of Shoup's trio might be as bold as Rothko or as multifarious as Kandinsky, but if you don't care for Rothko or Kandinsky, the parallels aren't likely to appeal. The free jazz crowd likely has its own opinions on this; I leave it to them to take up
Confluxus
in their own vernacular if they wish.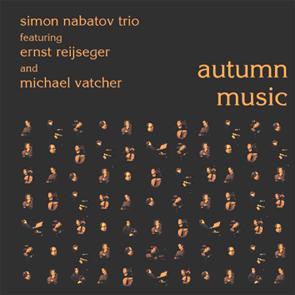 While the free jazzerati are at it, they can also consider
Autumn Music
by the
Simon Nabatov Trio
. The album is spurred by a radical ethos similar to Shoup, et al, but pianist Nabatov, cellist Ernst Reijseger and drummer Michael Vatcher create a considerable amount of poetry and drama, beginning with the sombre, unnerving and peculiar clicks, ticks and squealing strings of part one of the title track, something like a musical replication of a sudden October downpour. They later move into the more tuneful second part, exquisitely melancholy, self-pitying even, until reaching a resolutely optimistic conclusion.
Autumn Music
's rendition of the Herbie Nichols standard "Lady Sings the Blues" is indicative of Nabatov's modus operandi: challenge without alienating. The bandleader himself describes it in the liner notes as a "perky and bouncy" interpretation, and he doesn't exaggerate. There are moments of bright keyboard cacophony and thunderous outbursts, but this ungainliness is countered by the rhythm section, Reijseger calmly (up to a point) alternating between bowed and plucked strings, Vatcher steadily brushing the drums. Ultimately the tune fades into something eerie, surreal. Antonio Carlos Jobim's "Valsa do porto das caixas" closes the album. The trio gives this cover a paradoxical twist, performing it in a way that is both intimate and grand.
Contrasting the satirical voice of Atipico Trio,
Richard Carr, Mike Nord and Georg Hofmann
are more serious and straightforward when it comes to political statements. On
In Walks Art
(more on Art in a moment), their Leo Records debut, they wear their collective heart on their sleeve with "Ode to the Innocent (Dedicated to the Children of Iraq)." Like Nabatov's "Autumn Leaves," this is another opening two-parter: "Sunrise on the Tigris" and then "Sunset." (The running time for "Sunrise," incidentally, is not the listed 4:45, but one minute more.) At one point during "Sunset" Hofmann breaks into a military drumbeat, and it's difficult to miss the symbolism of this particular ode.
The Art of the title is pianist Art Maddox, and if Mike Nord's written recollection is accurate, he did indeed walk in for this improvisational recording session and almost immediately start playing, igniting the group dynamic that drives and shapes the spontaneous compositions on this disc. Their instrumental make-up and style of playing allows them to drift away from jazz and hug the borders of contemporary classical music, as they do on the sentimental closer "This Too." But in spite of that dynamic and the additional creative input of saxophonist Randy Kem on tracks such as "Oddball/Into the Dust," there are prolonged bouts of noisy tinkering, questionable meandering, empty pontification. I suppose it comes down to a matter of approach. Groups like Carr/Nord/Hofmann seem to adhere to the philosophy that art is best when it's instant, immediate, unrehearsed, whereas others would hold that it's best when first realized and then refined. Raw self-expression is one thing; streamlined and distilled it is quite another. Again, the free jazz crowd will likely have its own opinion on this.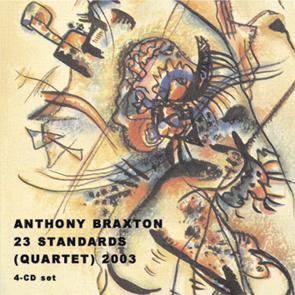 Divergent artistic motives and agendas momentarily aside, the jewel in Leo Record's current crown is the limited edition four-disc
23 Standards (Quartet) 2003
by Leo mainstay
Anthony Braxton
. It is an imposing showcase of Braxton's work with his new quartet (guitarist Kevin O'Neil, percussionist Kevin Norton, bassist Andy Eulau) and a persuasive case for Braxton's often overlooked contribution to jazz. Recorded live at festivals across Europe - Portugal, Holland, Italy, Belgium - during 2003, the aptly titled collection is part of the chain of homages and tributes that extends throughout Braxton's career, including
Ten Compositions (Quartet)
, which featured work by Andrew Hill, Wayne Shorter, Billy Lester and George Coleman,
Seven Standards (1985)
and
14 Compositions (Traditional) 1996
.
23 Standards (Quartet) 2003
has compositions by Jobim, Bonfa, Trane, Porter, Brubeck, Hancock, Sam Rivers and many others.
Of course, this is not simply
Anthony Braxton Plays Popular Jazz Standards
. He is adventurous, uninhibited, and his bandmates follow suit. The familiar Meyer/Kahn chart "Crazy Rhythm" is transformed into a whopping 17-minute jam. It begins smoothly and predictably enough, but then Braxton moves further and further out, running though a progression of notes that appears to quote "I Get a Kick out of You" that signals his sonic break with a conservative reading of the tune. "Desafinado" on the same disc takes pointers from Carr/Nord/Hoffman as well as the Simon Nabotov Trio. Amid O'Neil's spidery ticking and plucking, Braxton deconstructs Jobim's melodic line over four minutes. "Desafinado" is also the shortest of the 23 tracks. Braxton is as loose with running time as he is with his solos. Most hover around the ten- to twelve-minute mark, enabling each band member to make a full appearance when his solo time comes. For all his rule-breaking, however, Braxton isn't too fond of bucking the customary solo sequence, and he is almost without exception the one to take both the first and final spot in the limelight.
On
23 Standards (Quartet) 2003
, Braxton and his outfit strike a balance between the two aforementioned poles of artistic creation, mixing the urgency of raw self-expression and spontaneous group interplay with a refinement of phrase and distillation of larger ideas. He blends the Kandinsky (unsurprisingly, the cover of
23 Standards (Quartet) 2003
features his painting "To Voice") with the Rembrandt, the Pollock with the John Singer Sargent, the Rothko with the Titian. It speaks volumes not only for Braxton, but also for the label that carries him and so many other likeminded artists.
Personnel and Track ListingAtipico Trio: Allegro con brio
Carlo Actis Dato: baritone sax, bass clarinet, voice; Piero Ponzo: alto sax, clarinet, voice; Beppe di Filippo: soprano, alto and tenor sax, voice
1. Calipsophone; 2. Il cammello ciuppandero; 3. Red Tango; 4. Po-ta-pa-ti-o; 5. Est non trop; 6. Wolf Symphony No.37; 7. Balkanian Getchuppa; 8. Mad Flies; 9. Fenicotterology; 10. Kathmandú; 11. Bagdad Party; 12. Saccunda Saccundi; 13. Chanson de l'amour bucolique; 14. Circus Coming; 15. A festa do ciucciu; 16. Ile de Goreé; 17. Wind Splitter; 18. Slavinia; 19. Chantant l'amour bucolique
Shoup/Makihara/Arnold: Confluxus
Wally Shoup: alto sax; Toshi Makihara: drums; Brent Arnold: cello
1. Two Breaths Away; 2. Joyride; 3. Inside Straight; 4. Convergence for Three; 5. Secret Tear; 6. Luminage; 7. Con Fluxus; 8. Double Pump; 9. Conversance; 10. Fault Line
Simon Nabatov Trio featuring Ernst Reijseger and Michael Vatcher: Autumn Music
Simon Nabatov: piano; Ernst Reijseger: cello; Michael Vatcher: drums
1. Autumn Music, Part I; 2. Autumn Music, Part II; 3. For M.F.; 4. Lady Sings the Blues; 5. Hardly Obliged; 6. The Third Stone; 7. Valsa do porto das caixas
Carr/Nord/Hofman: In Walks Art
Richard Carr: violin; Mike Nord: guitar, electronics; Georg Hofmann: drums, percussion; Art Maddox: piano; Randy Kem: saxophones
1. Ode to the Innocent (Dedicated to the Children of Iraq): Part I, Sunrise on the Tigris; 2. Ode to the Innocent (Dedicated to the Children of Iraq): Part II, Sunset on the Tigris; 3. Jumpy; 4. In Walks Art; 5. Oddball/ Into the Dust; 6. Days of Wires and Pauses; 7. Make Yer Point; 8. This Too
Anthony Braxton: 23 Standards (Quartet) 2003
Anthony Braxton: saxophones; Andy Eulau: bass; Kevin O'Neil: guitar; Kevin Norton: percussion
Disc 1: 1. Crazy Rhythm; 2. Off Minor; 3. Desafinado; 4. 26-1; 5. Why Shouldn't I; 6. Giant Steps/ Disc 2: 1. Tangerine; 2. Black Orpheus; 3. Round Midnite; 4. Ju-Ju; 5. After You've Gone/ Disc 3: 1. Everything I Love; 2. I Can't Get Started; 3. It's a Raggy Waltz; 4. Countdown; 5. Blue in Green; 6. Beatrice/ Disc 4: 1. Only the Lonely; 2. Recorda Me; 3. Ill Wind; 4. I'll Be Easy to Find; 5. Three to Get Ready; 6. Dolphin Dance
---