Iowa Blues: Bo Ramsey and Greg Brown
Iowan guitarist Robert Franklin 'Bo' Ramsey is usually associated with the revered Iowan folksinger Greg Brown. He's played on and produced Brown's releases since 1990. He also notably co-produced blues singer Lucinda Williams'
Essence
(Lost Highway, 2001). Brown's
The Evening Call
, co-produced with Ramsey, is another mature statement from both artists.


Ramsey deserves recognition as a bandleader in his own right too. His fourth own-name disc, Stranger Blues, co-produced with his partner, singer-songwriter Pieta Brown, is an excellent testimony to his ability to revive and interpret blues classics with originality. Ramsey's spare and economic guitar lines distinguish him amongst contemporary blues players, and position him near the country-folk ruminations of a free-minded stylist like Bill Frisell.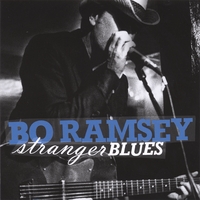 Bo Ramsey
Stranger Blues
Robert Franklin Ramsey
2006

Stranger Blues, named after the Elmore James song, is a collection of a dozen traditional blues songs that have inspired Ramsey and influenced his own unique sound. Right from the opening song Ramsey opts for a laid-back sound and tight grooves, adding his smoky and hypnotic vocal phrasing and angular and precise guitar lines, and transforming many of these near worn-out gems into personal, modern expressions. His performances are wonderfully natural, articulate and effortless, and are enriched with deep understanding of genre roots and legacy.

Ramsey's cover of the traditional "Sitting On The Top Of The World," with a slow reading of the words that betray the vain title, highlights its painful irony. His reserved and economic vocal performance charges such seduction-anthems as Willie Dixon's "Crazy Mixed Up World" and Carl William Smith's "I Wanna Get Funky", a duet with Pieta Brown, with vibrant excitement. The instrumental cover of Elizabeth Cotten's "Freight Train" corresponds with Bill Frisell's experiences with country music, but sounds a bit more rootsy due to Greg Brown's banjo playing. Ramsey's guitar playing on the last song, the traditional gospel "Where The Sun Never Goes Down", defines how a modern day blues guitarist can bridge the legacy of Blind Willie Johnson, Ry Cooder, Jim Hall and Frisell into a vital and genuine performance.

A blues masterpiece.

Visit Bo Ramsey on the web.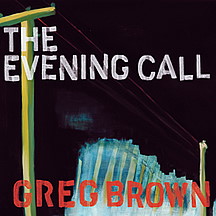 Greg Brown
The Evening Call
Red House Records
2006

The 25th release by Greg Brown uses the same musicians who cut Stranger Blues. Here again, Ramsey demonstrates his ability to outline the songs and to envelope them with signature soundscapes, so organic and natural. Again too, we witness his incredible telepathy with Brown's deep vocals. The Evening Call is Brown's first batch of original songs in four years, and is a celebration of life and love. Brown can be ironic, critical of contemporary America, and painful—but he always offers an uplifting message, even when he feels again and again that it is "Cold & Dark & Wet."

Brown's love songs are so concrete and situated in such real, everyday life, that you long to experience the passionate and compassionate territory yourself. Brown sums up this homely, perfect calmness in "Mighty Sweet Watermelon," as if he was a haiku poet:
Sunflowers dancing like my daughters do,
Life gets old, love makes it new.
Come on down and meet us in the garden.

The centerpiece, "Eugene," is a talking, beat-poetry, travelling story that sums up Brown's philosophy in the line "sometimes you have to go and look for nothing." The song also expresses his anger at the "blandification of our whole situation," offers his insight that "sometimes you have to dream deep to find your real life", and demonstrates his love of nature with "sometimes you have to listen to the sounds that mother earth makes, all, on her own". Brown's songs may sound conventional, but they're always perceptive and vivid short stories—seemingly obvious, but on another level also mysterious and even mystical, in their trust that love and life can be real and vivid and enjoyable. Simply beautiful music.

Visit Greg Brown on the web.


Tracks and Personnel
Stranger Blues
Tracks: Stranger Blues; Hate To See You Go; Sitting On The Top Of The World; Jump, Baby, Jump; Crazy Mixed Up World; Little Geneva; You Got Me Dizzy; I Wanna Get Funky; No Place To Go; Unseeing Eye; Freight Train; Where The Sun Never Goes Down.
Personnel: Bo Ramsey: guitars, vocals, weissenborn, lowbow, 12-string acoustic guitar, national reso; Pieta Brown: electric guitar, harmony vocal, tambourine, percussion; Steve Hayes: drums, percussion; Rick Cicalo: electric and acoustic bass; Ricky Peterson: B-3, Wurlitzer piano, acoustic piano; Benson Ramsey: electric guitar, harmonica; Greg Brown: acoustic 12-string guitar, banjo, harmony vocal; Joe Price: guitar; David Zollo: Wurlitzer piano; Alex Ramsey: acoustic piano.

The Evening Call
Tracks: Joy Tears; Evening Call; Cold & Dark & Wet; Bucket; Mighty Sweet Watermelon; Treat Each Other Right; Eugene; Coneville Slough; Kokomo; Pound It On Down; Skinny Days; Whippoorwill.
Personnel: Greg Brown: acoustic guitar, harmonica, vocals; Bo Ramsey: electric guitar; Rico Cicalo: acoustic bass, electric bass; Steve Hayes: drums, percussion; Ricky Peterson: acoustic piano, B3.