Helge Lien Trio: Norwegian Standard Time
At first glance, the repertoire of Norway's Helge Lien Trio could be misleading. Many of the covers the trio has included on its five albums to date are classics from the bop era, suggesting a revivalist outfit. But that's not how it is. Instead, the trio use evergreens as familiar as Miles Davis' "So What" or Johnny Mercer's "Autumn Leaves" as launching pads for searching explorations into the inner architecture of the compositions, and for imaginative reconstructions of them. Revisionist perhaps; revivalist not.
All three players present strong and mature musical personalities. Pianist Helge Lien has a lyrical and understated touch, and a refined sense of humor. Bassist Frode Berg is more extrovert. Drummer Knut Aalefjær is creative and distinctive.
To The Little Radio, which features interpretations of standards, and Live, which is based mostly on Lien originals, both present the trio on strong form.


Helge Lien Trio
To The Little Radio
DIW
2006
The 11 non-original pieces explored on this disc were recorded in Oslo last January, and showcase the trio's collective approach to standards. On the first piece, Lasse Färnlöf's "Grandfather's Waltz," Lien's harmonies reference Bill Evans' version. Jerome Kern's "Look For The Silver Lining" and Billy Strayhorn's "Chelsea Bridge" foreground the trio's by now intuitive interplay and, though minimalist, get deep into the essence of the melodies.
The covers of Freddie Hubbard's "Little Sunflower," Wayne Shorter's "Penelope," Carla Bley's "Ida Lupino," Tony Williams' "Love Song" and Hampton Hawes' "Sonora" feature the trio as colourful interpreters. "Little Sunflower" is shaped by Aalefjær's idiosyncratic sonic palette, while the haunting "Penelope" is performed as a modern piece with dark arco bowing by Berg. The deliciously lyrical "Ida Lupino" receives a minimalist interpretation that references the composer's own impressionistic recordings, and the deceptive simplicity of the moving waltz, "Love Songs," touches lightly on Herbie Hancock's exploration of the tune. Another waltz, "Sonora" is more understated than Hawes' own versions of the piece.


Two surprising inclusions are a playful and lighthearted version of Joseph LeCalle and Albert Gameses' pop song "Amapola," and an impeccably performed spin on Hans Eisler's beautiful and optimistic "To The Little Radio" (possibly better known now as "The Secret Marriage," after Sting set new lyrics to the melody).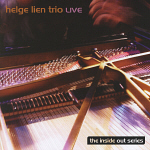 Helge Lien Trio
Live
Curling Legs
2005

The seven pieces featured here were recorded live in 2004 and 2005, and six of them are Lien originals. On the opening two pieces, the Chopinesque "Putte" and the ethereal "En Ganske Liten Runding," the three musicians exchange roles. Lien outlines a theme; Berg pushes it into a rhythmic module; Aalefjær dresses it with his unorthodox approach, not trying to draw any timekeeping pattern but instead presenting timbral shades and emphases. The performances are measured and unhurried, and the three players respond almost telepathically to each other.

"Spiral Circle," with its pretty and romantic theme, tips its hat to Keith Jarrett's mid-1970s European quartet. "De Små Bjørnene" features the trio at its most humorous. The interpretation of Paul Desmond's "Take Five" is quite startling, based on contrasting percussive timbres from Aalefjær that define the piece as rhythm-based texture. Even Lien's playing and articulation of the familiar theme complies with Aalefjær's concept. The concluding piece, "Nav Og Natt," is a soulful ballad.

The trio's debut disc, What Are You Doing The Rest Of Your Life? (Curling Legs, 2001), after the Michael Legrand song, posed a challenging question. I know that I will keep my ears wide open for whatever this great trio will do in the future.

Visit Helge Lien Trio on the web.



Tracks and Personnel
To The Little Radio
Tracks: Grandfather's Waltz; Look For The Silver Lining; Chelsea Bridge; Little Sunflower; Penelope; Ida Lupino; So In Love; Love Song; Amapola; Sonor; To The Little Radio.
Personnel:Helge Lien: piano; Frode Berg: bass; Knut Aalefjær: drums.
Live
Tracks: Putte; En Ganske Liten Runding; Men, Er Det Jazz; Spiral Circle; De Små Bjørnene; Take Five; Nav og Natt.
Personnel: Helge Lien: piano; Frode Berg: bass; Knut Aalefjær: drums.
Post a comment