Gebhard Ullmann: New Basement Research; Die Blaue Nixe & Leo Records 25th Anniversary: Loft, Koln
Reedman Gebhard Ullmann has always been a bit apart. Never an inside player yet rarely as extreme as some of his German contemporaries, he has doggedly pursued his own muse and released a stream of excellent discs since the '80s. Ullmann divides his time between Berlin and New York and has several groups based in each city, all of who seem to offer the saxophonist a wide range of options for his many-faceted improvising ideas.
Gebhard Ullmann
New Basement Research
Soul Note
2007

New Basement Research is a project that Ullmann started in 1995. A quintet with Steve Swell on trombone and a second reed player (originally Ellery Eskelin then Tony Malaby and now Julian Arguelles) sharing the frontline, this band is a vehicle for Ullmann's hard-blowing compositions. "Dreierlei," a skittering theme that has become one of Ullmann's most versatile compositions (he's recorded it with at least three groups) starts things off with a high-energy bang. Once Ullmann's volcanic bass clarinet takes off on a solo the listener knows this record is special. Gerald Cleaver, always a versatile drummer, plays with an almost punkish intensity, throughout. Bassist John Hebert rises to the occasion, matching Cleaver's power with deep rumbling lines. Swell is one of Ullmann's best partners (they also co-lead a quartet) and he's perfect for this ensemble. Arguelles is a muscular player who fits in well and his work on soprano and baritone gives the front line a rich, dense sound. As with most Ullmann releases there are a few surprises, not least of which is "Gospel" with its rich, congregation-like voicings highlighting an influence that one might not suspect. New Basement Research is rowdy, almost reckless music and it won't disappoint.
Gebhard Ullmann - Chris Dahlgren - Art Lande
Die Blaue Nixe
Between The Lines
2006

In contrast Die Blaue Nixe is an exercise in group stasis. Recorded with pianist Art Lande, who hasn't been heard from much since the '80s, and bassist Chris Dahlgren, this is a mostly improvised session where each note seems carefully considered yet naturally flowing from one to the next. Ullmann concentrates mostly on tenor sax and bass clarinet and his gorgeous, full tone on each is amply featured. At times, as on "Verschiedene Annaherungen An Den Ton Ges," Ullmann sounds like Ben Webster with his big tone and breathy phrasing. Lande is the perfect pianist in this setting. His spare, elegant style surrounds both Ullmann and Dahlgren on their excursions, commenting and leading the other two. Dahlgren is on an equal footing in this trio and his big sound is an integral part of the music. This could probably be classified as 'chamber jazz' but the music's improvised structure and the innate sense of forward motion gives it a solid ground in jazz' domain. This and the New Basement Research disc show the two extremes of Ullmann's music, productive veins he's been mining throughout his career.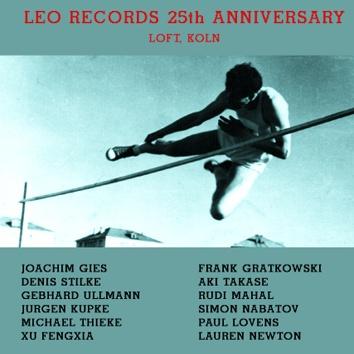 Various Artists
Leo Records 25th Anniversary: Loft, Koln
Leo
2007

One of Ullmann's most productive projects has been his clarinet trio, with three discs to their credit since 1998. The trio was one of the groups invited to perform at Leo Records' 25th anniversary party at the Loft in Köln. Nearly a half hour's worth of music is preserved on the double disc set of the event. "Dreierlei" is given an exciting reading and "Gospel" is given a very different, almost subdued rendering as opposed to the version found on New Basement Research. There's also a great arrangement of Nino Rota's "Parlami Di Me." It's a lively performance by one of Ullmann's most distinctive groups.

As for the rest of the disc, the remarkable Xu Fengxia on gusheng is in duet with reedman Frank Gratkowski, Aki Takase's trenchant piano jousts with reed player Rudi Mahall and singer Lauren Newton sings solo and in a trio with Gratkowski, pianist Simon Nabatov and drummer Paul Lovens. It's a fitting tribute to a label that has consistently supported new improvised music for over a quarter of a century.

New Basement Research
Tracks: Dreierlei; Godpel; Seven 9-8; New No Ness; D Nee No; Desert...Bleue...East; Almost Twenty-Eight.
Personnel: (collective) Gebhard Ullmann: bass clarinet, tenor saxophone; Julian Arguelles: soprano saxophone; baritone saxophone; Steve Swell: trombone; John Hebert: bass; Gerald Cleaver: drums.
Die Blaue Nixe
Tracks: Blaue Nixe (teil 1); Blaue Nixe (teil 2); Verschiedene Annaherungen An Den Ton Ges; Spieldosen; Winter Thoughts; BaBa; Blaue Nixe (teil 3); Blaue Nixe (teil 4) The Sun Seemed Never Again As Yellow; Blaue Nixe (teil 5); Blaue Nixe (teil 6); Blaue Nixe (teil 7); Das Tiefe A; Flutist With Hat And Shoe; From What I Remember.
Personnel: Gebhard Ullmann: bass clarinet, soprano saxophone, tenor saxophone, occarina, toys; Art Lande: piano, toys; Chris Dahlgren: bass; preparations, toys.
Leo Records 25th Anniversary: Loft, Koln
Tracks: Right From The Start N.3; Travel Preparations N.1 (Gies-Stilke Duo); Dreierlei; Seven 9-8; Parlami Di Me; Almost Twenty-Eight; Gospel (Ullmann Clarinet Trio); The Tumbling Rocks Thrust Into Air; Rolling Into A Thousand Drifts Of Snow; The Roaring Surges Dash Upon The Shore (Fengxia-Gratkowski Duo); Rudi, My Beer!; Purity And Sweetness; Raskaz (Takase-Mahal Duo); Marked Breath; Forsaken Mysteries; Surrender Now (Nabatov-Gratkowski-Lovens); Night Song; Mizu No Naka; Loft (Lauren Newton); Signal; What? (Newton-Nabatov-Gratkowski-Lovens).
Personnel: Joachim Gies: reeds; Denis Stilke: drums; Gebhard Ullmann: bass clarinet; Jurgen Kupke: clarinet; Michael Thieke: alto clarinet; Xu Fengxia: gusheng, voice; Frank Gratkowski: reeds; Aki Takase: piano; Rudi Mahal: reeds; Simon Nabotov: piano; Paul Lovens: drums; Lauren Newton: voice.
---