Andy LaVerne: Epiphany & Process of Illumination
When considering these two discs by pianist Andy LaVerne, it's easy to think that he has some kind of obsession with the revelatory experience. That may be so. But the similarity between the titles seems to be more coincidental than anything else. The first comes from the unusual inspiration to form a piano/organ (not one or the other, but both) trio, the second from a "slip of the tongue by a friend" that upon reflection took on additional meaning.
LaVerne has honed his chops over the years as a sideman to the big names—Sinatra, Getz, Woody Herman, Diz and Chick Corea are just a few of them—and as a bandleader as well, with dozens of records under his own name on the Concord and SteepleChase labels, among many others. Technique and expressivity, the yin and yang of music-making, are therefore here in abundance. His further abilities as a composer on both Epiphany and Process of Illumination , his second and third albums as leader for the Florida-based label ClaveBop, are manifest. Of the twenty-two songs to fill out this pair of albums, not one is a standard.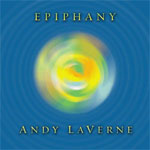 Andy LaVerne
Epiphany
Clavebop
2004


You'll be pardoned for raising an eyebrow at the idea of a piano/organ trio like the one found on Epiphany. The arrangement seems destined to generate a lot of level crossfire, more or less canceling one another out. Yet in practice the two keyboard instruments are surprisingly complimentary and not at all competitive. Gary Versace maximizes the juicy punch of the organ, contrasting the sharper tinkle and shine of LaVerne on piano. "Creature Comforts," one of the album's many highlights, is also one of the best examples of how the two make excellent use of the similarities and differences of their respective instruments. Acting together, the cushiony and fluid notes of the organ buoy its clearer cousin. Acting in opposition, they threaten to envelop and sink it. This works just as well as on the slower ballads like "Tear Drop" as on the more spirited numbers like "This Just In."


On "Antipathy," Versace murmurs the bass line while LaVerne floats freely overhead with the melody; then LaVerne bows out, leaving Versace and drummer Danny Gottlieb alone to develop a groove out of rounded growls and broken whispers. It's a veritable party when all three reunite. The overall effect is more remarkable than I was initially prepared to give this peculiar trio combination credit for. May it inspire others to do the same—though this will undoubtedly be a tough act to follow.


Andy LaVerne
Process of Illumination
Clavebop
2004


Process of Illumination , recorded over two years ago, features a more traditional lineup than Epiphany but there is also a more deliberate method behind it. As the title track illustrates, LaVerne is concerned with the dynamics of jazz and individual development, namely the natural evolution from simplicity toward greater complexity. "Process of Illumination" is at its core a basic tune, though it gets dressed up and embellished slightly as it progresses along its ten-minute run. As if baby-stepping the listener through another stage of development, the following track, "Good Luck with Your Music," sounds as zingy and straightforward as a swinging showtune, but LaVerne begins to break it apart and subject it to slight tempo changes and chromatic fireworks. Gottlieb (appearing again) and bassist Mark Neuenschwander are more than willing to help him in this exercise. Lest he go unmentioned, tenor saxophonist Gary Campell plays with cool intensity throughout the two-day session.


The vocal track "Shania" was a jazz category runner-up in the John Lennon Songwriting Contest back in 2000, which leaves me dubious of the quality of the other entries. It is LaVerne's ode to Shania Twain, and while I've nothing personal against the pop singer herself, the song is about as trite as songwriting can get. The lyrics, written by Emily Bindinger, are dire high school poetry, and the vocals, provided by Kevin Mahogany, are never quite sincere enough to pull off this shaky enterprise. The other twenty-one tracks on these two discs under review are, as I've already mentioned and emphasized, testament to LaVerne's enviable gifts as a composer; this award-winner is certainly not. It marks Process of Illumination 's low, an unfortunate position accentuated by its appearance between the slip-sliding "There's No There There" (taken from Gertrude Stein's pronouncement) and the angular blues number "Bilbao."


Both of these noteworthy discs are just the latest in a long line of CDs to cross my desk with running times in excess of the 70-minute mark. I have mixed feeling about this. On the one hand it's wonderful to get so much music for one's money; on the other it tends to seem like a surfeit. Particularly where LaVerne is concerned in terms of intricacy and scope, it's almost necessary to divide each disc into two parts in order to get the most out of it. This, of course, shouldn't discourage anyone from checking out this pair of albums, not to mention other ClaveBop offerings. The label has released some strong records of late.



Tracks and Personnel


Epiphany


Tracks: 1. Epiphany (8:29); 2. Antipathy (8:28); 3. Creature Comforts (9:14); 4. This Just In (3:47); 5. The Day After Tomorrow (9:25); 6. Deja New (9:51); 7. Big Time (6:44); 8. Resolve (8:33); 9. Omnipotent (6:29); 10. Tear Drop (3:11).


Personnel: Andy LaVerne (piano); Gary Versace (organ); Danny Gottlieb (drums).

Process of Illumination


Tracks: 1. Process of Illumination (9:50); 2. Good Luck with Your Music (6:29); 3. There's No There There (5:03); 4. Shania (4:16); 5. Bilbao (6:10); 6. Walking on the Moon (5:09); 7. Gone Forever (4:41); 8. Anticipointment (7:13); 9. Subject to Change (5:18); 10. Dark Angel (6:47); 11. A Loan to Gather (5:15); 12. Remembered Time/Before We Go (4:49).


Personnel: Andy LaVerne (piano, keyboards); Kevin Mahogany (vocals tr. 4); Gary Campbell (sax); Danny Gottlieb (drums); Mark Neuenschwander (bass); Beth Gottlieb (percussion).
Post a comment