Priorities of Survival: January-February 2004
The Musical Meaning of Globalization
Vancouver is the ultimate ethnic potpourri. Since 1986, Asian business, trade and culture have swarmed to our West Coast as our European descendants did over 136 years ago. Vancouver culture is completely inclusive; Vancouverites pursue their hopes and dreams within autonomous political, social and cultural contexts. That is what makes our city so modern: buy fresh fruit in China Town and you could be in Hong Kong; visit Nick's Spaghetti House on Commercial and you're in Little Italy; watch a World Cup football (ie. soccer) match elsewhere on Commercial Drive and you taste our slice of South America. Driving in this city's West End is an oxymoron. Vancouver is a world of smaller worlds.

Take me to the Table of Contents .
Unfortunately, Vancouver's character is often defined by what its citizens are not willing to accept. Before 22.1 million people visited Expo 86, chairman Jim Pattison (pictured here) allegedly recommended that British Columbia Premier Bill Bennett cancel the event due to labour strife in the construction sector. Expo continued. When Indy racing was proposed, many residents of the beautiful False Creek area objected to race cars screaming through their neighbourhoods; this, many complained, cramped their ability to walk their dogs by the water. Indy racing continued. However, more recent events (like First Night and The Festival of Light) have been suspended due to civic problems: gridlock transit, unruly crowds and protests. Vancouver has a long and rich history of responding negatively to the first proposal for change.


Globalization has unleashed a fusion of cultural norms that has badly blurred Vancouver's sense of itself.


Musicians are feeling that pinch as much as any community in Western Culture. The Canadian music paradigm is morphing beyond our abilities to adapt. Old-fashioned record contracts are fewer for fewer players; technology has reduced production costs, but music's marketing apparatus is indistinct and unreliable; plenty of people want to hear live music but they don't want to pay for it. The costs of playing music have outstripped its compensation too many times lately. Musicians have reason for concern.


Why would we pay for something that we can get for free? That is the challenge facing Canadian music on the global market. It comes down to values and this is, it seems to me, the source of most problems facing today's artists.


Fast forward: The Digital Divide: Round Two


We journey into Vancouver Vibe 2004 with some carefully targeted questions for your preponderance:


How much is music worth?


If you have lost 40% of your work or income to the downward effects of globalization, how can you afford to support music?


Is Vancouver too culturally diverse to be able to unify a coherent value for the music its citizens hear?


How can those of us whose cultures value music influence those whose cultures do not?


A Question of Values


Two embattled Vancouver music venues have endured the threat of permanent closure as a result of bylaw issues with the City of Vancouver. L'Espace Dubreuil and the Sugar Refinery are separated by three city blocks on Granville Street. In a recent turnabout, Vancouver's civic politicians are vowing to keep the two operations alive.


The current owners of Vancouver's Sugar Refinery (pictured right), a nightspot that featured all genre of art for over 20 years, have decided to close the doors at 1115 Granville. News spread over Christmas that City Hall has agreed to assist the owners to find a new location somewhere on the downtown eastside.


The story behind this closure is the quotation of rules and their enforcement. Fire inspectors claim to have launched court action on the venue due to what the inspectors claim are repeat offences: blocking the fire exit with bottles, not re-certifying fire extinguishers and having "grease laden fumes" coming from the kitchen ("For us," says the Sugar Refinery's Ida Nilsen, "that translates into some olive oil to grease a pan and cheese melting in the oven"). Although Nilsen admits fault, she claims to have experienced great difficulty in communicating with Vancouver City fire officials.


The Sugar Refinery's liquor license problems trace to the BC provincial government. The club has a "Food Primary License", which means that owners have to serve as certain amount of food for every drink. Ida Nilsen replied: "We can not serve enough food to make that legal, the environment is not right for it, and cutting people off after one drink when they haven't ordered food is not an option for a struggling business." In addition, Nilsen claims that the liquor licensing board routinely hired people aged 19 to 25 to see if club asked them for identification when they entered. Therefore, the City has cited the Sugar Refinery. Rather than pay a first-time fine of $7500.00, the owners decided to lock up.


The Sugar Refinery should legitimately concern officers in charge of enforcing fire and liquor laws. Ida Nilsen's version of why those problems are occurring, however, may be the most telling point: "The things we have gotten in trouble for are things that are happening in restaurants all over the place and not everyone is getting the heat."


At this point, locals are led to believe that Vancouver's city council is onside in finding another locale in which the old Sugar Refinery can operate anew. We've heard that before and politicians are known to express great generosity over Christmas only to peddle mettle over the next year.


The picture looks much brighter for L'Espace Dubreuil. City councillor Jim Green issued a stay of execution on an order that was to evict the venue's occupant on December 31. That deadline has now been extended and, based on the latest from the building's occupant, the two sides have come to terms.


At this writing, however, the City of Vancouver has not issued the written results of a positive inspection carried out in late December.


The mediation occurred with the rhetorical retreat of both parties. Organizer Régis Painchaud (director of Vision Quest Productions) cancelled a scheduled performance by the N.O.W. Orchestra on December 12 as well as a private political party on December 13. "In exchange," says Painchaud, the City backed off. On December 15, Painchaud met with Bruce Maitland, director for Vancouver City real estate services, to discuss the future of the city-owned building at 1435 Granville Street. Although Painchaud characterizes that meeting as a bit cold, both parties appeared to have warmed to the idea of negotiation.


The City believed the space was to be used for the storage of movie set pieces. "There are some serious life safety issues that need to be addressed if the building is to be used for public gatherings or lived in," replied Maitland (within 24 hours of our inquiry). "We gave Mr. Painchaud notice to vacate so we can determine the future use of the premises and deal with any code issues."


Painchaud must act on three orders before January 31: install sprinklers and a rear fire escape and upgrade the toilets. Vancouver City has notified Painchaud that those upgrades will cost about $50-thousand, less than the initial estimates. Régis expects to absorb that cost with the combination of help from the arts community and a impending lease agreement with the City. The lease may only last for one year because the City of Vancouver apparently has plans to rezone that section of Granville Street to include live performance buildings.


Both sides had a point. The City had a right to feel blindsided by not knowing that someone was living where someone was not officially permitted to live; Régis Painchaud undoubtedly felt threatened by the cold press of a political rubber stamp. An obsolete permit lies somewhere in the middle. The power of political will: L'Espace Dubreuil will survive because both sides saw the benefits of giving a little.


Other similar stories have had much more dire conclusions. On December 10, a U.S. grand jury indicted three people on involuntary manslaughter charges after a fire killed 100 people in a Rhode Island nightclub. Question: who would have paid (and at what cost) if a fire had broken out at an unlicensed L'Espace Dubreuil? The self-same people who would argue for freedom to live without license would be the first to call 9-1-1 for a highly licensed fire truck. The highly licensed firefighters would be most surprised to find human beings in the flames that would be licking up the walls of a "storage space." In these situations, someone has to pay and someone else usually does.






Dinosaur Threatened: Restaurant Class 1 By-law - Section 7.1:


This whole issue flared last August when City Hall acted on a law about which policy-makers claimed ignorance (although it has been on the books for 15 years): section 7.1 of the Restaurant Class 1 business license. The liquor bylaw states that live entertainment may not be provided by any more than two unamplified musicians. The same section of the bylaw prohibits dancing.



Here is the clause in contention: "Where any live entertainment is provided by no more than two persons, and where no dancing by customers and no use of any amplified instrument."



You want to drown out conversation by playing the radio in the restaurant? Go for it. Patrons want to disturb the neighbours out on the restaurant patio? Okay. But if you have musicians in to play, there better be only two and they better play quietly. At the end of the summer, Vancouver City's property use inspection branch sent letters to a number of restaurants on Main Street and Commercial Drive. The letters informed small restaurant owners that they faced fines of up to $2000.00 for possible violation of the city's class one liquor license.



Learn The Definition of Fun


Over 2000 people signed on to a Save Live Music on Main Street campaign. The petition argues that city officials have selectively enforced the by-law. Signatores argue that the by-law itself limits the rights of the public to hear the music it wishes to hear and that City Council should develop a noise standard that does not restrict artistic expression. The petition is well-worded and direct.



Policy-Making in 60 Days:



August 21 : Ross Bliss, music librarian, writes Vancouver City Council to protest the bylaw, suggesting that amplification is not the best determinant of how many musicians should be allowed to play.


August 28 : Vancouver City councillor Jim Green responds to Bliss: "I quite frankly don't how to deal with an issue like this."


September 19 : The Vancouver Sun publishes a story exposing the issue. Other media publicize the issue afterwards.


September 26 : Vancouver City chief license inspector Paul Teichroeb writes to agree with Bliss on the technical side of the protest, but adds: "...combining those points with enforceable, written regulations would be extremely difficult."


October 9 : when councillor Jim Green proposes that Vancouver City Council reconsider the bylaw in chambers, councillor Sam Sullivan snaps, "It's a kind of contempt for democracy. I was very frustrated. There's a lot of bullying that goes on in this council." One other council member quips to the feuding two: "take it outside on the schoolyard." Green and Sullivan belong to opposite parties in chambers.


November 17 : Teichroeb promptly responds to AAJ's inquiry: "The planning department has put together a workplan on this issue which will look at various options for change. I expect that we will have some information back early in the New Year. Any changes will be reported to City Council. If Council supports the changes they will be referred to public hearing."



Two real issues need to be resolved. First, amplifiers are not always the primary source of amplified sound. Tempered musicians diversify volume to pitch a musical idea for various dynamic effects. Eight musicians can sound like one, and one can sound like eight. Secondly: why not separate the noise component of the bylaw from the liquor license?






The Definition of Fun:


Music's greatest potential may be its intrinsic reward. Lifelong players frequently disclose that they were exposed to music at home, on record or around the family dinner table. It was treasured so we grew up to admire those who played well. Many of us wanted to become our musical heroes. Many of us did not, but we still admired those who dared the dream. Clearly, millions of us love music. Exposure to jazz music must be culturally transmitted. That's the truth. How to do that with the next generation of jazz consumers is another question entirely.



Duncan Low is trying out the chair in his new office as the City of Vancouver's first cultural planner for festivals and celebrations. Low beat out 300 applicants for the gig that is supposed to put some fun back into Vancouver. Duncan has worked in the cultural sector for 26 years, but he began his new engagement on January 7.



Examine To and From the Stage



Curiously, Low reached this high because of Expo. Duncan worked for a children's festival at home in Edinburgh, Scotland when he visited Vancouver's own International Children's Festival in 1986. Low was inspired enough to animate Scottish kids with ideas that he learned in Vancouver. Like so many who visit, though, Duncan Low could not shake his memory of the Canadian West Coast. Low moved here in 1995 to work for the Vancouver East Cultural Centre (VECC). The visitor immigrated and has now become a fixture in Vancouver – a story that is wonderfully common in these parts.



"My (new) job is to sit down with the team of cultural planners in place...to talk about what is missing...and then work to a plan to implement it. I certainly hope, in my new position, to be able to bring together the corporate sector and the community and arts sector to develop new events," said Low. Although figures are not final (as of this writing), Duncan Low will have a small budget for his mandate.



Duncan resigned his position at the VECC effective December 17.






The Digital Divide: Round Two:


The Canadian government has issued a key ruling in the fight over digital music distribution. On December 12, the Copyright Board of Canada decided to raise levies on MP3 players and other on digital audio devices with non-removable memory. The fees levied on digital music devices include:



$2.00 more for up to 1 gigabyte of memory
$15.00 more for memory of between two and 10 gigabyte
$25.00 more for memory above 10 gigabyte




By the way, 10 gigabytes of memory will hold up to 2,500 songs



The board did not approve higher levies for other forms of recordable media, such as blank DVDs, removable micro hard drives or memory cards. "The evidence available at this time does not clearly demonstrate that these recording media are ordinarily used by individuals for the purpose of copying music," wrote the Copyright Board.



The decision has produced a classically Canadian reaction. The Canadian Private Copying Collective (CPCC), a royalty collection agency, calls the ruling disappointing and perplexing. "We are living through a time in which there is unprecedented access to content," said CPCC board chair Claudette Fortier, "...therefore we must be more conscious of the rights holders and creators." The other side is not much happier. The Canadian Coalition for Fair Digital Access (CCFDA), a group representing retailers, issued its own appraisal: "The board's decision today does not change the inherently flawed nature of the existing regime and reinforces the need for Parliament's repeal of the private copying law that created the levies." Protection without complete protection: the modern Canadian government way.



More information on the decision.



Now, the Canadian Recording Industry Association ( CRIA ) plans to start suing Canadian users of file-sharing networks. "The music industry in Canada has been too devastated by the widespread theft of its music to continue to be the 'good guys' in this process," says CRIA president Brian Robertson. "When you have lost $425 million in retail sales and suffered huge staff layoffs, there is obviously going to be a dramatic reduction in career opportunities for Canadian artists and the availability of new Canadian music."



The end result arises in the form of a question: will all this really resolve the problem?



What is legal and what is not: "Private copying is the subject of Part VIII of Canada's Copyright Act. It has a very specific, and limited, meaning. A 'private copy' is a copy of a track, or a substantial part of a track, of recorded music that is made by an individual for his or her own personal use. A compilation of favorite tracks is a good example of how people typically use private copies. In contrast, a copy made for someone else or for any purpose other than the copier's own use is not a private copy. Nor is a copy of anything other than recorded music." Source: Canadian Private Copying Collective.


Canada's 2004 National Jazz Awards are broadcast on CBC Radio on Tuesday, February 24 from Toronto's Winter Garden Theatre.



For the first time, jazz fans can mark their ballots online. Visit the NJA voting booth to pick your Canadian favourites in any of the 24 nomination categories. The deadline for Internet polling is January 15.



Denzal Sinclaire and Ranee Lee will host the ceremony. Performers include: Holly Cole, The Shuffle Demons (20th anniversary reunion), The Denny Christianson Sextet, The Humber College Big Band, vibraphonist Peter Appleyard, bassist Roberto Occhipinti Nonet, vocalist Sophie Milman and pianist and composer Lorraine Desmarais.


CBC Radio Two has announced that Andy Sheppard has been selected to host the national jazz radio program "After Hours." The Canadian Broadcasting Corporation arrived at its decision after months of auditions.



Kinzey Posen, the senior producer of "After Hours," says this about Andy Sheppard: "He has a passion for jazz and broadcasting that can help take the show in some different directions. He's also a musician, although he doesn't make a living from playing. He has a solid understanding of how the relationship between listeners and the radio they listen to works."



Andy Sheppard now moves west to host the program beginning January 5. By the way, Winnipeg's average daily temperature in January is minus 17 degrees Celsius (1.4 degrees Fahrenheit).






The Vancouver jazz community is mourning two recent losses.



Bassist Chris Nelson succumbed to a lengthy battle with cancer on Sunday, December 14. Four days later, friends and family gathered at Cecil Green in the Park (at the University of British Columbia) to celebrate Nelson's life.



Tom Siddall, an avid fan and jazz photographer, passed away in mid-December. He was 84 years old. Friends and family bade Tom formal farewell on December 22.


Happy Birthday to Dal Richards, who turned 86 on January 5.



Dal Richards has received some of the highest public honours that are bestowed on Canadians. He received the City of Vancouver's Civic Merit Award in 1994, and was appointed to the Order of Canada in May of 1995. Richards has also received The Order of British Columbia , the highest ranking civic honour for citizens of BC.



Dal continues to promote music of the big band era in his weekly radio show on CKBD Radio (600 AM) Saturdays from 6-7 pm and on Sundays from 9-10 pm.


Blame former Vancouverite Seamus Blake for the snow that began to fall in Vancouver on December 27. The now-New York saxophonist landed for a sold-out afternoon gig (perfect for the day as it turned out) at The Cellar. Obviously, he forgot to leave the East Coast weather in the East – for shame!



Seamus is as close as they come to a natural musician – making a living on one instrument while possessing the skill to playing many. Blake played the violin when he was nine, but his high school foray into alto saxophone launched Blake into serious consideration of song. Seamus went to Berklee (in Boston), then to New York City where, in 1993, Blake released his first record: The Call (Criss Cross).


Seamus Blake has since released five records, including his latest, Echonomics (Criss Cross), in 2001. Blake is known as much for his work as a sideman and session player. Last April, Blake played sax and guitar on Jeri Brown's vocal jazz album, Firm Roots (Justin Time).



Although Vancouverites like to call him one of our own, Seamus Blake was born in England 34 years ago.



Photo Credit:
Seamus Blake by Mark Ladenson






To and From the Stage:


Cassandra Wilson is coming to sing for Vancouverites at UBC's Chan Centre for the Performing Arts on Wednesday, March 10 at 8 pm.



Wilson's path in the music world was rooted in the time-honoured method of immersion. She studied piano at nine years of age and began writing her own songs three years later. By 19, Cassandra started to circulate in the folk worlds of Mississippi and Arkansas, although one of her biggest influences sprang from the Canadian prairies. "I was making a transition from a folk period, where Joni Mitchell was all I was really interested in," says Wilson, "and going from that into jazz. Ella Fitzgerald, Sarah Vaughan and Betty Carter. And my voice at that point was still very high. It didn't have any of the coloration that I have now."



Take me to the Portrait of O'Doul's


Glamoured (Blue Note), Wilson's new release, hit the shelves in October and is garnering all kinds of attention in the jazz world. Cassandra's 1995 release, New Moon Daughter, won Wilson her first Grammy Award for Best Jazz Vocal Performance.



Cassandra Wilson's Vancouver concert is presented by the Coastal Jazz and Blues Society.



AAJ Materials on Cassandra Wilson:



Glamoured (2003): reviewed by Jim Santella.
Belly of the Sun (2002): reviewed by Jim Santella.
Traveling Miles (1999): reviewed by C. Michael Bailey.



David "Fathead" Newman recently brought 50 years of wind playing to The Cellar for a weekend that appeared to inspire local players Tilden Webb on piano, Jodi Proznick on bass and Jesse Cahill on drums. Newman has made a career of alto, soprano and tenor saxophone as well as flute. It is always a pleasure to watch wise old veterans share their playing knowledge with younger musicians on the same stage.



Meet Wendy Solloway



"David 'Fathead' Newman," wrote "Cannonball" Adderley, "...is the first to emerge from the Texas tenor sound since Illinois Jacquet and Arnett Cobb ... He has an edge to his sound and a moan inside the tone."


In 1952, 19-year-old David Newman met a young pianist named Ray Charles and that association has become legendary. Newman wound up playing in Charles' band for a decade. On November 5, 1958, Fathead: Ray Charles Presents David Newman was released on Atlantic Records. The album, Newman's first record with Charles, includes the now-famous rendition of "Hard Times." After returning to his adopted hometown of Dallas (briefly), "Fathead" moved to New York where his career took off in many directions.



David Newman, now 70 years old, continues to produce records, The Gift (High Note) being released in 2003. "Fathead" lived a parent's dream when, in 1999, his son Cadino provided the vocals on Chillin'. David "Fathead" Newman continues to live with his wife, Karen, in New York's Catskill Mountains.






Portrait of O'Doul's:



O'Doul's Restaurant and Bar may be trendy but in many ways it truly represents Vancouver's West End. The joint features jazz music seven nights a week but O'Doul's is absolutely rooted as a restaurant that caters to trend, health and commerce.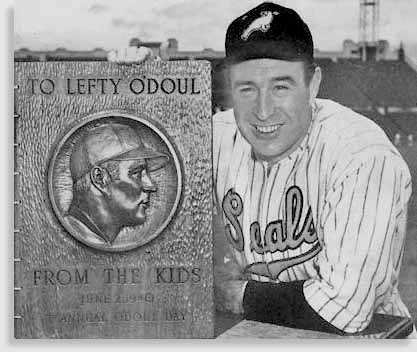 O'Doul's rose to notoriety as the namesake of Frank "Lefty" O'Doul. Frank spent most of his playing career in Pacific Coast League (PCL) baseball, beginning as a pitcher in 1918. At one point, O'Doul managed the triple-A Vancouver Mounties. "Lefty" became a journeyman major league player in San Francisco (where he remains a legend), Los Angeles, New York, Boston and Philadelphia. O'Doul played in one World Series game (with two RBI) before retiring to help young players in their careers.



In the mid-90s, O'Doul's in Vancouver was renovated to a New York-styled bistro whose glass housing provides an air of openness. Although many people enjoy ogling Robson Street's social activity, one is forgiven for staring at the restaurant ceiling.




Early in the Seventeenth century, the exuberant imagery of twin hemispheres injected a fresh dimension to the world map. Although this map appeared under William Blaeu's name, the claim of authorship is somewhat clouded by suspicion. Blaeu died in 1638 but this map bears a dedication dated 1665 (to Jacopo Altovito, papal legate in Venice).



O'Doul's caters to an affluent West End culture. Its windows look out on a surfeit of quaint storefronts that serve in the trade of novelties. Although the buildings are relatively new, these businesses operate in less than 1000 square feet. One cannot help but feel minimal in such surroundings and O'Doul's functions as a prosperous example of that power. People often attend O'Doul's as a public statement. The jazz music surely enriches an overall experience that is defined by setting and social class.



O'Doul's is housed in the Listel Vancouver Hotel. That is where many guest musicians stay when they play the Vancouver International Jazz Festival.



Wendy Solloway: Where There's A Will:


Wendy Solloway, bassist for the Vancouver jazz ensemble Mother of Pearl , is a living example of musical purpose. She speaks passionately about what she loves and one senses that Solloway took some difficult roads to that understanding.



The 53-year-old mother works as a music therapist for Vancouver's St. James' Cottage Hospice. Wendy was hired on a very short-term ten years ago for a job that she bluntly told her boss that she did not intend to keep for very long. The circumstance was mutually beneficial. Wendy began working in long-term care but soon moved to palliative care where, to this day, she works with people who have no more than a few months to live. Wendy Solloway often plays for audiences of one and they haven't got long to hear her musical messages. Tough gig.



DVD Review : Joni Mitchell: Woman of Heart and Mind


Solloway confirms that Western Culture badly undervalues its elders. Although many families of her clients participate in helping her treat impending death with song, Wendy says most of her patients suffer from messages unspoken. Either no one is there to hear them, or we are just too busy to listen for long. Although terminal illness often does motivate families to reconcile, there is little time for little else.



Music therapy carries an unexpected human cost. "There are always these people that wheedle their way past these little barriers that you set up – right smack dab into your heart," says Wendy. "And for those people, it's always a lot harder to let them go...so it still can be difficult."



Catharsis defines Wendy's work at many levels. One listens intently while she tells one story upon another of people who have lived hard and are suffering in ways that make them philosophical about change. Wendy once worked with a young woman who contracted Acquired Immune Deficiency Syndrome (AIDS) from a life on the street. Her sentence was premature death. The woman penned a lyric that Wendy put to song in which the dying woman remembers how she left her family home in rebellion and longed for a different decision. The lyric was a statement of regret for the past, but hope for a peaceful end to a turbulent life. There is the catharsis, short-lived as it is for terminally ill patients.



Wendy Solloway creates CDs whose stories survive long after their authors. "I find it really satisfying," says Wendy, "because it's creative for me. I get to work on the music. I feel it's really satisfying to hand this over to another person...it's a great project."



Prioritizing keeps Wendy sane. She does not claim to have an answer for the stresses but she does some things that should cause us pause to consider their value: going for long walks, crying if necessary or snapping (as Wendy laughably discusses) at a person who is being unreasonable. "A lot of the things that we think are really important, and that really make us angry or upset...they don't mean anything, you know?



"If you could look at your life, look at yourself in the position of these people, and look back and say, 'That guy who cut me off or that lady – is that going to matter to me when I die? Am I even going to remember this?'"



Although she is planning to change careers, one cannot speak with Wendy Solloway without sensing that music therapy has been a reciprocal inspiration. Wendy says music therapy found her, not the other way around. People with so little time have helped Solloway clarify the most resilient values that survive us: people, friends, family, love, adventures (things risked) and accomplishments — immaterial moments of human ascension.